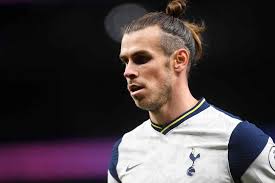 When I ask my dad about Ginola, his eyes widen in a way that makes me question his loyalty to my mum. Gareth Bale is my generation's Tottenham posterboy in a way that in the past it was Hoddle or Gascoigne.
Every once in a while a player comes along who just epitomises Tottenham. When you think of Spurs you think of David Ginola, Glenn Hoddle, Paul Gascoigne and Rafael van der Vaart. There is something about all of these players that gives us an affinity to them in a way that other players passing by just can't give us. As a fan base, we place a huge value on emotion and ascetics. Gareth Bale is one of those players.
A whole decade on from his famous hattrick at the San Siro, he went on to make his second first start for Spurs. After the game he was interviewed and he said the word we all loved to hear: "It was a perfect fit for me to come back."
Gareth Bale is entwined with Tottenham DNA. So many Spurs players sail off into the sunset, and we rewrite their poetic history into legend. David Ginola only scored 13 goals for Spurs and van der Vaart only played for us 63 times. What matters more is the idea of these players, not the player themselves. When I ask my dad about Ginola, his eyes widen in a way that makes me question his loyalty to my mum. Gareth Bale is my generation's Tottenham posterboy in a way that in the past it was Hoddle or Gascoigne.
These players all have one thing in common. They are deeply flawed and fragile. Can you imagine David Ginola pressing to win the ball back for his team mates? In the past, Glenn Hoddle famously revealed an extremely questionable side to his beliefs. Gascoigne and van der Vaart are never going to win the husband/father of the year.
These people are all imperfect. In no way do I wish to justify any of their comments or behaviours, but I suspect their flaws are a key factor in our fondness for them as a fan base.
Gareth Bale's flaws were clear for us to see. His first 24 games for Spurs went without a win. As a young wiry left back who was yet to grow into his features, we all wanted him to go onto succeed. And he did. He did in ways that none of us could imagine.
He went on to score some of the most incredible goals most of us will ever see in our lifetime as Tottenham fans. He ended up carrying us and being the beacon of light in our imperfect team. Part of the sadness we all felt when Bale left was that we all knew he had ironed out his flaws. He was no longer one of us. He was no longer human and had become a superstar. Bale lacked the imperfectness that we required to keep him at Spurs. He had cured himself of the curse and was free to go on to win everything at Real Madrid.
Our affection for Bale is tied to the fragility on display when he first signed for us. We stuck with him and he more than repaid us. Watching him in Madrid from distance hurt. Seeing him skin fullbacks for pace and score bicycle kick goals in Champions League finals showed us what we were missing. Gareth Bale achieved perfection and we were only left with the memories of his time in N17.
This is what makes his return even more magic. He has had a really tough time over the last few seasons. With a life of material luxury and a medal cabinet most top players can only dream of, you could not forgive him for wanting to retire and sit back on his achievements. But despite all of these things, he was not satisfied and was still unhappy. Gareth Bale needed love and there is only one place he knew he was going to find it. He has come back to where he belongs and made all of us very happy in the process.
There is a huge unknown in all this. We don't know what kind of player we are getting. We are a different club to when he left. What his return to Tottenham shows however, is that there is still some romance left in football. If it was purely cold and transactional, there is no way that he would be back with us. This side of football is irrational and it is why we love it so much.
So perhaps there was some poetry to him being substituted on against West Ham and us going on to concede 3 goals in the last 15 minutes. Gareth Bale is the fragile beauty of Tottenham that we all love.