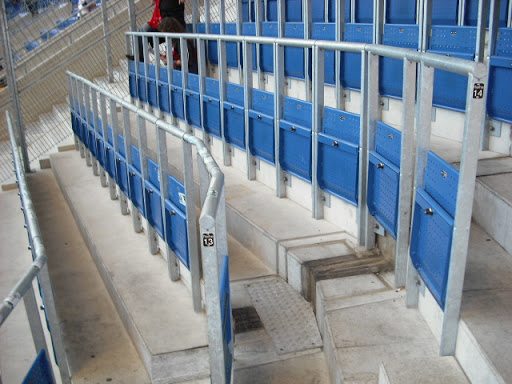 In October 2012, The Fighting Cock published a survey requesting that supporters of Tottenham Hotspur complete seven simple multiple-choice questions to gauge whether there is interest in a trial at White Hart Lane of the rail-seating system seen in Germany and proposed by the Safe Standing Roadshow and the Football Supporters Federation.
The survey is especially relevant at this time as more professional football clubs are either declaring their support for a safe-standing trial, or are open to discussing its implementation should the Government relax laws on re-implementation of standing areas.
We closed the survey on 19 December 2012 after receiving 2017 completed surveys.
Demographic make up
Membership
Age
Non- member
819
Under 16
22
Junior Spurs
8
16-30
805
Lilywhite
236
31-50
939
Bronze
621
51+
241
Silver
185
Gold
136
Platinum
16
Survey questions & results
1. Do you believe that White Hart Lane (and any new stadium that is built in its place) should have a safe-standing area?
2. If there was a safe-standing area at White Hart Lane would you be interested in buying a ticket in that area of the ground?
3. Would you be more likely to attend games played at White Hart Lane if you had the choice to stand?
4. Do you think Tottenham Hotspur should publicly give their support to recent calls for the Government to allow 'small-scale trials of safe standing areas' in the top two tiers of football?
5. Would you be happy for White Hart Lane to host 'small-scale trial' of safe-standing?
6. Do you feel that safe-standing areas would improve the match-day atmosphere for football matches at White Hart Lane?
7. Do you think a safe-standing area would increase the likelihood of you getting injured while watching a game?
We issued the following statement to the club:
"We understand that currently the law states that all stadia in the top two divisions in British football must be entirely seated. We are aware that no implementation of safe standing can take place at this time. We request that Tottenham Hotspur, based on the findings of our survey, publicly recognise that there is a significant proportion of Spurs fans who want a trial of rail-seating to take place at White Hart Lane (or the new stadium); and unequivocally back the call by the Football Supporters' Federation, Aston Villa and others for small-scale trials of rail-seating to be run."
Club's response
"Thank you for taking the time and effort to pull together such a detailed and wide reaching survey. It is appreciated and the content and clear preference from your respondents duly noted.
At the time of writing, the Club's position on safe standing remains unchanged. In keeping with prevailing legislation, the Stadium is licensed and will continue to be managed as an all seater venue whilst this is the case. However, should the legislation be repealed or amended to allow safe standing areas, we would be open to discussing the possibility of incorporating such areas into the Stadium, with the safety of all spectators our primary concern.
Other responses
Jon Darch, operator of the Safe Standing Roadshow, commented:
"It's great to see that so many Spurs fans support the concept of safe standing. With David Gold at West Ham and Tony Fernandes at QPR both saying in recent months that they would like to see safe standing at their grounds and Arsene Wenger at Arsenal stating that he is "100 per cent" in support of it, it would be great to see London's top club now also acknowledge the clear wishes of so many of their passionate fans by expressing support for a few small-scale trials of safe standing."
Our Thoughts
The Fighting Cock would like to thank everyone who completed the survey. We feel that we've managed to capture the voice of at least one element of Tottenham Hotspur support. The point of this survey was to see if safe standing was something that Tottenham Hotspur fans wanted.
While obviously an unequivocal backing of safe standing by the Club would have been preferable, it was always unlikely. The fact that the club are willing to open discussions should legislation change is an positive step, one that shouldn't be disregarded simply because it's not the only pledge that we wanted to hear. The fact is in order to get safe standing into football grounds the law needs to change, and that won't happen without your input. Click on this link and follow the instructions.