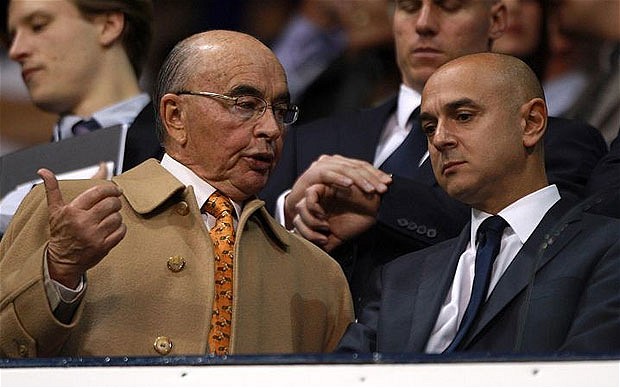 Tired of seeing rules bent to suit them and our irritating transfer policy, Mark Butcher gives his thoughts on our owners.
It's a grand old investment company to play for…and it's a grand old investment company to see…if you've seen our Sainsbury's…it's enough to make your heart go…whoa whoa whoa whoa.
It's been an odd and harrowing season. When my Tottenham Turfie was so close to a white line it became addicted to coke, I knew we were in trouble.
Following Spurs has become a baffling and, at times, soul-destroying experience. Never have so many fans felt so alienated from 'our' club. Behind the disillusionment are the club's owners and ENIC's rap sheet continues to grow. The pitting of fan vs fan for profit courtesy of Stubhub; the invisible new stadium (as real as the infamous season ticket waiting list); the shirking of the 'Y Word' defence and sell out of the club's hardcore supporters; the bukkake style 'partnership' with Real Madrid that facilitated a major transfer to Arsenal; the seasonal sale of our world class players and trousering of profit; failing to back supporters over the FA Cup ticket allocation and prices at the Emirates and a telling contribution to the funereal atmosphere at White Hart Lane due to over-zealous stewards and a text facility to grass on your fellow fan.
Following Spurs has become a baffling and, at times, soul-destroying experience.
The lack of coherent information or explanation as regards decision making within the club has created a culture of distrust. The delisting of the club from the Stock Exchange means nothing has to be explained. 'Pay up or fuck off' appears to be the underlying message. Of course, if you are a member of the 'Somalian Pirate Spurs Supporters Club' chances are your concerns about the lack of branded bandanas will be addressed in the endless acknowledgement of overseas consumers via social media.
The experience of the fans who attend home matches is somewhat different. You feel like you are being rinsed the moment you enter the stadium. And it's not just the ticket prices. White Hart Lane is the only ground where I have ever been overcharged for a programme. The toilet taps turn off a few minutes after full-time or shoot a trickle of molten hot water. Presumably run on a meter system. The broken toilet seat in the Paxton End toilets shows greater movement than Stuart Nethercott in his carrot-topped pomp. You can't bring in a 50p mineral water from our shiny new Sainsbury's, but one is available in the stadium for £2.20. Touch.
Daniel Levy has become a bizarre Napoleon character and completely unaccountable since ENIC delisted the club from the stock market. A rumoured £750,000 pay rise soon followed. His annual appearance is in the programme notes at the end of the season when dear Danny promises the best players won't be sold. Several weeks into the new season, the player of the moment is generally sold for a nose-bleeding profit.
Sixth is par for Tottenham. That Tim Sherwood suggests his job is under threat should Spurs not make top four suggests Levy and ENIC live in a fantasy land of Care Bears and unicorns. Tottenham should not realistically compete with Manchester City and Chelsea's artificial resources or Manchester United and Arsenal's wage bill, resources, stature and Champions League pedigree. Liverpool are also a bigger club in every respect. Unlike Spurs, the Reds managed to retain a world class player with itchy feet for another, potentially crucial season. The comparative revenue of these six clubs in 2012/13 illustrates the chasm in finances between Spurs and their immediate rivals (1. Man Utd, 423.8 million; 2. Man City 316.2 million; 3. Chelsea 303.4 million; 4. Arsenal 284.3 million; 5. Liverpool 240.6 million; 6. Tottenham 172 million. Total revenue in Euros. Source: Deloitte).
The 2013/14 season transfer spend also shows that Spurs, hemorrhaged of their best player Gareth Bale, should not be realistically expected to compete at the top table. (2013/14 transfer spend: 1) Man City -£92m; 2) Man Utd -£69m; 3) Chelsea -£37.5m; 4) Arsenal -£34m; 5) Liverpool -£21m; 6) Tottenham +£12.5m profit. Source: Daily Telegraph). But some of the Spurs Board bizarrely believed Tottenham might even contend for the title on a shoestring of investment. The club has a net spend of £770,000 over the last five seasons. Reach for the stars, Daniel!
That Tim Sherwood suggests his job is under threat should Spurs not make top four suggests Levy and ENIC live in a fantasy land of Care Bears and unicorns.
ENIC's hatchet approach to managers – nine in thirteen years – suggests the buck never stops with them. But they are always happy to bend their own rules if there is a fast buck to be made. 'Out the tout' – unless he pays ENIC twice. Perhaps we should be grateful. Stubhub's parent company eBay actually has the gall to charge sellers three times for the same transaction (listing, transaction fee and a monthly billing). Opposition fans are now clearly seated and clenching fists in the home stands courtesy of the Stubhub agreement, but there is never a safety issue when there is more money to be made. There were even claims this week that the club are blocking fans' stadium access cards if they don't sell via the legalized tout Stubhub. Arsenal sources also suggest, perhaps mischievously, that the Spurs Board were happy to have Tottenham fans charged £62 at the Emirates to gain a larger cut of the FA Cup ticket money.
The frustration of many fans is that Spurs were so close to breaking into the cartel on limited resources. But when the chance came to gamble in the January 2011 transfer window, with Spurs' stock and visibility high due to a scintillating Champions League run, Levy looked the other way and sanctioned the transfers of Steven Pienaar and Bongani Khumalo – clearly with commercial opportunities in South Africa in mind. Prada dreams on a Primark budget. Always hiding behind the tiresome transfer brinkmanship of 'almost deals' and a malfunctioning fax machine. Greater transparency from the club could heal a few wounds, but that is unlikely to happen. We are disposable consumers.
The game isn't about glory any more. Bill Nicholson would probably have lasted a few seasons under Levy and co ('should have won the title in 1962'or 'non-communicative with the board'). I look forward to the day where ENIC finally face up to their responsibilities or ride their unicorns off into the sunset.
This is no longer a football club, it's an investment company. And a grand old one at that.