Photo by Big Ears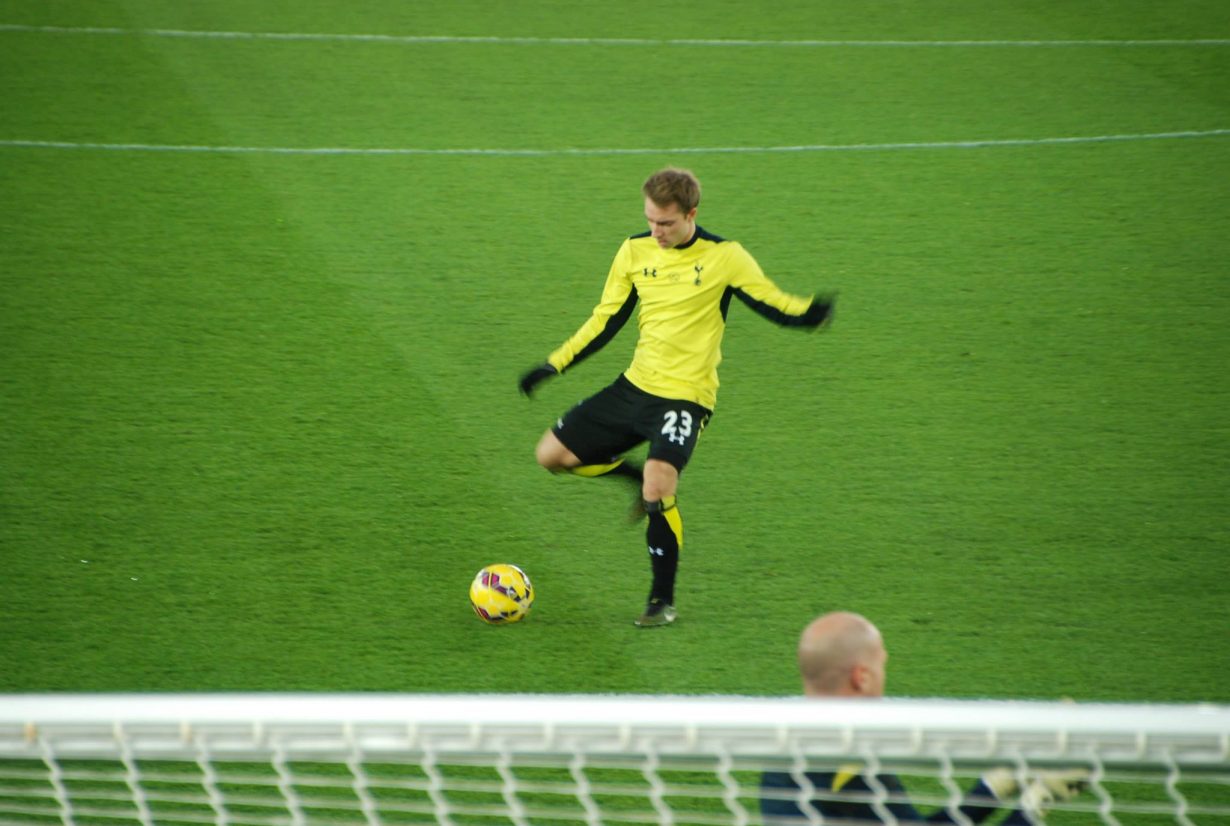 After a slow start to the season, Christian Eriksen has established himself as one of our best players. James Harris gives his views on our midfield dynamite.
Sunday, November 2nd at Villa Park. The last time Tottenham Hotspur won a league game without a goal or an assist from Christian Eriksen before the match against Burnley on Saturday. Still, the Dane played an integral role in Harry Kane's opener with a fine display of footballing intelligence, allowing Kane's quick free-kick run straight past him, fully aware that he was offside and that Nacer Chadli was racing onto the pass. It is another glowing example of the superb sense of footballing perception that Eriksen shows when he steps onto a football pitch; examples that had possibly been lacking in the early stages of Mauricio Pochettino's reign, but are now once again becoming a weekly habit.
After being honoured with the fan's player of the year award last season ahead of Hugo Lloris, high expectations were put upon Eriksen to replicate the form that at times carried Spurs last season. The usual pre-season excitement led to speculation among the Tottenham faithful as to how Eriksen would be able to link with Erik Lamela and Roberto Soldado in a potentially explosive front line. However, Eriksen failed to match his counterparts' efforts in pre-season and the beginning of the new campaign started off worryingly slowly for the Dane, as Nacer Chadli stole the headlines. As the early form of Pochettino's new side dropped off from a promising start, questions started to be asked of Eriksen's contributions to the team. The midfielder seemed to be struggling to adapt to his coach's demands and many wondered whether he would be a part of Tottenham's long term future at all. Is Eriksen too much of a luxury player to fit into Pochettino's high-paced philosophy? It is fair to say he has since answered this question with a resounding no. It took until mid-October for Tottenham's number 23 to notch his second goal of the season, coming in an ultimately disappointing game at the Etihad. He quickly followed this up with the winner at home to an in form Southampton and doesn't seem to have looked back since. The emergence of the hard working and prolific Harry Kane in front of him has undoubtedly contributed to Eriksen's form and the Dane has once again returned to his ways of old, manipulating attacking moves and proving decisive at key times with a run of crucial goals and assists. The dynamite he so often brought to Spurs attacks last season is well and truly back with the proverbial bang.
The beginning of the new campaign started off worryingly slowly for the Dane, as Nacer Chadli stole the headlines
Eriksen is simply one of those players that is a joy to watch, the type of footballer always treasured by Tottenham fans. The one player who with a silky touch, a turn of pace, a searing shot or an audacious piece of skill that can get even the most hard-nosed fans in the West Stand to jump out of their seat. White, Hoddle, Gascoigne, Ginola, Bale – all shining examples of the split second explosiveness that those at White Hart Lane and within the football family in general cherish so dearly. Eriksen is yet another forward thinking midfielder at the Lane who seems to embody that explosive instinct; his schooling at Ajax, another club that truly values skill and panache, was undoubtedly the perfect education for this young man before signing for Tottenham. Time and again he shows an effortless first touch and unerring calm when on the ball. The turn of pace is there too, often gliding past players before ripping a shot low into the far corner with either foot. Eriksen is maybe not the type of player that pulls out tricks every time he is on the ball like Ronaldo or our very own Lamela, but he'll often show a glimpse of his flamboyant side with a flick, turn or touch that leaves the crowd, as well as the opposing player, reeling. It is these single flashes of brilliance that can make a game of football memorable and Eriksen consistently indulges us with these moments with typical nonchalance. It is what makes him special, but also essential for Mauricio Pochettino and Tottenham.
The emergence of the hard working and prolific Harry Kane in front of him has undoubtedly contributed to Eriksen's form and the Dane has once again returned to his ways of old.
Although not the best at Spurs when it comes to defending, the work rate of Christian Eriksen often seems to creep under the radar. Perhaps the reason for his slow start to the season was the extra defensive demands Pochettino insists upon from his attacking players, however, Eriksen's running seems to be steadily increasing along with the rest of the team, as the manager's philosophy begins to settle in. It has become much more visible in recent games to see the forwards and midfielders of Tottenham pressing high to put pressure on the opposition players in possession and it is now becoming a common sight to see Eriksen supporting the relentless Harry Kane in harrying the defenders of the opposing team, in search of winning the ball back high up the pitch. The most memorable example of Eriksen's improved determination without the ball may be in the North London Derby, when the Dane raced onto the back of the unaware Mathieu Flamini, robbing the ball and driving forward, before Erik Lamela took over to slide in Nacer Chadli for the opening goal. This is the kind of attitude that Eriksen has built up further this season under the tutelage of Pochettino and an insight into the type of young man he is, open to new ideas, always looking to improve and possessing a burning desire to be the best footballer he can possibly be.
As a dynamic midfielder at Tottenham arriving after the reign of Harry Redknapp, comparisons with the likes of Luka Modrić and Rafael van der Vaart have followed Eriksen around since his introduction at the Lane. It is not something new to Eriksen though; as a talented Danish attacking player, comparisons to the great Michael Laudrup were inevitable whilst the former Ajax man shot to fame in his home country. His appearances as the youngest player at the 2010 World Cup for Denmark further increased the status of the then 18 year old. In the years since, Eriksen has continued to deal with the potentially damaging comparisons in an exemplary mature and professional manner, whilst forging a reputation for himself, rather than as a copy of someone else. He doesn't quite have the capacity to dictate the rhythm of a game like Modrić, or hold the six yard box instinct of van der Vaart, but the way Eriksen impacts games with his eye-of-the-needle through balls, gliding runs and arrowed finishes has made him just as vital a player for Tottenham as the aforementioned two, as well as for his country.
The work rate of Christian Eriksen often seems to creep under the radar.
It is often easy to forget that Christian Eriksen is still only 22 years old, perhaps down to his impeccable calm when on the pitch, or possibly his receding hairline. Either way, there is still a long way to go in the career of Tottenham's dynamite in midfield. There are still times when a pass of his goes astray or he goes missing for periods far too long for a player looking to be of the highest order. However, this is the young man who rejected the riches of Manchester City when he was just 19 years old, as he felt the move would restrict his development as a player. He is clearly a man with a smart head on his shoulders, one who wishes to succeed at the highest level and it is this determination that will eventually cut out the sloppy passes and move Christian Eriksen up to the next level of football super-stardom. Greatness beckons for this young Dane and we can only hope that he continues to continue his beautifully explosive brand of football at White Hart Lane for years to come.