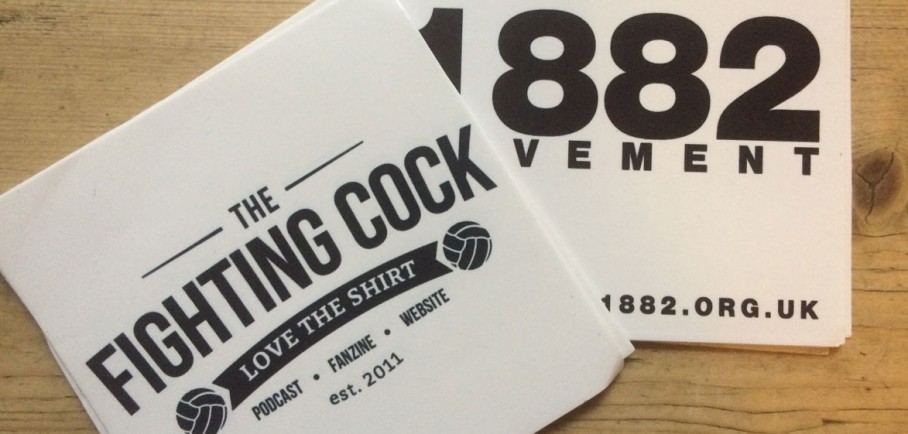 The Fighting Cock and their guests are world famous for their pre/post/inter/outer and intergalatical ability to analyze the game. We offer a insight into the game unmatched by anyone else in the universe, therefore we always like to give a bit back. Here are our predictions for 2015/16. Strap yourselves in for another roller-coaster of correct Nostradamus style predictions. *Warning Contains Spoilers* COYS
Are you ready to have your season spoiled before it even begins? The Fighting Cock is known across the world for their insight and football intelligence and after last seasons successful prediction that Harry Kane would oust Messi as the best player in the universe, we are back with more on the money predictions. 
Get ready to have your season ended before it begins.
Flav has been too busy starring on TV and being chased around Europe by groupies so his answers have been taken from a collection of his vast opinions on Spurs.
Ricky is in Ireland and unavailable, they have yet to master the internet over there.
What are you most looking forward to about the forthcoming season?
Alex: Seeing if Poch can really implement his style into the team. With signings made between him and Mitchell and clearing so much deadwood, I expect to see us play the way he wants and really start to have an identity playing style wise. Oh and Deli Alli becoming the greatest footballer of all time.
Bardi: A Europa League campaign where our team will be made up of young players pushing for the first team, not squad players fat on wages edging their way towards footballing obscurity.
Charlie Parrish: A united squad. Last season we had the Academy Boys Takeover narrative diluted by Pochettino's unwanteds lurking in the shadows. So long as the last few dregs are discarded, it's one big happy family now.
Flav: Doing another Youth Update and finally ditching the rest of them so I can have my own pod.
James Maw: Seeing how we get on with a squad full of players the manager actually rates, for possibly the first time since Jol's day. And the possibility of one last win at Upton Park.
Spooky: Echoes of glory splattered all over the place with the precision of a blind old man with a paint-ball gun. I only have the single expectation this year: no expectations.
Thelonious: Ugo Ehiogu bragging about his win %
Windy: Developing a style. We've been generous to Pochettino so far, and overlooked the lack of fluency because he's had so much groundwork to do. Now that groundwork's been done, and the deadwood has been thrown out to sea, we rightly demand some proper football. Oh, and the youth. So much youthy goodness. Use it, Mauricio!
By the end of the season who will be our main man?
Alex: Nabil , closely followed Harry and Danny Rose
Bardi: The inner troll says Yedlin, but I think Christian Eriksen will be our main go to guy. Last season his importance was overshadowed by a poor start and end to the campaign. I think he will find the consistency to do it for most of the season this year.
CP: Toby Alderweireld. He looks like a leader, can spray Dawson-esque cross-fielders for fun and offers us the best chance for defensive stability we've had in years as he could – and should – galvanise Vertonghen. If Jan can't rediscover his 2012/13 form playing alongside his best mate, then he should just cut to the chase and move to Sunderland now.
Flav: Trippier. I have been saying we need a right back longer than Windy has been alive.
JM: You know, I have a funny feeling this could finally be the year Erik Lam….ah, who am I kidding? It can only be Harry Kane.
Spooky: Eriksen. Has to be. He's our only creative outlet so if he doesn't do well, we are doomed.
Thelonious: Nabil Bentaleb
Windy: Bentaleb. Kane and Lloris are absolutely irreplaceable for us at the moment – if we lost one of them we could absolutely count ourselves out of finishing in the top 6. But this will be Bentaleb's true breakthrough year.
He has been good so far – really good considering his age and the fact that he was just chucked in. But his ability has been brewing and it's starting to bubble over now – dribbling over the sides of the pan and ready to envelope the whole hob like a rich, deep, sauce – a taste sensation. I don't think that metaphor worked.

Where do you think we will finish in the Premier League?
Alex: 3rd- Our young cocks take the PL by storm and smash into the Champions League places….or 7th.
Bardi: 4th. This is the year Woolwich will implode. Wilshere will get drunk, steal Cech's hat which angers the Czech, who throws a punch missing Wilshere but knocking Sanchez unconscious. He will miss 6 months of the season. To heal the wounds the club organise a paintball team build, but the Spanish speaking contingent rebel against the English/French lot and in a pre-planned attack Giroud is blinded like PJ in Byker Grove by Carzola.
Wenger unable to unite the factions walks out. Rodgers comes in and Woolwich finish just above the relegation zone. Financially crippled by no CL they sell the Death Star and move back to south London and never recover.
CP: Fifth. I can't think how we overthrow Chelsea, City, Arsenal or United unless Harry continues where he left off, Toby and Jan become watertight and Dele Alli becomes The MK Zinedine Zidane a few years ahead of schedule. However, we will definitely finish ahead of Liverpool which will be really funny.
Flav: Where you finish matters little, it is about how you finish.
JM: Fifth or sixth – I'm not really too bothered, this year it's all about the cups.
Thelonious: 6th
Spooky: Top of the league. I no longer recognise Champions League sides.
Windy: 5th. At the moment we simply can't compete with the sort of money that our rivals are spending. The two Manchester clubs have signed incredibly well and Woolwich have filled one of their problem positions.
I truly hope that Liverpool have 'done a Tottenham' for the second year running – but, actually, I like the signing of Milner and Benteke gives them a genuine Plan B (or a different Plan A). It's going to be close but we can hopefully sneak 5th.
What would you consider to be a successful season?
Alex: Any Trophy, and being able to genuinely see progression of youth through the first team ,playing a particular style.
Bardi: Play some nice football. Bring through some youngsters. Continue our good run of form versus the Top 4 and win a cup.
CP: Staying in touch with the top four for as long as possible and going on a couple of fun Cup runs. Cup runs with stirring victories against rivals and glamorous European giants – not edging nervously past four Championship teams and finding yourself in a League Cup semi. I'd also like to see us look consistently like a Pochettino team; pressing like bastards every week, not on every third Sunday of the month like last season.
Flav: Getting this face on the BBC
Thelonious: A goal difference of +8 or more
Spooky: To regain our identity. We need to be able to say 'yeah, Spurs football is…' and then state what our football actually is. It's been a while since I've used the words swagger, swashbuckle and flair to describe our team.
Windy: Win a cup.
JM: Anything short of Pochettino bringing a previously unheralded youth team player into the first team fold, from where he wins his first international cap and PFA Young Player of the Year, must be deemed a horrific failure.
Who will finish top goal scorer?
Alex: Harry Kane, but Lamela to get 10 assists and 10 goals
Bardi: The player who we buy to replace Soldado
CP: Harry Kane. If he doesn't, either Shaquile Coulthirst did a real number on the good people at Leyton Orient, Torquay United, Southend United and York City or Christian Eriksen has figured out how to not get knackered past February. Or Harry was a one season wonder and we'll probably get relegated.
Flav: Nacer Chadli
Thelonious: Hugo Lloris
Spooky: Kane. Second season syndrome can get to a four letter word.
Windy: Harry Kane. I genuinely just got a little shudder as I typed his name. Biblical.
JM: Are all these questions about Harry Kane?
Where will Adebayor be in May 2016?
Alex: Under my patio.
Bardi: After discovering oil on the grounds of his new midlands home, owner of Tottenham Adebayor FC.
CP: Righting the wrongs of last season's Cup final.
Flav: Bringing me Green Tea and cooking my veggie hotdogs.
JM: Scoring Villa's late winner at the Emirates on the final day of the season, before embarking of a lap of antagonism around the stadium. The goal will help Spurs defy the odds and pip Arsenal to fourth. In a fit of Ade-love, Levy sanctions a new three year deal for the big man – everybody is delighted. For a few months, at least…
Thelonious: In Ghana on a platinum throne rocking £10k Louboutin trainers with the skin of Cecil the Lion as a cape.
Spooky: Not in the first team.
Windy: Villa's top scorer. Hopefully in a better place mentally. I know he's upset a lot of Spurs fans, but I genuinely do feel for the guy – he's had a tough few years. Actually, that undersells it somewhat. He's had more tragedy in the last few years than most people have in a lifetime.
It's Spurs, so something will probably go wrong spectacularly – what will it be?
Alex: Nothing, nothing can go wrong this year. This is it, we are going to finally take hold of our potential and squeeze every last drop of it all over a panting and exhausted top 4 and then scoop it all back up using our three trophies at the end of the season. Glory.
Bardi: Whilst the foundations are being dug at WHL, a skeleton is uncovered with a Woolwich necklace on. Historical records show that a team from Woolwich had appeared in North London circa 1880. It turns out they own our land. Spurs are forced to uproot to Jersey.
CP: Cameron declares war on Belgium
Flav: They will fail to realise my brilliance.
JM: At least three of our summer cast offs will come back to haunt us. Are Guangzhou Evergrande in the Europa League…?
Thelonious: Harry Kane will get turf toe in October and not re-appear until May when a Europa League place via the Fair Play league will be secured.
Spooky: Chirpy won't die in a suspicious accident.
Windy: We managed to generally avoid injuries to key players last season. That scares me.
And how will we do in the cups (FA Cup, League Cup, Europa League)?
Alex: Win, win, win.
Bardi: 3rd round defeat to United, final defeat to Stokelona, glorious victory on pens with Soldado netting the final pen after the ball hits both posts, the bar and back spins out before trickling back over the line while the opposition keeper celebrates.
CP: We'll galumph our way through the Europa League group stage, muddle through the first knockout stage before freezing once we face someone we've heard of in the Round of 128. We're due a humbling League Cup fourth round defeat at someone cold and northern. And we're going to win the Cup this year. I can feel it in my bones.
Flav: Win, win, win. 5-0 each game.
JM: A Cup: Third Round defeat to a Championship side. League Cup: Quarterfinal defeat to someone stupid like Sunderland. Europa League: Semi-finals at least.
Thelonious: 4th round, semi, quarters.
Spooky: We'll get another cup final. Really wish it would be the FA Cup considering we had history with it once upon a time back when it mattered
Windy: Semi-finalists, winners, winners. The youth to take the latter two by storm. "And Onomah bursts through the Marseille defence… can he make it 3-2? HE CAN! JOSH ONOMAH, WINS THE EUROPA LEAGUE FOR TOTTENHAM HOTSPUR! HE'S ONE OF THEIR OWN!" I'm spent.
Finally, after Windy's Kane prediction came true last year, give us your "shot in the dark" prediction for 2015/16
Alex: Deli Alli to win YPTOY.
Bardi: Kane gets injured, having been unable to sell or replace Soldado, the Spaniard steps up and bangs 25 goals in 2015/16.
CP: Dele Alli becomes a first team regular and receives a call-up to the full England squad.
Flav: T to represent Jamaica in swimming in Rio 2016.
JM: Windy's prediction this season to be a load of rubbish. Also, Trippier to start fewer than a dozen Premier League matches.
Thelonious: Shaq Coulthirst will score more than 10 goals in all comp
Spooky: Bentaleb. PFA Young player of the Year.
Windy: Eric Dier to storm it and become an England player.