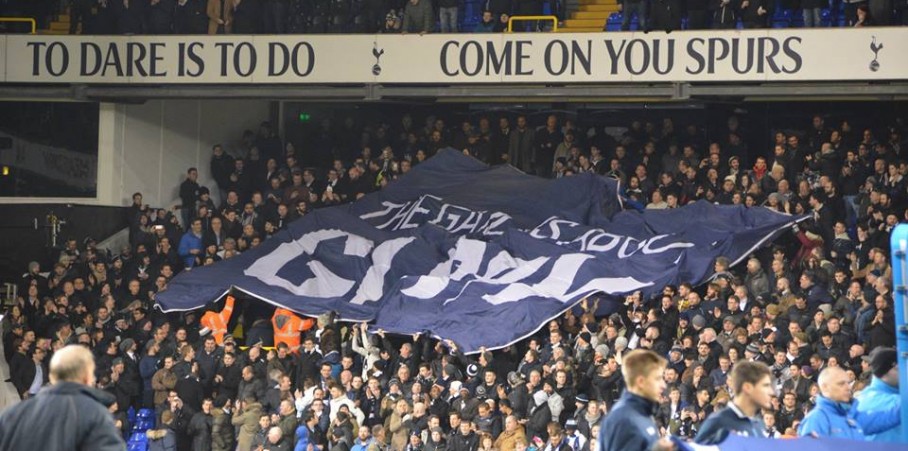 The impressive display from the travelling Dortmund fans on Thursday has brought the question of atmosphere and support to the forefront once again. Co-chair of the Tottenham Hotspur Supporters' Trust Martin Cloake gives his opinions.
The fantastic display of support from Borussia Dortmund fans at White Hart Lane has sparked another chapter in the debate about atmosphere and visual displays of support at White Hart Lane. So it's worth revisiting some arguments, challenging some myths, and seeing what can be achieved.
The bottom line is that to do the sort of thing the Dortmund fans did requires people to make an effort. But we also need to be sure of what we want. Richard Cracknell, who's well-known to many fans, ran a Twitter poll that showed 77% wanting a section of our new stadium to be set aside for "orchestrated support".
Results of the poll from yesterday pic.twitter.com/kTsZKsYBQE

— Richard Cracknell (@MrCracknell) March 19, 2016
It's clear there is an appetite for doing something more than we already have, something more visual. And efforts have been made. For the best part of three years, the Trust and the 1882 group have tried in various ways to boost atmosphere at games. That's been through a variety of methods – singing, trying to organise flags, tifos, surfers etc. There's been some success. But there's also been a fair bit of opposition. 'Organised' displays are 'plastic', it's not what Spurs fans do, flags and surfers obscure the view, drums are annoying…
I'll confess I've got a certain amount of sympathy with the cynicism around "orchestrated support". Can you imagine the reaction if we tried to get an MC to conduct support as the Dortmund fans did? And in all the discussions we've had there's been broad agreement that we don't want those daft wavers they use at Woolwich and Chelsea to give a semblance of atmosphere. Interestingly, one of the German fan group leaders I spoke to after the Dortmund game said he much preferred the English tradition of singing, rather than the drumming and displays his own fans did.
The reality is that to do that we have to be organised and fans have to put some effort in
So there's clearly a difference of opinion. But I think most would agree that when we can get organised to produce something, as the Trust did with the Park Lane surfer before the Leicester league game, or as 1882 has at a number of youth and reserve games, it's A Good Thing. And it would be good to have more visual displays of support, home and away – although our away support needs no lessons in how to back the team. The reality is that to do that we have to be organised and fans have to put some effort in.
People have complained that there are 'obstacles' to taking flags in. It's easy to knock out the hackneyed bit of barroom philosophy about 'health and safety gone mad' once conversations about safety certificates and fire retardant materials start being discussed. But we live in a culture shaped in part by the fact that 56 people died in a fire at a football ground (Bradford's Valley Parade in 1985) and the hard facts are that the days of grabbing a bed sheet and a can of spray paint and walking onto a terrace are gone.
It's worth noting at this point that even in the supposed land of supporter freedom to do anything, issues do occur.This report from a particularly eventful weekend in the Bundesliga in 2012 contains some details of a Schalke Ultras banner being set on fire and the issues it caused among supporters themselves. There's a lot more to all this than meets the eye.
Three years ago, my Trust co-chair Kat Law tried to establish an atmosphere group to promote the kind of initiative that is being talked about here. The Supporters' Trust was a part of that, but so were groups such as 1882, Revive the Lane, and others. That group has never really got off the ground, and both the Trust and 1882 have found it difficult to get volunteers to step up for specific events at times. Some of the other groups seem to have vanished.
Some might scoff at the very idea of an atmosphere group. Again, fans of my generation do wince slightly when we remember how it was possible in the past just to get on and do things. But, as I said earlier, the world has changed. The fact is that some effort is needed to get results – as Mauricio Pochettino would no doubt say. Let's just look at what it takes to display a surfer before a game.
It needs at least 10 people to volunteer to roll the surfer flag out. They need to arrive at the ground three hours before kick off, lay the surfer out, and do a dry run to make sure everyone knows how to run it. Then it needs to be put back into starting position. Before the game, the club has to write to every fan in the blocks the surfer will pass over telling them this will be happening and giving them the opportunity to stay in the concourse while the surf is happening if they feel uncomfortable about it. People buy tickets on the condition they will have a view of the pitch, so this is a legal requirement.
The 10 volunteers need to arrive 30 minutes before the game to meet the stewarding team and get into position. They need to run the surfer. They need to roll it up and bag it up at the end, missing kick-off as they do. And they need to get to their seats. The co-operation of the stewarding team is key.
That's the reality of running a surf. And we've done it once, after three unsuccessful calls for volunteers. We'd love to do it again. Already I can imagine people thinking "what a palaver" or launching into a tirade about over-organisation. No doubt some of the usual suspects will use the facts set out above as evidence that the Trust are "Levy's puppets". A more productive way forward would be to recognise this is what needs to happen and step up.Unless, of course, the point is just to moan about how everyone else is stupid while not doing anything yourself. Tapping in a keyboard is much easier, after all.
What the Trust can do is be part of a network of fan groups and individual fans that want to boost the atmosphere at our ground
I've heard a few people say that no one volunteers for the surfer because the flag is too small, or that it doesn't go all the way around the stadium. Those people need to think about what they are saying. Some facts again, inconvenient as they may be. The 'Game is About Glory' surfer is the biggest that can run in a stand the size of the Park Lane lower. Liverpool's Kop and Villa's Holte End are far bigger, so can run bigger surfers. There is a massive gap between the south and east stands in the corner. Even if you could get a surfer across that, the fact that there are a couple of dirty great pillars in the middle of the lower east would mean the surfer couldn't get past them.
Running a surfer takes organisation and effort. So does organising a tifo display. So does making and taking in big flags. But if the effort goes in, it can be done. The club wants more visual displays of support – why wouldn't it? And our matchday safety and security team have shown they will do what they can to enable fans to back their team. Many of them are Spurs fans themselves and, having worked closely with them, I can personally vouch for the fact that they will be as helpful as they can.
My view is that to create our own culture of visual support means lots of individual fans stepping up with ideas and making the effort to bring in their own flags and banners etc. That makes it genuine, properly organic. It's not really the job of the Trust to co-ordinate flag displays – that would just end up with the kind of plastic nonsense we see at Stamford Bridge and the Emirates. What the Trust can do is be part of a network of fan groups and individual fans that want to boost the atmosphere at our ground, and we can certainly help facilitate the discussions with the club that need to go on.
We made some good contacts with BVB fans over the course of our tie against them, and it should be possible to find out a bit from them about how they organise. That might be another article for The Fighting Cock. But in the end, we have to create our own thing.
The new Home End in the new stadium, a 17,000 seat capacity single stand modeled on Dortmund's Yellow Wall, gives us a chance to deliver our own Lilywhite Wall. So the choice is either to continue pursuing agendas against whatever fan organisation or part of the club you decide to aim a keyboard at this week, or to step up and make something happen.