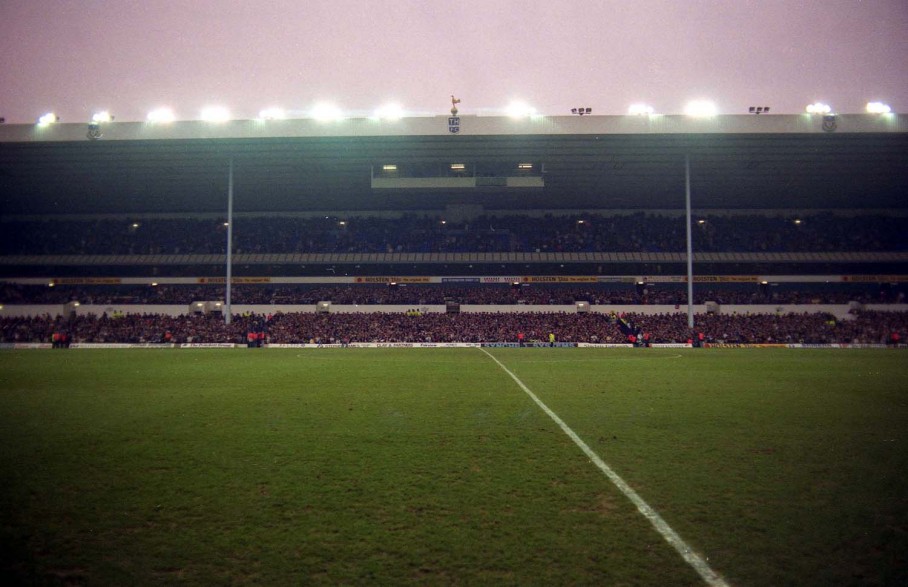 When Scott Mathews-Novelli visited the Lane for the first time, he was struck by the similarities between Brooklyn and Tottenham. This is his wonderful account on the history, the culture, the economics and the pitfalls of chasing the financial dream. Daniel Levy and co, take note.
It wasn't exactly déjà vu, but everything looked familiar. Walking out from Seven Sisters Station for the first time, I felt at home. That feeling wasn't just because I was there for an off-season pilgrimage to White Hart Lane; I'm sentimental but I'm not that daft. It was something deeper.
As I walked north along Tottenham High Road, taking in the restaurants, shops and people—all buzzing about independently, but with a synchronized intent—instinct kicked in and I joined them in the dance of a Saturday routine, of everyone just going about their business. As I continued walking, it occurred to me: I could just as easily be walking in my neighborhood of Crown Heights, Brooklyn.
Once I had the idea, I could not stop thinking about the similarities between Tottenham and Crown Heights: both are multicultural, with populations—including those of Caribbean, African and Jewish descent—with very different backgrounds living together within a compact space (sadly each with histories of rioting); both are urban, but just far enough from their city centers to have a predominantly residential feel; after being built as middle class suburbs over 100 years ago, both have become havens for generations of working class and immigrant communities that have shaped their respective neighborhoods. With New York and London becoming increasingly expensive, both now suffer from the pains of extreme rent and property value increases that push professionals further into its territory. It made me feel an affinity for the neighborhood and created a greater bond to the distant club I adore.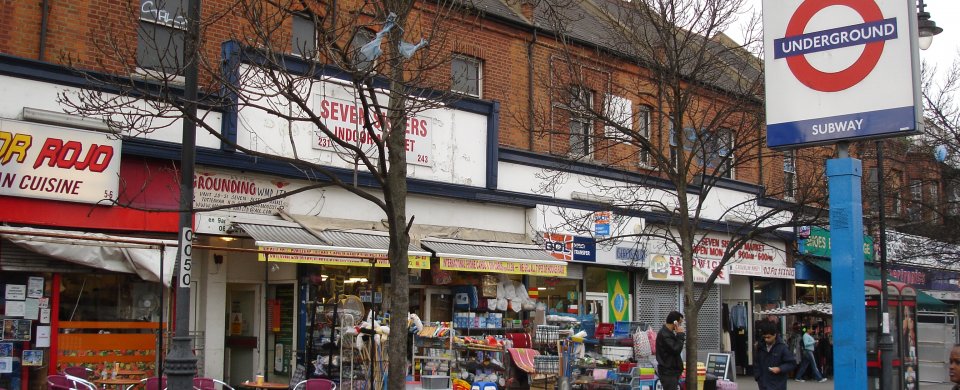 As an American Spurs supporter, though, the most fascinating parallel between Tottenham and Crown Heights is in their sporting history and culture. Tottenham, as we all know, is the home of Spurs. Crown Heights, on the other hand, was the old home of Major League Baseball's Los Angeles Dodgers (née Brooklyn Dodgers). Spurs started playing in 1882 while the Dodgers formed in 1883; both clubs proudly wear variations of blue and white (even boasting distinctive colors such as lilywhite and Dodger Blue); both offered an inclusive working-class atmosphere as compared to more posh teams in their world-class cities; the Dodgers supporters were never called "yids", but the clubs do share a history of proudly embracing Jewish culture when others did not; while to snatch defeat from the jaws of victory is "spursy", the perineal-bridesmaid Dodgers were just uniformly known as "the bums".
This article will examine a couple of the deeper ways in which the teams share commonalities and some striking differences within their respective national sporting cultures and metropolises. I also wanted to explore how Tottenham—residents and supporters—might use some of Crown Heights/Brooklyn's recent growing pains as a cautionary tale as Tottenham prepares for a new stadium and increasing gentrification.
Walter Tull & Jackie Robinson
Both Spurs and the Dodgers were of the first top-flight clubs to integrate their squads. For Spurs, Walter Tull became the first mixed-race outfield player to play in the top division when he took the field against Sunderland in 1909. Tull unfortunately only made 10 appearances and scored two goals for Spurs before being dropped to the reserves (possibly due to the racist abuse he received from opposing fans) and then transferred to Northampton Town, playing for three more seasons. More notably, Tull went on to become the first mixed-race infantry officer in the British Army during World War One. He was due to join Glasgow Rangers after the war, but he died in battle.
In 1947, after a World War that highlighted the extremes of racism and segregation, Jackie Robinson famously broke Major League Baseball's color barrier with the Brooklyn Dodgers. While of course many black players before Robinson were top-class players, he was chosen to be the first black MLB player due to his dynamic athletic ability and controlled temperament that often hid his deep rage for the racism he faced. Unlike Tull, Robinson enjoyed a long and successful career, winning the Most Valuable Player award and a championship. Also unlike Tull, Robinson has been honored many times over for his groundbreaking achievement through statues, jersey retirements and films. (A biopic on Tull is apparently in the works, which will hopefully increase his profile.)
It would be a little silly for me to say that such integration could have only occurred in Tottenham or Brooklyn, but I do think that the character of the communities has something to do with it. Tull and Robinson surely faced some vitriol from their own fans and probably a bit within their respective organizations, but there had to be a certain critical mass of open-mindedness and fan support for these breakthroughs to occur. (This is also exemplified by their similar acceptance of Jewish fans and management.) Communities such as Crown Heights/Brooklyn and Tottenham have so many cultural communities in one concentrated area that there is really no choice but to be inclusive. Tottenham and Brooklyn already had a history of opening its arms to people of different backgrounds. It is quite natural for the local clubs to absorb that ethos. (I can safely assume that Tottenham was not as diverse in 1909 as it is now, but there must be some attitudinal constant over the century that made Tottenham and Spurs a haven for those not of the homogeneous majority.)
In 2014, the National Basketball Association's Brooklyn Nets made another civil rights breakthrough for the borough by signing the first openly gay athlete in the four major U.S. professional sports. It would be amazing for Spurs to achieve something similar in the near future and continue its proud tradition of inclusiveness.
White Hart Lane & Ebbets Field
Unlike in England, a North American club's location is not sacred. In 1957, the Dodgers moved 2,700 miles away to Los Angeles as part of a trend of east coast clubs moving west to accommodate its growing cities. However, for the first half of the 20th Century, the Dodgers played in Ebbets Field, which was similar in size and character to White Hart Lane. Both were built in the beginning of the 20th Century, had seated capacities of 35,000 and were known for its intimate yet loud home supporters. (Terraces were not part of American sporting culture and so Ebbets Field's capacity remained perpetually limited, even when many European stadia were able to include more spectators.)
Where English clubs tended to modify existing stadia to accommodate changes in demand, U.S. clubs preferred building larger, more modern structures to accommodate comfort, postwar expansive grandeur and moving fanbases. This also gave U.S. owners a chance to leverage relocation and demand concessions from communities or threaten to move the team elsewhere. In the case of the Dodgers, ownership wanted a larger capacity to meet demand for live baseball and parking to accommodate fans who had moved out of Brooklyn as part of the trend of "white flight" to the suburbs. Not too subtly, ownership also wanted to relocate to avoid the growing working class non-white and immigrant communities who began to move into Crown Heights (then known as Flatbush) after urban rents began to depress and suburbs grew. Dodger ownership got its wish when they displaced another immigrant community in Los Angeles' Chavez Ravine, moving into the now-iconic 56,000-seat Dodger Stadium.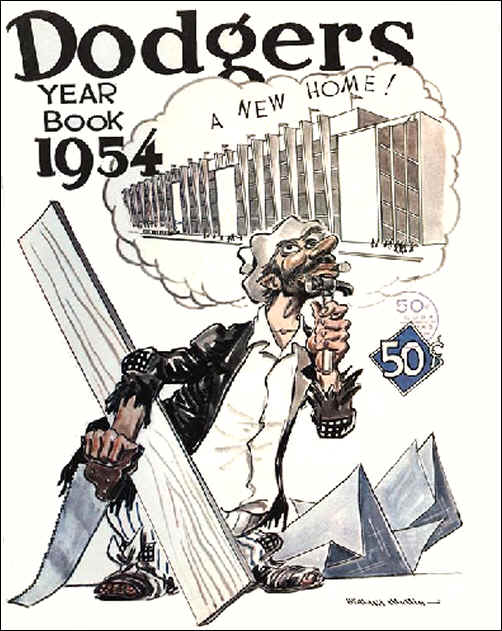 Would Spurs ownership have preferred a similar move from Tottenham to maximize profitability in a more lucrative location? Based on the interest in moving Spurs to Olympic Stadium, the answer is definitely yes. Luckily, whether by chance, OPLC whim or a bluff being called, that move never came to fruition. But that is the beauty of sporting culture in England: location is so essential to a club that Woolwich Wanderers still get criticized today for moving just 10 miles over 100 years ago. Further, supporters have enough influence to resist such robberies. It creates a stability that is not common in the United States.
This stability, relatively typical in the UK, means that a club's stadium is much more closely linked to the club's overall character. As the excellent Memory Lane expresses, the consistency in supporter's experience across generations within the stadium and in the community is central to establishing a coherent identity. Until 1957, Brooklyn had this as well. It served as a universal hub where a diverse community could all unify under a single banner. Regular fans were able to cultivate idiosyncratic traditions that increased sentiment for the team.
By remaining within the same stadia for such a long time, clubs like Spurs have avoided a regrettable phase of entering more impersonal grounds, where the stands are optimized for luxury boxes and corporate seating. Even now, Dodger Stadium, opened in 1962, is third-oldest top-flight baseball stadium in use and attending games there feels like entering a wonderful timewarp. I can only imagine how intimate and raucous Ebbets Field would have felt by comparison.
That will be the challenge for the new Spurs ground: how do you build a modern stadium that maintains authenticity, embraces active fan engagement, and yet adapts to the profit-mindedness that is a necessarily evil of remaining competitive in the Premier League? Further, what are fans to do to turn the new stadium into a proper home? Despite best efforts, organically maintaining character will surely be difficult.
Earlier in my trip to England, I was taking a train to Manchester. From my seat, I could see Etihad Stadium in the distance. Instead of being integrated with East Manchester, it seemed to lord over the surrounding buildings. By contrast, I could not see White Hart Lane until I was one block away. Even then, the amount of logos and branding was relatively minor. With the new stadium and nearby development designs, Spurs will surely begin to define Tottenham's landscape to a greater degree. Furthermore, greater corporate control of the area surrounding the stadium could lead to creating a "Spurs theme park" where the local Tottenham community becomes peripheral. Hopefully the stadium does not overpower a neighborhood where there are so many other wonderfully diverse sources of cultural influence. Again, this requires active efforts on the part of all involved in Tottenham to encourage community engagement.
And what of Ebbets Field now? Since 1962, the once-hallowed ground has been home to a 25-story high rise apartment complex—once the tallest in Brooklyn. Some might argue that 1,300 units of affordable housing does society more good than a baseball field, but the landlords are certainly not altruistic and sport has its own community value. For much of the past 50 years, the complex has been in disrepair, with little regard given to its low income and immigrant residents. Murals and plaques celebrating the Dodgers and Jackie Robinson cover the surrounding blocks, but Ebbets Field Apartments (as it's now known) seems antithetical to their legacy. With Brooklyn going through another real estate boom, the building is beginning renovations and will inevitably be purged of longtime residents in favor of young professionals (admittedly, like me). Tottenham's growing popularity among the gentrifying class will certainly lead to similar stories all along High Road.
Beware of the Trojan Horse
Between 1957 and 2012, no major sports team called Brooklyn home. That changed when the New Jersey Nets moved about 10 miles (as the crow flies) to its new home in Downtown Brooklyn. (Unlike MK Dons or the Woolwich Wanders, U.S. clubs endure much less criticism for relocating.)
Despite some misgivings, I was very excited about finally seeing a team embrace my adopted home of Brooklyn. I naïvely expected a ready-made team that would embody the bombastic-yet-grounded Brooklyn character that I had grown to adore. In essence, I wanted the connection I imagined one would find at White Hart Lane or, once upon a time, Ebbets Field.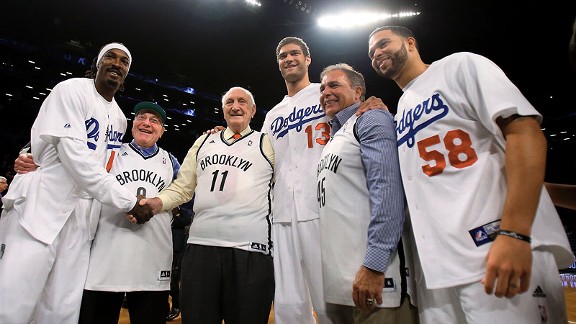 Despite my optimism, the Brooklyn Nets experiment has so-far resembled a failed Chelsea sequel. The Russian oligarch owner—who seems to know nothing of U.S. salary cap structure—has spent a fortune on an aged roster of names as opposed to a cohesive team. Constant turnover means that fans have little on-court identity with which to connect. Games are quiet, with tourists and corporate network outings making up much of the crowd. Many Brooklyn residents who proudly wear Nets apparel cannot afford to attend games and develop that bond from which traditions grow. To me and many other New Yorkers, the Nets exist more to promote a worldwide brand of "Brooklyn" than to serve as a team for Brooklynites. Over time, this will surely change, but there seems to be little space for an organic supporter's culture to take root.
While the on-court play is difficult to stomach, the team's physical relocation and arena development is much more damning. The Nets' move was first planned in 2004 when a real estate developer purchased the team with the intention of moving the team to Downtown Brooklyn. Despite owning nearby property, the developer purchased public land at a fraction of the price and asked that the state use eminent domain (forcing private property sales for "public use"), despite community resistance. Furthermore, a majority of the acquired property would be used for high end commercial and residential development (with some token affordable housing). Amidst red tape, lawsuits, design changes and the 2008 recession, Barclay's Center finally opened in 2012. Construction on the accompanying buildings continues, with decreased projections for affordable housing. A decade later, it is clear that the Nets relocation and arena development was used as a means to create a community-oriented face to a sweetheart deal to develop prime Brooklyn real estate.
Why is all of this relevant to Spurs fans? First, supporters and community members are right to have a healthy skepticism of what the new development will do to existing Tottenham residents and the neighborhood's character. The stadium is part of a larger commercial and housing development project that will certainly affect residents' ability to afford living in the neighborhood. Much like parts of Brooklyn, Tottenham is a unique community that has embraced the working class and immigrant groups for generations. It is important to adapt to a changing London (and Premier League business model), but it is more important to maintain the openness and access that has made Tottenham and Spurs such inclusive environments. Once eradicated, such diverse communities rarely return. Achieving this will require oversight between and by individual supporters, the Supporters Trust, community residents, the club and developers (not to mention the notoriously conservative NFL, a sleeping giant in the future of the stadium). It is fantastic that Spurs will stay in Tottenham, but there is more to be done to ensure a successful transition.
Second, with upcoming moves to Wembley and the new stadium, supporters should be mindful that maintaining the match-day traditions will require extra effort. While stadium designs, the huge single tier stand and the possibility of safe-standing tickets will help the atmosphere, it's not enough. Supporters need to make sure that they bring traditions and demand that those traditions remain embraced. As someone who has admittedly never seen a match at White Hart Lane but who does spend a lot of time in quiet arenas with comatose attendees, I know that it is very difficult to gain back an organic atmosphere once you lose it.
Ghosts of Flatbush
This past winter, I was outside my apartment speaking to an elderly neighbor who has lived most of his life in Crown Heights. As we chatted, a chilling wind (not uncommon along the neighborhood hill) picked up and we both shivered. "We call that wind the Ghosts of Flatbush," he said. "It's old Dodgers who still play at Ebbets Field."
By now, the Dodgers' glory in Brooklyn has long been forgotten. What remains is more of a haunting past than any sentimental echo. The Nets have yet to truly take the mantle as Brooklyn's team. If and when they do, which Brooklyn will it represent? Crown Heights is going through significant gentrification. Things in Brooklyn are changing quickly; what remains feels somewhat sterile.
Reflecting on my visit, Tottenham feels like an alternate Crown Heights where the Dodgers stuck around and the club's identity remained tightly bound to its community. When I started supporting Spurs, it was for more superficial reasons. However, I think that the parallels between the two neighborhoods strengthened my bond. The urban environment, multicultural community and working class atmosphere feels like home, even if it is technically an ocean away.
Just like in Crown Heights, there are challenges facing Tottenham that transcend club and community. Spurs—as a business entity selling a brand and as a real estate developer—is part of the problem, but hopefully, through supporter and community activism, it can also be a source of solutions. The outcome will rely on all of us, near and far—whether you have season tickets or only visit Tottenham once in your life—to be active participants in promoting a mutually beneficial relationship between club and community.
Now that I feel this affinity, I don't only support Spurs; I also support Tottenham.
—
Recommended viewing on the intersection between community and club in Tottenham Hotspur and Brooklyn Dodgers/Nets:
Memory Lane
Brooklyn Dodgers: Ghosts of Flatbush
Battle for Brooklyn