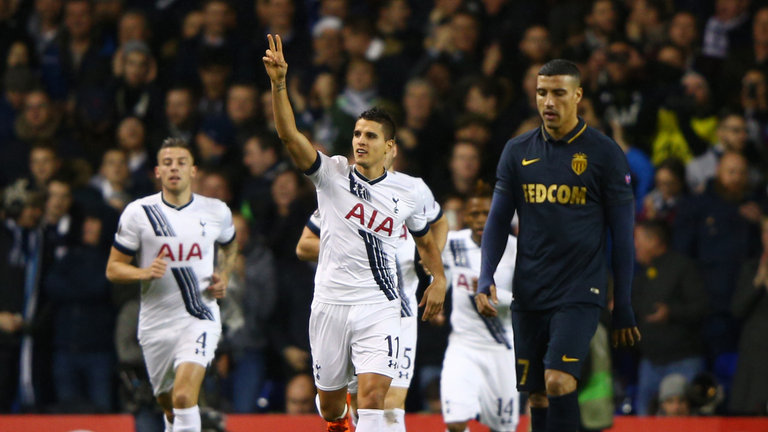 With rumours of injuries, family emergencies and dog grief delaying our Argentinian's comeback, Karl Harrington looks at Erik Lamela's time with the club and what he can potentially bring to the team on his return.
What exactly is going on with with Erik Lamela? Do fish sleep? Will Janssen ever score from open play? There are just some questions us mere mortals cannot answer with any real assertion. As Spurs fans, we find ourselves in familiar territory wondering as to the whereabouts of our Argentine winger, reminiscent of three years ago when there were genuine concerns Sherwood had locked him in his basement. Having not featured since October, he was initially ruled out with a `minor` injury. Official club statements have since reported that he returned to Argentina for a family matter and that he went to Rome to visit the club doctors with whom he had built a special relationship during his time there. In December, talking about his condition Poch declared that "it's hard to say, because he's not a doctor." Well I'm certainly no psychologist but it all sounds slightly peculiar to me. Naturally, in the world of football rumours have been rife suggesting there is more going on than just injury woes; he would be returning to play in Italy or Argentina, he would not sign a contract extension unlike so many others at the club, and that he had struggled to get over the death of his beloved dog Simba. But with the window now firmly shut, Coco recently taking to Instagram to state he misses the Lane, and finally some encouraging worlds from Poch this week, stating "he's very focused on his recovery and to be available as soon as possible," surely it is time to look forward again.
In the world of football rumours have been rife suggesting there is more going on than just injury woes
But before I jump straight back on the Lamela hype train I must ask myself: does the player's ability warrant such fuss and patience? Does a bear Jack Wilshere in the woods? Does Wanyama enjoy his spaghetti? Does……… oh you get the picture. Yes, albeit not on a consistent level, we have all witnessed his world class ability, and he is a player that could help bring titles to the club. I refuse to believe that we simply paid 30 million for a rabona and firmly expect that, as he said once stated, "his time will come and he will make the difference." At 21 years of age we bought a stylish player who had just completed a great term with Roma, notching 15 goals in Seria A. He has never quite hit that form for us but rather surprisingly the flair player we signed has adapted to the ferocity of the Premier League and at times portrayed himself as the poster boy for Poch`s hard-working philosophy. So he undeniably possesses all the ingredients to make a real impact in this league. But so far too many stray passes, wild challenges, persistence to take on an extra man, and lengthy lay-offs have meant we are still quite a bit away from seeing the finished article.
I, regrettably, have been struggling with a dose of Scouser syndrome, claiming "this is gonna be his year" each campaign, only to fall short some months later. In the summer of 2013, we scoured through Youtube videos convincing ourselves we had a ready made replacement to fill our Madrid bound Welshman's boots. He was the most excessive acquisition out of our seven signings and, in the end, possibly proved to be the most not so magnificent throughout the season. However, a change in management renewed our high hopes for 2014 and he started the following campaign in fine form. But he again failed to catch fire and finished the season with a disappointing two league goals. Admittedly last year he did have a very decent campaign, without doubt his best yet in a Spurs shirt, with many moments when he showed us why we splashed out 30 million for him. However, finishing the PL season with a modest five goals he was still a long way short of his feats at Roma, but I felt he had at least propelled himself to a platform from which he could really take over this season.
This was without doubt going to be the year he would prove to be an indispensable player for us, as valuable to our team as Ty is to the Arsenal club shop. I usually try not to read too much into pre-season, but having spent the summer rubbing shoulders with Messi and Di Maria at the Copa America, he came back looking sharper and more composed than ever. "Throw him in your fantasy teams," I urged all my friends. And initially the player we all so badly want to be so good proved me right, scoring against Everton on the opening day of the season, leaving me dancing around the pub like Big Sam in Marbella, while calculating how many points a goal scoring midfielder would get me in my head. But since then we have struggled to get a clear injury update, let alone another league goal.
Last year he did have a very decent campaign, without doubt his best yet in a Spurs shirt
We have certainly managed without him judging by our stance in the league, so how important is he to our current side? Although he wouldn't start in our 3-4-2-1 formation and it´s unlikely he would feature ahead of Son in a 4-2-3-1 system, he would most certainly be a hugely valuable asset if he returned before the end of this season. Every other attacking player outside our starting quartet has proved mediocre at best so far and I can`t think of a better time to have a fully fit Erik in the squad. Playing at such a high intensity is vital to our style, and should one of our pressing mids pick up an injury or start to fatigue before the end of the campaign it would almost certainly result in the loss of priceless points. As the lower teams park the bus against us, it is vital we play with grit for 90 minutes to find the byline or that killer pass, and Lamela's tenacious style could prove invaluable towards the latter end of the season. While still in two cups we face the possibility of a congested fixture list and with second to sixth spot looking to be as tight as Levy`s wallet we don´t want to ruin another summer holidays for Pochettino, leaving him ruing missed opportunities.
As the world finds itself in a period of uncertainty and tension more so than ever we can only hope our man of mystery will finally bloom into the player we all know he can be while wearing Lilywhite. His first four year term at the club can only be described as frustrating, but we have many reasons to be positive about the future. We have our most beloved ever leader in charge, certainly within my living memory, who for once does not divide public opinion. And if there is anyone who can help Lamela get over whatever wall has been holding him back in North London and to find the free scoring form he once enjoyed at Roma, then it`s most definitely his fellow countryman. So please Poch, make Lamela great again!