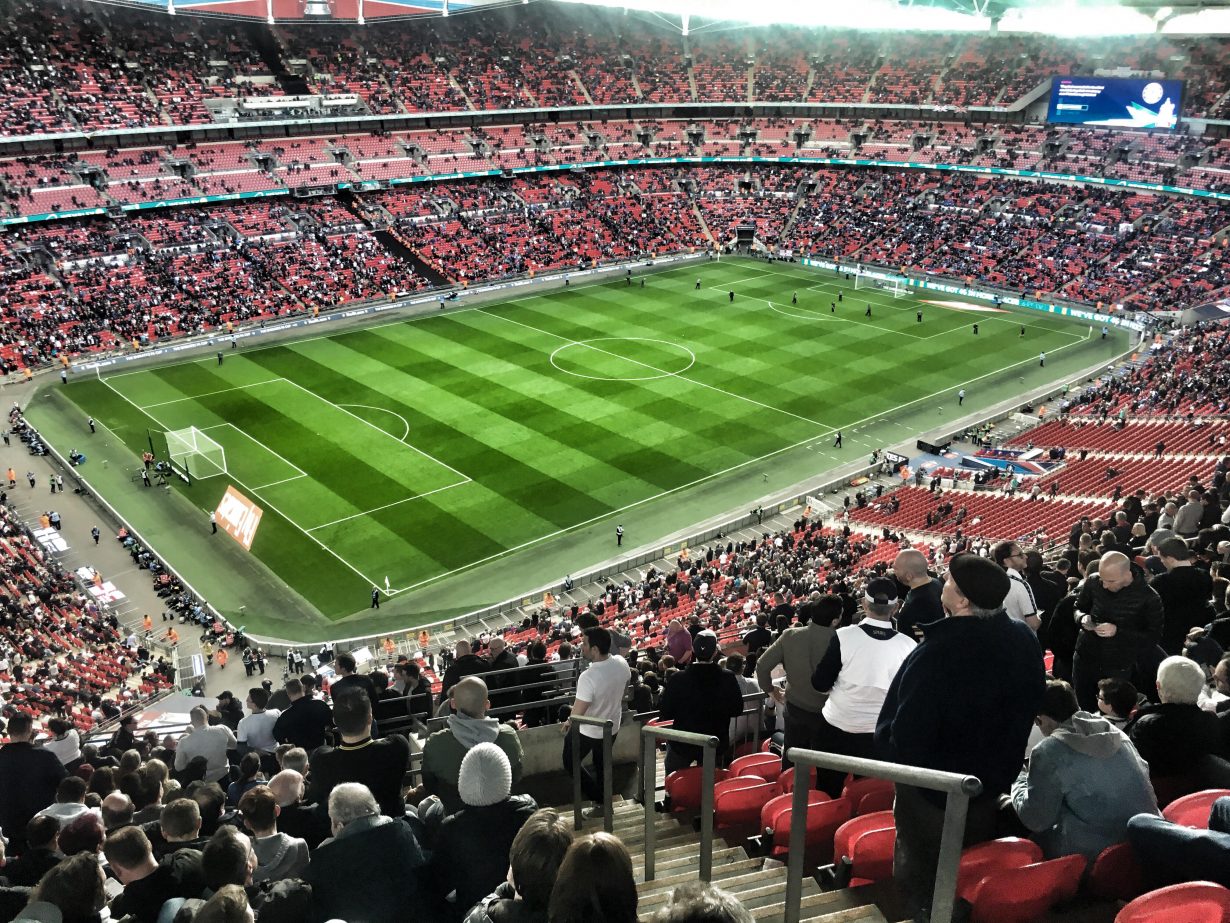 Sam Marlow believes the drum sound that was played through the Wembley speakers is part of a wider issue regarding stadium atmosphere at teams up and down the country.
At the heart of the controversy over the use of the drum and plastic flags at Wembley lies the paradox of the English Premier League. The Premier League product relies on its perceived brilliant atmospheres to sell. If American fans truly cared about the quality of football on display they'd watch the Spanish league. The only reason the Premier League stands out is because of the passion of the fans. Or more accurately, how the passion of the fans comes across on TV.
Yet, anyone who goes to matches will tell you that stadium atmospheres have deteriorated. As fans become customers, stadiums become tourist attractions and traditional working class communities are priced out, the "match day experience" has become sanitised and gentrified. All of this is because of the very fact the Premier League has commodified football. Match going fans now represent a minor source of income for football clubs, meaning they now prioritise more lucrative foreign markets for greater revenues.
The "Unique Selling Point" used to pimp out our sport around the world is the atmospheres, yet by selling the sport they are undermining the very thing which sets it apart. The Premier League is desperate to revive atmospheres, hence the change in the regulations as to where away fans sit in stadiums.
Anyone who goes to matches will tell you that stadium atmospheres have deteriorated
Tottenham are also desperate to appeal to the global fan base. They know atmosphere lies at the heart of the Tottenham "product" and this is why they thought it appropriate to use a drum through the Wembley tannoy system. A well-intended misunderstanding to put it kindly.
What is more concerning is that this is indicative of the direction football is going. Goal music is not conducive to good atmospheres. Football fandom is by definition grass roots and organic. Any top down atmosphere initiative is plastic and artificial. The patience of fans is tested regularly, and Spurs fans will have to deal with this to an even great extent over the coming years as we become a global brand. But this global brand needs us.
Without fans creating atmospheres and cultures, there is nothing left to sell. A quiet stadium full of photo-taking, half-and-half scarf wearing tourists does not appeal to the global fan base quite so much. Tourists who turn up to the games to see the famous atmosphere, only to find other tourists waiting silently for the same thing is not a sustainable business model.
As fans we need to reinforce this message to both Tottenham and the Premier League. The new stadium has been designed with atmosphere in mind, and as much as it's nice to think this is for us, more likely it has been designed with global commercial imperatives in mind. A hollow victory. The average age of a Premier league season ticket holder is 41 whereas in the Bundesliga it is 20. Not exactly a sustainable business model you could say. Encouragingly, there are movements towards safe-standing being introduced and this should be welcomed by fans. Yet there remain discussions about a 39th game being played abroad, undermining the very fabric of our sport and club. There's only so far fan loyalty can go and we need to let Tottenham know it cannot be taken for granted.
Without fans creating atmospheres and cultures, there is nothing left to sell
The case needs to be made in England more than ever before. In order to change anything, the argument unfortunately will have to be won in terms of commercial incentives rather than through the cultural and social value of football fandom. Nevertheless the point stands. Fans are as much as part of the product, if not more so, than the quality of the sport itself.
Luckily, we have a fantastic supporters trust who are switched on to all these issues. And Levy seems to understand to some extent that fans need to be listened to. Even if we are buying the so called "product", we are also part of this very product. And for this reason we have great power. It is imperative we seize this power and opportunity as we move into the new stadium, and don't end up as a franchise club like Arsenal.