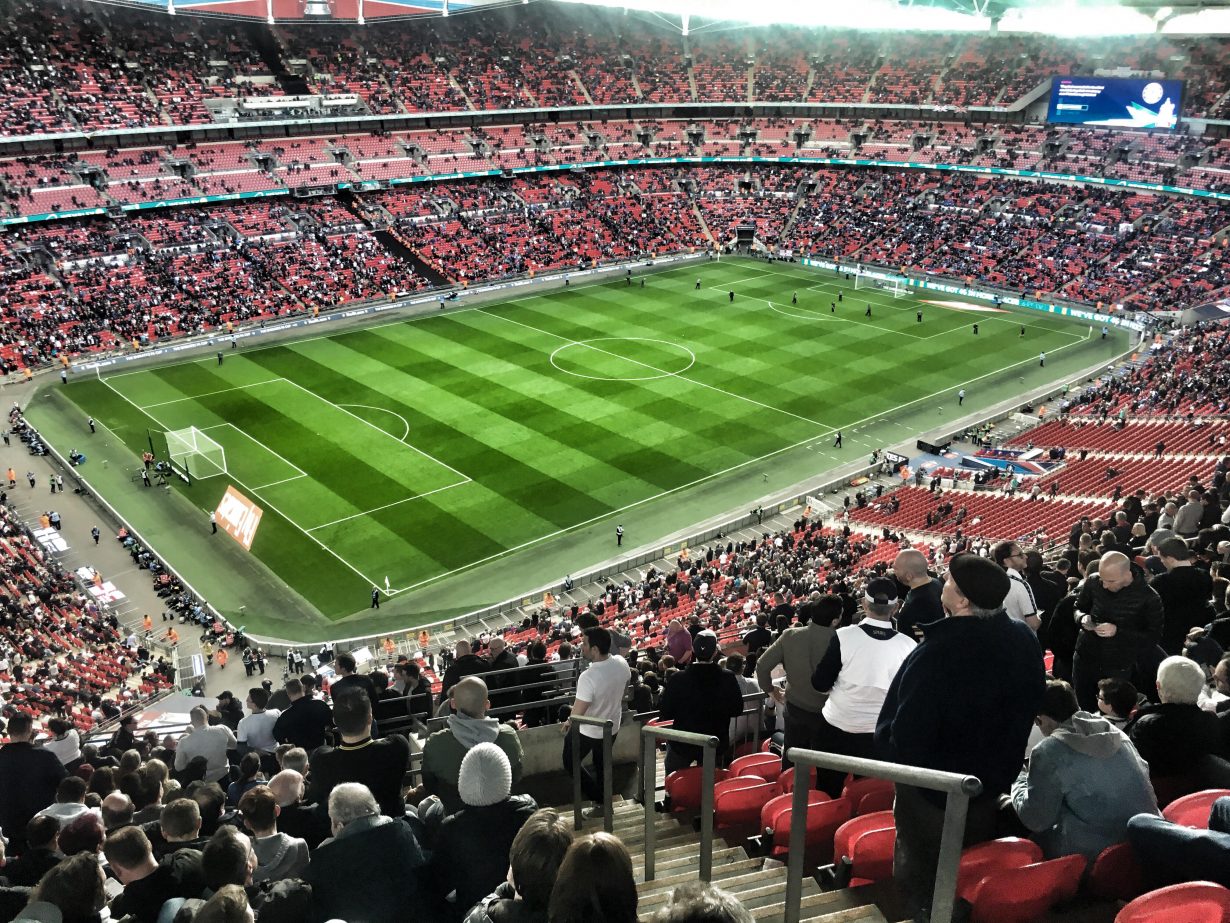 Back from living abroad, Hanik Kotecha is now a season ticket holder.at Wembley. Does he feel like more of a fan now?
Over a year ago, I wrote a piece called Time to Change the Relationship Status? Long story short, it has changed. I am a now a bona fide season ticket holder. While this is due my privilege of living at home again not having to worry about the bills anymore. Does it feel any different now that I've taken the plunge? Yes and boy do I wish I did it sooner.
Let's first start off with the Wembley issue. Why would anyone become a season ticket holder this season, after moving from the Lane and then next season moving into the new stadium? Well joining now, gives me access to the new stadium, but more importantly for me, I don't know if I can stay on a season ticket holder and there is no way I was going to give up on the opportunity. I was over 56,000 in line for the season ticket line and in desperate need for some loyalty points if I wanted to go to an away game. There is no doubt that Wembley is a terrible experience versus the Lane. Even when I went to the Gillingham game last year where the stadium wasn't full, and I was stuck in the West Stand; there was more atmosphere. Wembley is soul destroying in that way. However, when I look around in the upper echelons of Wembley, I see something I rarely saw at the Lane, young kids. While it had made me slightly more conscious of what I say in the stands when you listen to older fans who went when they were young, it's a part of life that they value dearly; even if Spurs were shit at the time. So, all these young fans are getting blooded in, when you read the matchday programme nearly every kid says that the famous person they want to meet is Harry Kane. For them, going to Wembley isn't going to the Ritz, it's going to cloud nine. When we score, after going absolutely mental and you look around and see a kid's ecstasy still ongoing that's what Tottenham is about. Pure joy.
Talking about pure joy, the watching the current Spurs team is sheer joy. It's just silky smooth to watch. The team is starting to shift into second gear. After last season where I have experienced seeing Spurs lose for the first time in front of my eyes and even the first couple of home games at Wembley, where I thought what on Earth have spent my money on? It's been a small price to pay for what we have seen in the last couple of weeks. The Swansea game left a bitter taste in the mouth due to the result, but I was able to blood my German friend into a Spurs fan. Watching Marcos Alonso score twice at my end, seeing Burnley equalise late on. What was going on? For us to then beat Dortmund in the Champions League, where, quite honestly, I was expecting a draw at best. To pummelling Liverpool where I got to meet up with a couple of mates from the away section, and they sat in despair. I all I felt was bliss (it was even sweeter in front of them). The lows of the frustrating draws and disappointing loss against Chelsea are being paid back in spades. And yeah, it's not as good as the Lane, nor did any of us expect it to be. However, if I had only pitched up for the first game, without the season ticket, I probably wouldn't have returned. That stupid drum, non-vicarial atmosphere and some old git next to me who had nothing positive to say and expect to be entertained. How quickly things can change.
Not only the ridiculous thought of a Wembley hoodoo is changing, but my life is also definitely evolving. Before, when I was planning my weekend, I would check if Spurs were on TV and try to plan my day around this. However, if a friend asked me to go out, I would spend time with them instead of watching the match. I mean, I could always just check out Match of the Day in the evening or record it if I was planning on going out in the evening. Can always just check my phone for the score. No biggie. These days, the first thing I do is check the calendar and see if I am making the pilgrimage this week (or multiple times). My life is revolving around the club, and I wouldn't have it any other way. Before the explosion of the Premier League abroad, it was great just to see a live game of Tottenham overseas, and now I get to experience them with my own eyes.
For me, this brings up the point of what is it to be a fan. I've got a bizarre history relating to my love of Spurs. When I was living abroad and had never been to the Lane, am I less of the fan? Part of me wants to say yes, as there is an intangible difference between the person who has gone and who hasn't. The other part of me screams no. There's a lot of good fortune to be able to go to see Spurs, and it takes a particular person to choose Spurs (or at least it did a decade ago). Put it another way, am I now more of a fan now? Does making time to see Tottenham make me better than those who don't? Well, the narcissistic prick inside me says: Of course, it does. The realist would point out that there it is a privileged position to be in, having the choice to spend my weekends watching Spurs. And bar the West Ham game the other night, it's a very nice privilege to have. There is no doubt that my fan experience is now going to be different, whether or not I renew. Part of me is a bit sad by this, especially if I have to walk away from my season ticket. What on Earth will I do over the weekends? Even at Wembley, there is the oneness between us Spurs fans. Walking around the stadium before and after a game is a rare moment to think that everyone is a decent person, 'cause they're Spurs, and so am I. No care about class, race or any other rubbish separator. It's more than a cathartic experience; it's what life should be like. Being seen as nothing other than what I have chosen in support and what I've fallen in love with is a rarity in daily life. While it is the case whether or not I am season ticket holder I do get to experience more often.
There is that ineffable emotional connection to the club that is no longer the same. Would I recommend anyone to get a season ticket? If you have the time and the money, yes get yourself a ticket especially if you an emotional connection to Spurs. If you don't have that regard to the club, I don't know why you would bother with football at all. For me? I'm not going to lie. I love Tottenham. And I have no plans to stop.