Photo by bcthegrandslam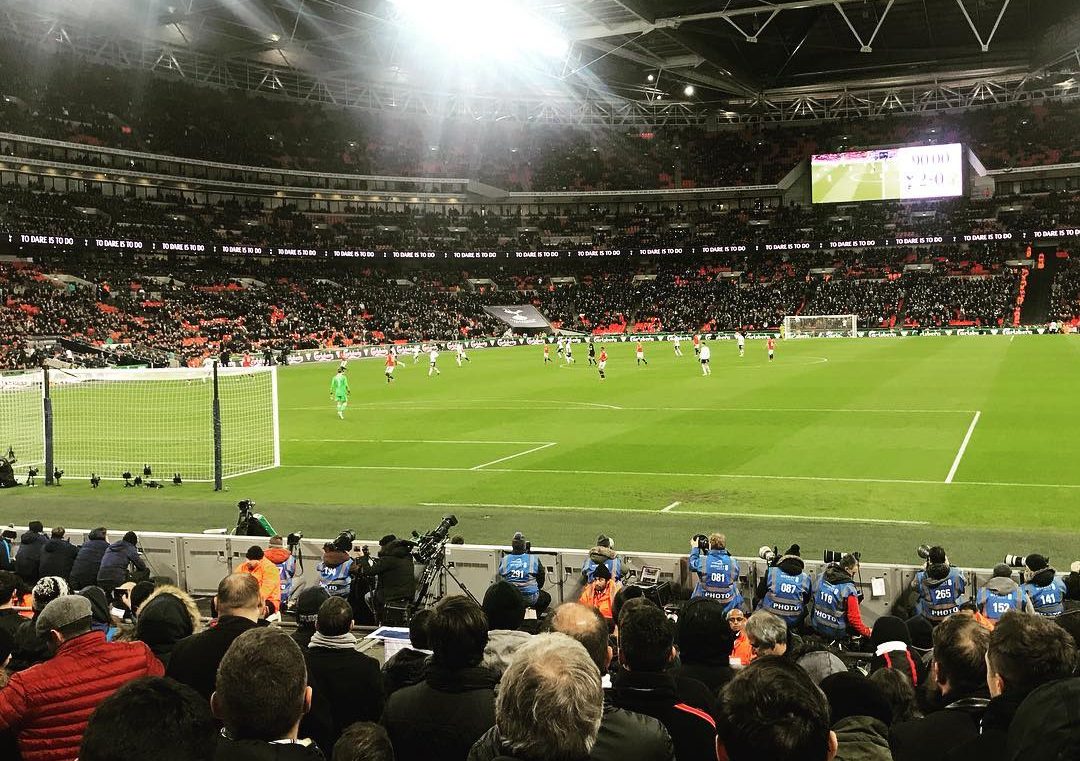 Watching the game with his baby son, K. McGarr watched Spurs provide the perfect introduction in less than 11 seconds but felt a bond that will last a lifetime.
It was a fairly typical scene for Ossie and I. I was gently shifting my weight from side to side, while Ossie, packed into a canvas sling attached to my chest, softly snored, emitting tiny baby noises that would bring the meanest of men to their knees.
Lights off, we were stood in the comfortable confines of his recently decorated nursery. A room I have contemplated at all hours of the day over the first 2 months of his precious life.
But tonight the room is different. Bathed in a shimmering green light, unmistakable to a passer by. A vibrant green that is only ever emitted from a television screen as a football match is played out under floodlights. A warm and comfortable glow. A glow filled with hope and excitement for what might happen over the next 90 minutes.
It was the first time Ossie and I have watched a match together. I realise no part of my son's attention was on the game, however, having him with me, strapped to my chest, heartbeat to heartbeat, I felt an even deeper connection to my club. The hope at the start of a game coupled with the hope of a new life had me contemplating the years ahead…the matches, the highs and lows, the great players, all the moments we are going to experience together supporting this wonderful football club.
Tottenham Hotspur, the club that knows glory and despair like no other. A club perfectly suited to teach a man to accept all that life throws at you, a club that gives you an identity bigger than any trophy cabinet. A club that teaches you to be proud of who you are and above all else, seek the glory.
In perfect union, father, son and football club. The referee blows his whistle and our hearts beat. Spurs, a team renowned for their passing prowess and commitment to the beautiful game, launch a 60 yard ball from back to front. Our hearts beat. The ball hangs in the Wembley sky until Harry Kane, a role model supreme, rises highest to win the header. Our hearts beat. The ball drops in the penalty box where Dele Alli, anticipating the flick on from Kane, is in position to touch the ball behind him. Our hearts beat. Eriksen, always in tune with the intentions of others, collects Alli's flick in front of goal. Our hearts beat. With the calmness of a man going about his every day duty, Eriksen slots it past the united goalkeeper into the corner of the net. Our hearts beat.
Glory arrives 10.54 seconds into our first game. At Wembley 82,000 Spurs fans erupt. At 7 Bloxhall Road, a father and a son seal a future together. A future forever connected to supporting Tottenham Hotspur.
The Gods, footballing or otherwise have shone on us. Stood together, awash in the green glow of the pitch, I couldn't help but rejoice in the significance of the moment. With my son pressed against my heart, Spurs scored the quickest goal ever scored at Wembley. Magic was in the air.
Over the following 90 minutes Spurs, outplay, out-think and out battle a Manchester United team, littered with super stars. It was the perfect performance, the perfect introduction to Tottenham Hotspur.
Ossie, 2 months old, forever bonded to a football club he doesn't yet know. In the years to come, he'll be asked why he supports Tottenham Hotspur, he can reply, the footballing Gods decided it so.
Also his Dad wouldn't have had it any other way.