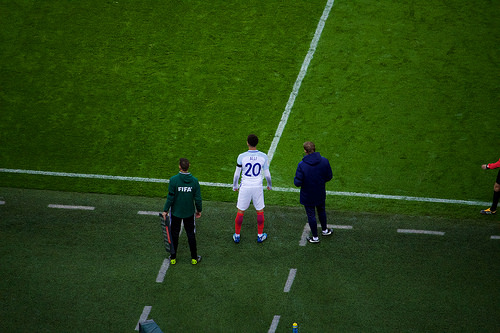 As England progress further in the World Cup, it is difficult not to get swept up in the hype. Even though it goes against everything she believed before, Jennifer Annely can't help but warm to the current crop of players.
So let me introduce myself – I'm Jennifer. I was born and raised in Scotland and all of my maternal family are German. So I'm sure you have just realised that this World Cup has not gone well for me. Usually I have the best of both worlds, I support Scotland in the qualifying games then Germany once the tournament starts. This is a pretty good system, Scotland haven't qualified in a long time and Germany always do. However, this year it hasn't quite worked for me and despite what my husbands says, I'm not bitter. Honestly.
I am sure that you have also gathered that I am not an England fan. Now, lets be very clear – I'm not anti-English. I live in England, I'm married to an Englishman and I'm very happy here. I don't actively hope England lose every match either, I mostly just pray that no Tottenham players get injured. Then I just wait until you get knocked out and have a little chuckle to myself as the chaos ensues.
The main problem that I have with the England football team really has nothing to do with the team itself, it is mostly the media. We all know 50 years ago you won the world cup, but do you really need to mention it every single time England play? And also, you do share this island with 4 other nations, you are by far the biggest fish in our little pond, so you really don't need to gloat about it.
The main problem that I have with the England football team really has nothing to do with the team itself, it is mostly the media
Also, in the build up to the tournament it feels like all the media do is slag off the players and then everyone is shocked when they don't have the confidence to win it. It absolutely does my head in. This especially does my head in when the players that they are bashing are my players. That tweet from the FA about Harry Kane was completely out of line. No other country would very publically make fun of their captain and I can't understand why not only the media, but the FA itself would treat their own players this way. It most certainly is not endearing.
However, since the last World Cup, things have changed a lot in this country. It was during the summer of 2014 that Tottenham Hotspur have made one of their best ever decisions in hiring Mauricio Pochettino and since then he has changed the face of not only our club, but the national team itself. If you could go back to the World Cup team of 2014 and tell them – in 4 years the backbone of this team is going to be full of Spurs players I don't think they would have been happy.
Before Pochettino arrived, we were a mess. A proper mess. It was very clear that many of our players were just there to pick up their vastly overpaid wages and were not particularly interested in running through walls for our club. Poch has built a group of players who genuinely care. They care about each other, they care about the club and I do believe that they care about us fans too. Not only that, but they seem to have grown into good men. They aren't falling out of nightclubs and sleeping with each other's wives either. So if I believe that they care about me, can I really cheer against them?
They care about each other, they care about the club and I do believe that they care about us fans too
I'm not going to lie to you. I watched the penalties against Columbia on mute alone in my bedroom. I couldn't watch them with my husband because he was a bit of a mess downstairs and as they progressed something very strange started to happen. Harry stepped up first and I know he was going to score because it's Harry so nothing new there. I was pretty indifferent about Rashford, I wanted Henderson to miss (because you know, Liverpool fans) and then appeared wee Kieran Trippier and deep down I really wanted him to score. I have never wanted an England player to score in my life ever, and here I was hoping Tripps would score a penalty to help send England through. Then came Eric Dier and a few thoughts went through my head. First if he misses this, he is going to be the scapegoat for England going out. He is going to get bashed by the papers and on social media for this and we are going to hear about it all next season. I just didn't want him to be reason that England went out so that feeling came back and I willed him to put the ball in the back of the net to send England through. Lo and behold it went in and I felt genuinely happy for him. To be honest, I am genuinely happy for this team and particular the Spurs players. I don't believe that 'England' deserves to win this world cup (as Gary Neville put it in the post match), but I certainly think that Harry Kane in particular probably does.
I also think it would do wonders for Spurs if they can actually win the World Cup. Clearly, an FA cup semi-final won't intimidate them next April. Maybe this will help Spurs get over the trophy line.
Crap, have I accidentally become an England fan?