Photo by SpursOfficial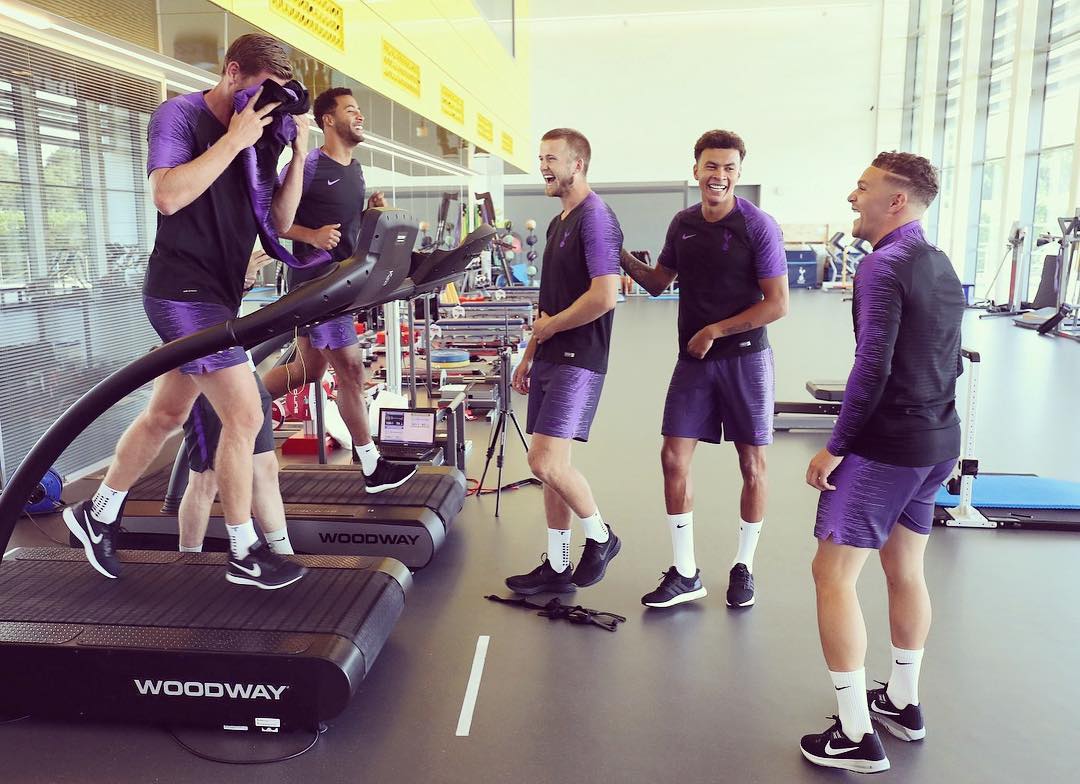 It couldn't actually happen, could it? We're surely going to sign someone. Jennifer Annely is starting to sweat. Do we all need to chill?
Football fans are my favourite people on the planet. We are completely irrational all the time. We can be adamant that a player is a disgrace and then a quick goal against the scum and he's a hero. Sometimes it feels that we can only operate in extremes; one minute it's black and then second it's white. When actually, most of our lives operate in the grey.
This makes a little bit of sense during the season. Games can often come thick and fast so things can go from 'our season is over' to 'we can still win the league' in a game or two. Players get injured, they say things in the media then they (sometimes) atone for their sins on the pitch. Life comes at us pretty quick.
But alas, it is summer. No games, the World Cup is over and all we have to talk about is transfers. This summer started out quite brightly. Pochettino said he needed big money this summer and then signed a new deal with the club. This was supposed to show commitment from the club that they would give Poch the "war chest" he needed to compete with the clubs around us. Some media outlets were even reporting that Levy had assured Poch (and us) that we would be spending 100-200 million pounds this summer to push on and finally win something. But then the World Cup happened and then it finished and now we are a couple of days away from the end of the window and, um, well…
I am writing this on the 7th August and we have signed no one. Literally no one and we are the only Premier League club not to do so. To be honest with you, I am not sure if this has ever happened in the Premier League era before, but could we actually go a whole summer without signing anyone?
It couldn't actually happen could it? I'm getting a bit anxious now.
Just typing that sentence made my heart start being faster. It couldn't actually happen could it? I'm getting a bit anxious now. Thinking about this is officially not good for my health and I imagine yours too. We have been ingrained to think that every summer we need to bring in a bunch of players to improve our squad. Therefore, the implication is that if we bring in no one then our squad will not improve and it feels like all the other top six are buying loads of players. Watching clubs like Man City and even Liverpool spending big money gives me the fear. Are we going to be able to compete? Are we going to drop out of the top six? Are we going to qualify for the Champions League? What if the first season in our new stadium is a failure? Oh god, I'm starting to sweat now. So many what ifs and in a world where Twitter is just an anxiety filled echo chamber, it can be tough to be positive and not just start writing the season off before a ball has even been kicked.
Josh at work (who is Liverpool fan) said to me that if you have a squad that hasn't won the league, you need to buy players to make it a team that can. But, is this actually true? Is it true that if we spend hundreds of millions on new players that our squad will actually improve? Are we just panicking because Twitter and Sky Sports (and other fans) have said that we should?
Yesterday I went on Instagram and I saw a picture of a group of our players back at the training ground and to be honest it is probably the best football related thing I have seen all summer. It was Jan Vertonghen, Eric Dier, Dele Alli , Mousa Dembele and Kieran Trippier laughing their heads off. Players who finished third and fourth in a World Cup in a team – whose captain won the tournament and vice-captain won the golden boot. They don't look bothered to me. They aren't worried; they are standing around with their mates, happy to be back at work.
Unlike all of the other clubs spending big money, they are a team.
Do you remember the days when players didn't want to be there? Players who didn't care about the club or each other? These players genuinely want to be at Hotspur way and are a team that play for each other. This is special and every year their bond grows, they mature, they become better players. This team will be better than it was last year simply because they have played another season together. They have played for their countries at World Cup together. And unlike all of the other clubs spending big money, they are a team.
What I keep telling myself is that we could spend 200 Million on three or four players who maybe won't fit in with the team. Maybe they don't all get along; maybe they don't play right away and get annoyed. They could wreck everything that we have. Remember all of the players that we bought with the Bale money? We spent a lot of money and didn't improve at all. Look at Everton last year – they spent more than they ever have and almost got relegated. I know it is in our nature to panic about not spending money on transfers, but doing that doesn't necessarily guarantee us success. We could spend big money on a player and they could get injured in the first game of the season. I don't buy the idea that spending money is a guarantee of progress.
Also, not every club is spending either. Both Chelsea and Manchester United have only signed a midfielder and a back up keeper. With a new manager at Chelsea and Mourinho looking like he is a couple of loses away from getting fired, it isn't a certainty that everyone is getting better. Our chances of improving look much better than either of those clubs. Even with no signings, a settled Spurs team with the best manager in league has just as good of a shot of finishing in the top as anyone else. So chill out. It'll be fine. I hope.