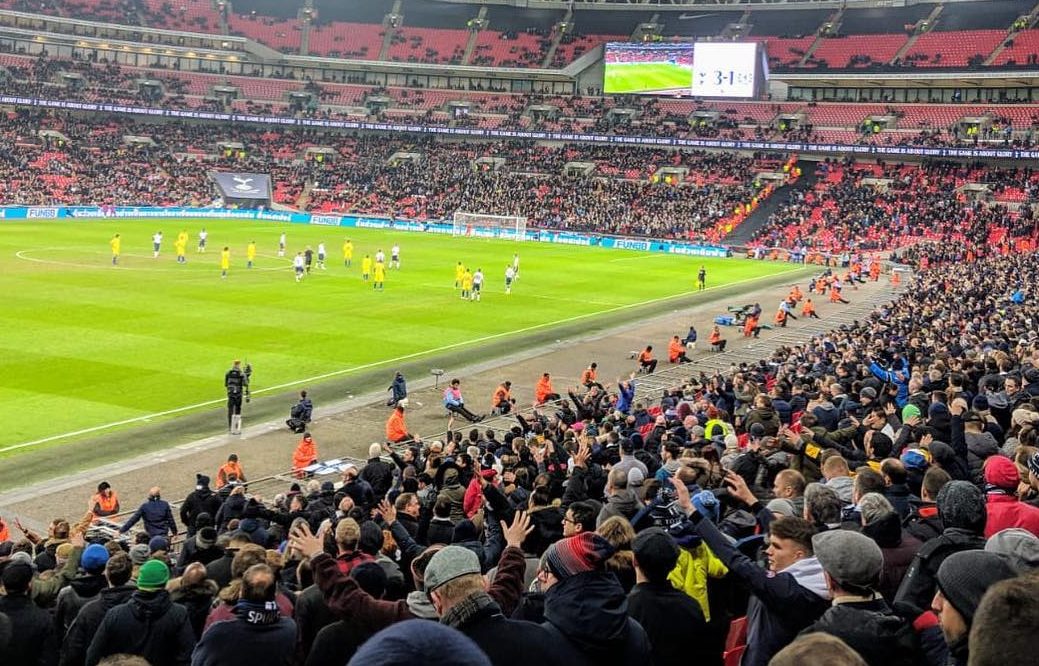 Results this season have largely been good but the performance sometimes lacking. Everything seemed to click into place on Saturday and, if anything, Chelsea got off lightly.
The season has been a peculiar animal so far for Spurs, before the Chelsea game yesterday, we came in with an impressive 27 points from 12 games, of which only 4 games were at 'home' and all the points derived from wins, with no draws. The stats were impressive, the league table belied a set of results consistent with some of the best Spurs starting sequences in the Premier League era.
Yet there was something hollow about all the statistical good news because what the stats didn't show was a team who had yet to dominate the opposition, a team who had not yet really set out their marker, we'd been dogged by injuries and the perpetual problem of how we really adapt to an eventual life without Mousa Dembélé. This must also be seen in context with the gamble of not making any transfer signings in the off season.
We had picked up wins but there had been concerns, like flat performances at home to Liverpool, some questionable set piece defending at Watford and late goals conceded in the European games which is endemic of lack of defensive concentration at times.
Compound the flat performances with the new stadium development and uncertainty over if and when Wembley could finally be consigned to the past and a needless incident where Hugo got charged and arrested for driving under the influence. In context this season so far has been full of mixed feelings which was not only related to what happened on the pitch.
We arrived at a moment on Saturday where we need clarity on the new ground, we need a performance to galvanise us and a return to feeling good about Tottenham Hotspur. Well, two out of three ain't bad!
Chelsea were meant to be the wake up call, to prove that Spurs are not what the statistics suggest. Not many fellow fans felt confident going in to the match, Chelsea were unbeaten and Spurs were coming off the back of an unconvincing win at Palace. The Implosion, however, turned out to be Chelsea's.
In context this season so far has been full of mixed feelings which was not only related to what happened on the pitch
There was a stunning start to the game, we were quick, our passing worked, our pressing game was ruthlessly effective and quickly we took advantage, a well taken Eriksen set piece and a precision header from Dele giving Kepa no chance. Shortly after Son volleyed just over after an excellent run.
The story could have been different where Hazard was blatantly fouled by Foyth and in direct line of sight of the ref. But truthfully, even taking in to account this injustice, Chelsea weren't at the races, not remotely, forcing just one save from Lloris in the first half. Moments later Kane, 25 yards out, found an inexplicable shot where Luiz just blocked the view momentarily leaving Kepa looking statuesque as the shot sailed past.
This wasn't the end to Spurs' dominance, Son was on the receiving end of another 2 or 3 chances, with Toby having a reflex shot well saved by Kepa, we'd absolutely pummelled Chelsea in the first half and the only disappointment was that the 2 goal margin didn't illustrate the gulf in quality between the sides.
In the second half Chelsea did offer a little more defensive resistance but not enough to stop a beautiful third goal with Son running over half the length of the pitch to finish clinically and end any doubt of a second consecutive Spurs win against their West London neighbours, for the first time since 1987.
Still Dele and Kane also had more gilt edged chances to further extend the lead, a succession of subs led to Giroud and his inevitable consolation but it was too little too late for Chelsea, giving a somewhat respectable scoreline from their perspective, which is undeserving when you see how much better we were in the whole game.
You will see me pointing out the chances mentioned but it wasn't just the fact we attacked well that gives gratification. The defensive work yesterday was excellent, barring his push, Foyth has really begun to establish himself in the squad, Aurier & Sissoko have made a really effective partnership, Aurier would make runs forward with Sissoko providing cover for his role if he was caught up front in an attacking position when Chelsea countered.
We'd absolutely pummelled Chelsea in the first half
Sissoko has been the subject of ire & brimstone for most of his time at Spurs, recently we've had glimpses of his potential though. He was absolutely imperious, Chelsea had a great deal of possession and Sissoko made that meaningless by continually pressing and defending in the right places negated the Chelsea threat in a way that most of us would have ever imagined. Think back to the start of the season, could you imagine the crowd would be chanting his name devoid of any irony? He has found his purpose and Jonathan Liew of The Independent labelled him an 'Enigma' amongst a thesaurus of superlatives in his excellent match report.
Then let's move to Son, had a host of great chances and really worked his socks off, probably had 5 good scoring chances in the game and scored the hardest of them, he's getting in the right positions and finally got his reward with the goal, hopefully this is the point where he can kick on and start clocking some goals up.
We should also take a look at Dele, his movement causing a constant problem for Chelsea, often getting in good shooting positions, a brilliant header and a sublime pass to Son to start his run for third goal.
When you look back at Saturday, it was just what was needed. To beat an opposition well is always good for morale, to beat a seemingly unbeatable team who happen to be local rivals by a clear gulf in quality gives us much more, a restoration of faith which goes beyond just a nice looking league table (with Spurs sitting pretty on 3rd!).
There is a huge amount more football to come and so I'm not going to make predictions about what happens next. That said if we keep performing like that there are going to be a lot more reasons to be cheerful.