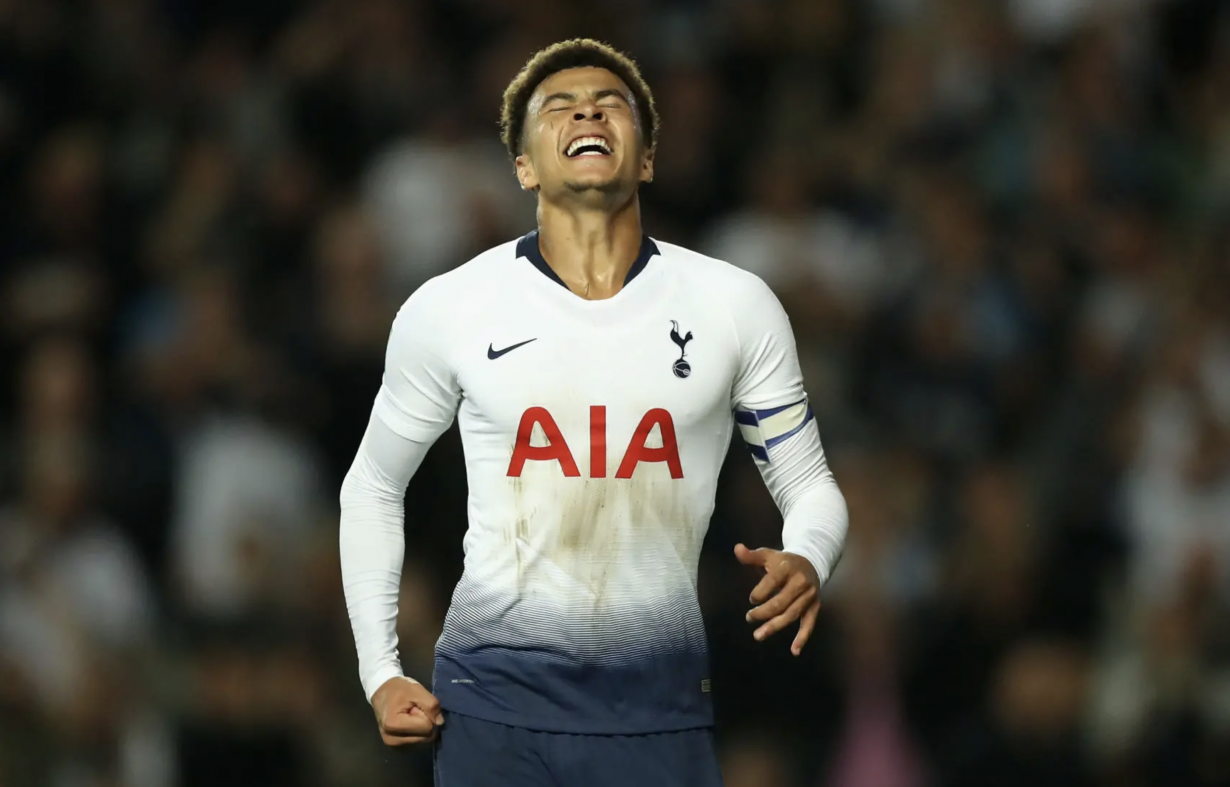 Regardless of the promise that Dele Alli demonstrated in his early days with Tottenham, he was always prone to combustion. James Harris explains how and why things have changed, and what has become of our very own Milton Keynes maestro
Always the headliner. Whether it is for his goal, or his response to the bottle thrown at him, Dele Alli's name will dominate the back pages again. Yet, as he gets older, the headlines grow less capable of doing him justice. Despite often being the centre of attention, the true level of Alli's gift continues to go unappreciated by so many.
There was a time when Alli would steal the show with match-winning goals, but do little else besides. Being anonymous for eighty minutes before providing one moment of inspiration became an early trademark in his Spurs career. Even in his most potent goal-scoring season, 2016/17, in which Alli scored eighteen league goals, the midfielder was probably not even Tottenham's fourth or fifth best player. His movement and touch would decide games, but he would rarely be the driving force behind victory.
These early impressions have left some lingering doubts about Alli. As is the case with today's football, his greatest weapons are used against him. 'He only scores goals'. As if that is a bad thing. Even so, that has not been true for at least a year. This change to Alli's game, and the consequential drop-off in goals, has of course led to the same critics using that against him. If he is not on the scoresheet as often, that can only mean a loss of form. The truth, as is clear to those who watch more than just Match of the Day, is that Alli is transforming into something much greater than just the headline-stealer.
Much of the criticism aimed at Alli can be accredited to the blind, bitter partisanship that has become a staple of the social media age of football. Laying that aside, there are more understandable reasons for the Alli deniers. The 22-year-old does not possess the passing range of Glenn Hoddle, the pace of Aaron Lennon, nor the explosiveness of Gareth Bale. The focus is put on what Alli does not have in his armoury, because what he does is harder to gauge.
'Pace' and 'power' have become the touchstones of the increasingly athletic modern game; footballing intelligence is secondary. Alli is the emphatic antithesis to this idea. He has the athletic frame to thrive in the Premier League, but what takes him beyond others of his age is how he plays the game in his head. He is the master of space and timing.
At the Emirates on last month, before Harry Kane even knew what he was going to do with the ball as it came down on his chest, Alli had set off between full-back and centre-back, pointing the way for his England captain. It is this mind-set that sets him apart as such an unorthodox threat. More than most, Alli realises empty spaces can be just as dangerous as possession of the ball.
His discipline – both in terms of tactics and temperament – are exemplary, despite what some may have you believe. He is no longer the boy that lashes out in frustration. Instead, he knows perfectly when to nibble, when to goad, and when to cool off. It is he that frustrates others to put them off these days, rather than the reverse. His dedication to winding up Woolwich's players on Wednesday was admirable; his reaction to the bottle thrown at him, masterful.
When Mauricio Pochettino needed a sacrificial lamb to stifle Jorginho at the heart of Chelsea's midfield machine last month, Alli wilfully obliged. Pochettino knew his midfielder was the perfect charge for a task requiring such intelligence and determination. Despite his youth, Alli is trusted as one of his manager's most reliable officers.
And his visible commitment to the cause has reignited a love from the fans too. It has seemed inevitable from the start that Alli would one day make his move to one of the super-clubs in Spain. He is one of Adidas' poster boys, the face of clothing lines, and has made an appearance at the EMAs. The perfect, marketable superstar thriving in the prime of football consumerism. This, for a time, created a certain distance between Alli and the fan base of his own club. Why bother getting too attached if we are only part of his greater aspirations? Yet, he has balanced his two lives perfectly.
There have been no signs of discontent, even though Alli already has a high enough profile to be considered by Europe's juggernauts. His contract renewals have been aligned with a reiteration of what seems a genuine excitement about Tottenham's ambition. This is coupled with a work ethic that is so often lacking in players when they realise their own worth. All of that, along with his eye-catching talent, has made it impossible for the Spurs faithful to deny Alli a place in their hearts.
Alli is not a dictator of games – he is not Christian Eriksen. He is now less often a goal-scoring match-winner as he was two years ago. Yet, the more you watch Spurs, the more you realise Alli to be an irreproducible vital ingredient in Tottenham's success. A leading contributor in every facet of their game. Not a jack of all trades, but a master of them. A hassling, swaggering, tireless pain-in-the-neck and an invisible, abstract, ghostly force all at once.
He is everything Pochettino's Tottenham have come to be known as. Talented, intelligent, hard-working, and just the right amount of nasty and foul. He remains a headliner, but has evolved into so, so much more.