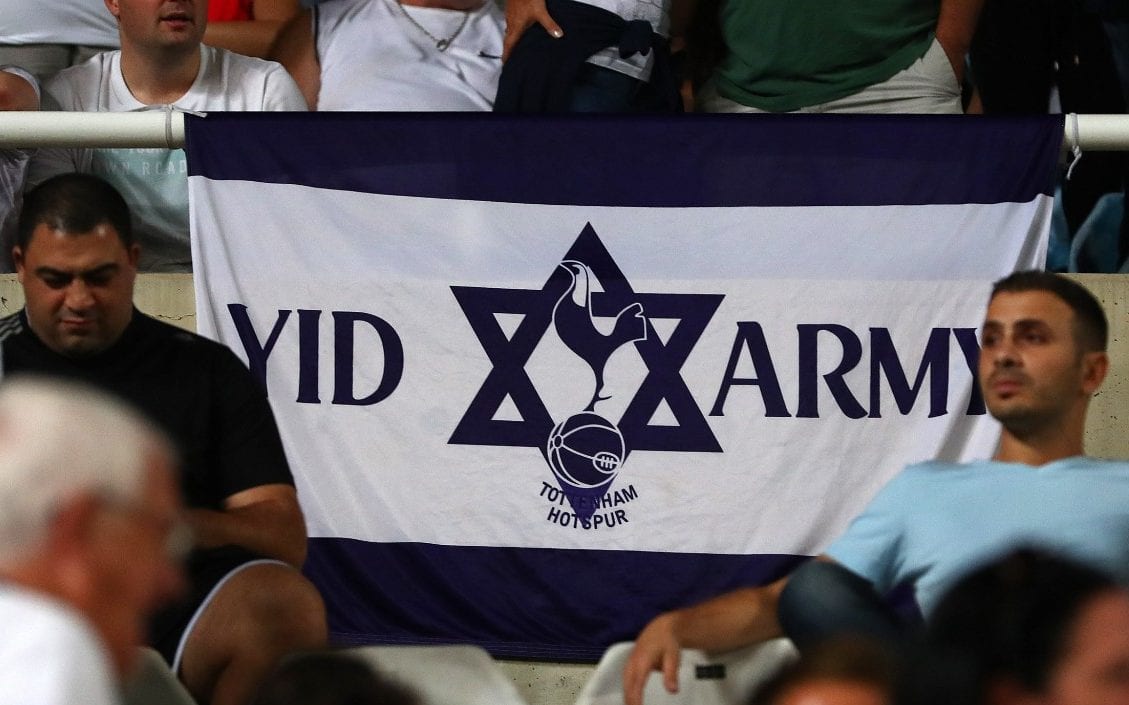 Is it ours? Is it theirs? Should we stop using the word to describe ourselves as yids... and if not, why?
It's happened again; like leap years or lunar eclipses, the debate about Tottenham Hotspur fans using the Y-word has re-surfaced. Four years after three Spurs fans were arrested, only for the prosecution to be dropped, the World Jewish Congress and the Board of Deputies of British Jews have once again raised the issue.
This comes at a time where racism is sadly still finding its way into the stands and onto the pitch, from London to Moscow. While there is no argument about the need to stamp racism out, the Y-word debate is complicated by our historic re-claiming of the word from those who used it against us. The arguments on both sides have been rehearsed a hundred times. Those in favour say it is a positive appropriation, a defence against historic anti-semitic abuse from other fans. Those against counter that even if we wear it as a badge of pride, it gives license to fans of rival teams to use it pejoratively. Those in favour reply that our historic Jewish associations will be used as fodder for antisemitic chants whether we censor the term or not. And so it goes, on and on.
If a group that's being discriminated against says a word is damaging, then it seems reasonable to accept that and move on. The problem here is that those opposed to the use of the term are at odds with the majority of Jewish Spurs fans. Back in 2013, the club commissioned some research into supporters' opinions, both Jewish and non-Jewish. Roughly the same number of Jewish (73%) and non-Jewish (74%) fans were in favour of allowing the word, while 8% of Jewish and 12% of non-Jewish fans were 'unsure or held a neutral position'. I don't know what the figures would be among Jewish fans of other teams, or those who have no interest in football. I've heard good arguments from those in favour of us using the word, and those who want to ban it. In my head, I can see both sides.
But from a personal, emotional perspective, I'd be sad to see the word go out of circulation. My relationship to Spurs, and my Jewish heritage, and the relationship between the two, creates a powerful emotional connection which I'm reminded of every time thousands of our fans sing in proud unison.
When it comes to football teams and cultural heritage, most of us don't really have a choice; they're markers of identity that get handed down to you. Growing up, I didn't really embrace either of them. Partly because I wasn't sure if I really belonged; what does it mean to be only a bit Jewish, alongside various other ethnicities, (not to mention being an atheist)? And could I really a call myself a true Spurs fan, born in London but growing up in the Midlands, going to a few games undercover in the home stands at Villa Park or the Hawthorns?
So what does being Spurs and being Jew(ish) mean to me in adulthood? In both cases, it's about family. After moving back down to the capital, nights under the lights at White Hart Lane were a way to reconnect with the Spurs side of the family who live in London. Similarly, with the passing away of my grandma, a Yiddish-speaking North Londoner, the occasional reminder of the imprints her community have left on the social fabric of the city are a nostalgic reminder of that part of my heritage.
We can't predict or control the kind of cultural alchemy that leads a football team to become associated with a nearby minority group. When my grandmother left Poland for Britain as a young girl, she had to figure out how to forge a British and Jewish identity. I never asked her what she thought about it, but I'm sure she would have been intrigued, confused, and probably amused, at the unique melding of Jewish identity and working class solidarity at Tottenham.
Maybe it's an anachronism, maybe it's time we retired it, or maybe we just need to do more to educate younger fans about the history and context behind it. But for me, when the crowd at White Hart Lane sing about the thing they love being most, it's a beautiful collision of family connections past and present.