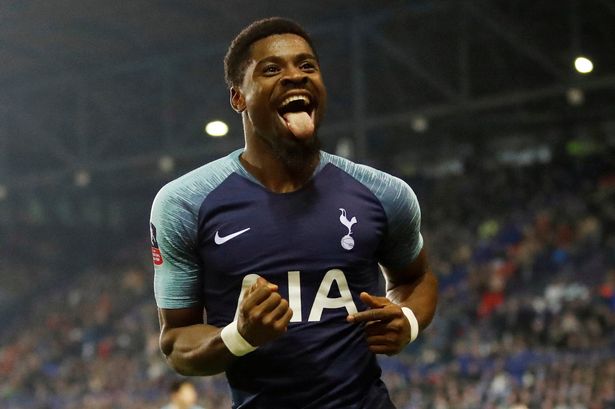 The perception towards him in his maiden PL season throughout social media was harsh, with Trippier receiving considerably more praise.
In light of his rumoured transfer, and our injury crisis, I thought I would write some words about our controversial right-back. If you asked me what I thought of Aurier, I would say he is a good fullback who needs a run of games to get up to form – which he often doesn't because he is so injury prone.
The general perception, however, is that he is reckless, continually makes mistakes, can't be relied on and can't take throw-ins (ok maybe the last part is true). How he is described and how he performs on the pitch are two different things.
No game epitomises this more than the 1-0 victory away at Crystal Palace 25th February 2018. This game is significant in the fable of Aurier. It's well remembered for his embarrassing hat-trick of foul throws, a favourite when criticising him. Yet a foul throw, while embarrassing (three being especially embarrassing) really means little in the context of the game. It is no more impactful than misplacing three passes.
Despite this, he was one of our best performers throughout the game, being heavily involved in the build up towards Kane goal – and putting in one of the tackles of the season in the 61st minute when his last minute slide denied Alexander Sorloth a clear attempt on goal from 5 yards out. A game often used to highlight him negatively was actually a strong fullback performance. Perception.
The 17/18 season was a mixed bag for him in general. In the CL group stages he was outstanding. His debut against Dortmund was very reassuring. In the PL, his first start vs West Ham started promising, yet a pointlessly reckless challenge when he was on a yellow earned him an early bath and he was sent off. A poor first start against your local rivals is always hard to overcome and despite how well you play in your subsequent games people's minds are tough to change.
And play well is exactly what he did. His subsequent match out of position at LB vs Liverpool he held his own against the in-form Salah. His continually solid performances at RB earned him the starting spot by the end of 2017. He was excellent in the opening weeks of 2019 yet just as he was hitting his stride a calf-injury knocked caused him to miss a few weeks and he went into the Juventus away leg having not played football for three weeks.
This game is also frequently referred to when people want to make an argument against Aurier. After Douglas Costa easily burst past Sanchez, a desperate Serge needlessly lunged into a challenge earning the Brazilian trickster a penalty for his troubles. Subsequently, Aurier was the go-to scapegoat after this match, people vilifying him for every mistake. What is worth noting is Allegri's tactics caused continual overloads which the fullbacks struggled with over the two legs.
While everyone remembers Aurier's stupidity; Ben Davies rarely gets blamed for an equally brainless challenge on Bernardeschi and nobody mentions Vertonghen who needlessly lunged and fouled Costa in the box (basically the exact same tackle) but got away with it thanks to the ref missing it.
Aurier continued to perform well, with a stand-out performance in a 4-1 victory away to Bournemouth which earned him a goal and an assist. However, injury problems caused him to miss most the end of the season and a promising first season ended disappointingly.
The perception towards him in his maiden PL season throughout social media was harsh, with Trippier receiving considerably more praise. Serge Aurier never played as poor as Trippier did vs Man City in the 3-1 & 4-1 losses that season, but the Englishman had both fans and pundits alike making excuses for him while Aurier didn't.
18/19 Aurier missed 90 days of the season through injuries, he barely featured in the league but was good when he played in the CL.
Eriksen is often unfairly criticised for not caring, his calm persona gives the perception that he isn't as passionate as a player like Lewis Holtby. Perception so frequently effects judgement.
Ultimately what we have in Aurier is a solid right-back who doesn't warrant the vitriol he gets. Unfortunately, while he remains so injury prone he just can't be relied on, but in terms of on-field performance if he can remain fit he is a good right back.
P.S I prefer Kyle Walker-Peters.