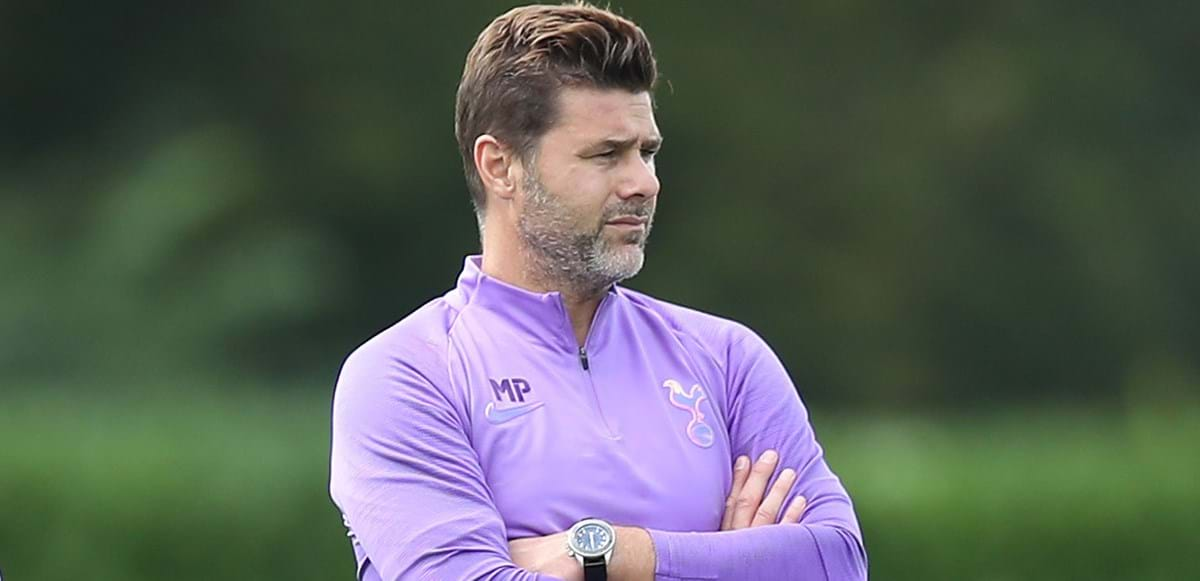 The reaction of club supporters in the immediate aftermath of his sacking was like nothing I've ever seen in sports (and is perhaps my biggest motivation for writing this piece). There was an outpouring of emotion across the world. I felt it, too.
This is not a tribute piece. This piece is catharsis, a cleansing of emotion as I see my club, my one and only club, swap the sultry tango for the new beat of the bossa nova.
I had the misfortune of blogging (on another site) nearly every Tottenham match during the 2013-14 season. What a season to choose. Spurs had just sold their best player, Gareth Bale, to Real Madrid, just one year after they had sold their best player, Luka Modric, to Real Madrid. Kyle Walker was still doing Kyle Walker things, like attempting a header from midfield back to our beleaguered keeper Hugo Lloris. Much of the Bale money had been spent unwisely. Head coach Andre Villas-Boas did not even last until the holiday period in his second season and was fired by chairman Daniel Levy after an embarrassing home defeat to Liverpool.
Things did not get much better under replacement Tim Sherwood, whose tactical innovations included playing Aaron Lennon as a no. 10 away to Chelsea and inviting a heckling supporter onto the bench. The team's decent record against mid-table teams and relegation candidates could not paper over a 0-9 aggregate to Liverpool, a composite score of 1-11 in two defeats to Manchester City and Woolwich doing a treble over Spurs in the League and the FA Cup. My weekly pieces, a labour of love, had begun to feel like a hair shirt. Tottenham finished a distant sixth, qualifying for a playoff spot to the poisoned chalice of the Europa League.
Burned out by writing about a disappointing season and occupied by the more pressing duties of family and work, I gave up blogging about Spurs. In doing so, I missed by just one season the first year of a revolution under Mauricio Roberto Pochettino Trossero (or as we came to know him, simply, Poch).
Signs of a turnaround in Pochettino's first season were there though, perhaps, slow in coming. Spurs carried a 3-2-4 record into November. The Argentinian famously commented to his staff late in the match away to Aston Villa that they were about to be sacked. But then a deflected goal in the 90th minute from then-21-year-old Harry Kane—who resolutely shook his head when Erik Lamela lobbied to take the kick himself—capped a comeback and saved the Pochettino crew their jobs.
The story of the 2014-15 seemed to be that of Kane more so than his head coach. A run to the League Cup final offered excitement, even if the level of competition leading up to it was less than formidable, but Tottenham's defeat to Chelsea, who also would win the Premier League that season under Jose Mourinho, was predictable. Far less predictable was how the former Spurs chronic loan-out, still just 21, suddenly emerged as a Golden Boot candidate.
He won February's North London derby with two second-half headers, temporarily moving Spurs above Woolwich in the table. In a March matchup versus a then-prolific Charlie Austin, Kane left his Queens Park Rangers counterpart behind by scoring two more goals at Loftus Road. "He's one of our own," went the cheers for the remainder of the season in appreciation for the club's home-grown star, Harry the future king, who finished second only to Sergio Aguero in scoring that season.
Meanwhile, Pochettino experienced growing pains. His decision to appoint the likes of Younes Kaboul and Emmanuel Adebayor team leaders proved misguided. Poch's first transfer window seemed mixed at best. Tottenham said goodbye to a legitimate attacking threat in Gylfi Sigurðsson and long-time favourite Aaron Lennon. Nearly 13 million pounds were spent to bring in slow-footed Federico Fazio and no-show midfielder Benjamin Stambouli.
But seeds were being planted. Eric Dier, brought in from Sporting for just 4 million, scored the week one winner away to West Ham. That winter, the club acquired a League One phenom named Dele Alli for 5 million.
The 2015-16 season started inauspiciously as Tottenham limped through August without a win. But a home match with Manchester City in late September proved to be a coming-out party of sorts for Spurs. Down a goal early, the Lilywhites levelled things just before halftime with a long-range strike from Dier. Never mind that Walker had been a mile offside in the build-up. In previous seasons, City would have stretched its early one-goal lead into a 4-0 or 5-0 score.
But if Kane's winner v. Villa goes down as the goal that saved Pochettino's job, Dier's goal showed this was no longer the same Tottenham that used to wilt against top competition. Instead, Spurs scored three more times after the break on tallies from Kane, Lamela, and promising new acquisition Toby Alderweireld to rout their visitors of vast riches.
Spurs were unbeaten over their next seven, albeit with 4 draws, but a shocking loss to Newcastle (put a pin in this) suggested Pochettino's team were still not Top 4-worthy. But then six straight wins through January and February saw Spurs emerge as precocious title challengers. Woolwich, having been tipped by many at the halfway point to win the league, began to tumble down the table.
The rest of the Filthy Rich Five, Chelsea, Liverpool, and both Manchesters, were all mired in poor form. Dele Alli's wonder goal at Selhurst Park—which brought me to my knees and had me committing joyous blasphemy in at least two or three faiths—suggested we were witnessing a magic season. Suddenly, only Leicester City stood in Tottenham's way.
It seemed likely Spurs would overtake them in the first week of March. The fact this was even a possibility was evidence that the club were in uncharted territory at White Hart Lane in Pochettino's sophomore season.
But one crucial stretch, with a mid-week match away to West Ham away followed by a North London Derby at home that weekend revealed areas where Spurs were still lacking. A punch-less effort against the Hammers, a 1-0 loss, showed how dependent Spurs were upon having Mousa Dembele and Dele Alli in every match. Three days later, a nose-masked Kane played derby superhero once again (a common theme of his career) as he struck a one-for-the-ages curler against ten-man Woolwich, momentarily moving Tottenham tops in the live table.
But here, Pochettino made what might go down as the worst substitution in his Tottenham tenure. Lamela had gotten under the skin of Woolwich's Alexi Sanchez, the latter receiving a yellow card from their fracas. Rather than signalling for his compatriot to keep his emotions under control, Pochettino took Lamela off the pitch and replaced him not with an attacker (both Chadli and summer signing Heung-min Son were on the bench) to finish Woolwich off, but poor Ryan Mason, who was never the same after he had injured his knee while scoring a winner against Sunderland in September. The match turned on a dime. Lamela watched from the bench as Sanchez remained in the match and scored the equaliser. Spurs nearly lost the match if not for a desperation challenge from Alderweireld in the closing moments.
Still, Tottenham looked impressive well into the spring. Over the next five matches, they won 4 and drew once, tallying 11 goals while yielding just 1. Their dismantling of Manchester United with a 3-goal barrage in 7 heavenly minutes, capped off by a brilliant one-touch from Lamela, created a euphoric scene at White Hart Lane. Spurs went on to breach Stoke's "wall of Britiania" four times in a rout. It looked as if Tottenham were the in-form team capable of taking down inexperienced Leicester.
Then came the collapse. A draw at home to West Brom. A two-goal halftime lead turning into a 2-2 draw at the famously contentious "Battle of Stamford Bridge" (the first time Eden Hazard and the rest of his Chelsea teammates seemed to care about football that season). Spurs were the last club to be eliminated from the title race, but they dropped to third after a crushing loss at home to Southampton and, shockingly, 5-1 in the season finale away to already-relegated Newcastle.
Most pundits thought relegated Newcastle would show up in sandals for the season finale at St. James' Park, yet the Tottenham players were the ones who looked like their minds were already at beach—or, more to the point, its many national team members seemed to be saving themselves for Euro 2016. But the complete lack of grit that nearly every player showed in that afternoon was indicative of a squad that had found itself in an improbable title chase…and then suddenly looked jaded and lost interest once the trophy was out of reach.
Often downplayed, if not entirely forgotten, is the fact Tottenham played an extra two months' worth of matches than Leicester did that season, due to Spurs playing into the Europa League's Round of 16 and also knocking the Foxes out of the FA Cup. This no doubt took a toll on Pochettino's young squad, which had proved its best XI could compete with anyone yet had little depth to compensate for even one key injury. Yet fair questions were asked of the players and their coach. How could Pochettino have allowed this to happen?
Still, it was a sign of changing times that merely qualifying for an automatic place in the Champions League group stage, something never achieved previously by the club, now seemed like an afterthought or consolation. Pochettino signed an extension that spring, his job title changing from head coach to manager. His arrow pointed up.
If anyone within the club had overlooked the importance of qualifying for the Champions League, this attitude seemed to carry over into 2016-17. Tottenham's return to the competition began ignominiously with a home defeat to a surprising Monaco squad (who, in retrospect, were better than most people realised). Spurs would finish behind both them and Bayer Leverkusen in the group and drop down to the Europa League. There, they promptly lost the Round of 32 tie to Belgian club Gent. Pundits suggested, not without reason, that Pochettino's high-pressing style did not translate well to the larger pitch of Wembley Stadium, were the club was required to play its UEFA matches.
Meanwhile, the story of the season was taking shape in the final season at White Hart Lane. It's never fun to see your team lose, but truth be told, their European exit might have been the best thing that could have happened for Tottenham. Allowed to focus on domestic concerns, Spurs showed the rest of the Premier League what this 2016-17 squad was capable of.
Spurs had completely, even clinically, dismantled Pep Guardiola's previously unbeaten City team in October. Although Spurs then sputtered during an extended Kane absence, looking like scoreless wonders for a while—with summer signings Vincent Janssen and Moussa Sissoko both looking to be busts on the level of Soldado and Paulinho—the team's core was taking shape.
Pochettino moved to a flexible back three formation with Vertonghen on the left, Alderweireld on the right, and Eric Dier moving forward when in possession and dropping back when Spurs were defending. Reinforced by Dier, the already formidable pairing of Dembele and summer acquisition Victor Wanyama formed a peerless core that never let the other side play with the ball. In the FA Cup semifinals later that season, although a more clinical Chelsea won 4-2, Spurs dominated play and Dembele had the League's Player of the Year, Ngolo Kante, tucked in his pocket.
Fullbacks Danny Rose and Kyle Walker had grown under Pochettino into English national team fixtures, both playing top-notch defence while regularly storming downfield to lead the attack. Eriksen had his best season under Spurs, directing the attack like a Danish maestro. Dele found his ideal spot sitting behind Kane, who was now the undeniable best striker in the league. Son, growing into a potent scoring threat in the Premiership, was not yet guaranteed a starting spot in this juggernaut lineup.
From December 14 until season's end, Tottenham was the league's best team, losing just twice while consistently notching 3 or 4 goals in win after win. Chelsea, having gotten off to the better start, would win the league with 93 points, but Spurs set a club record with 86 points—a total that would have won the league in most seasons—and finished with a league-best 86 goals while allowing a league-low 26 for a remarkable differential of +60. This was Tottenham at its best under Mauricio Pochettino.
The team honoured the history of White Hart Lane by finishing undefeated at home in the league. And, ho hum, its 2-0 victory in the storied stadium's final North London Derby—in which Jan Vertonghen had more shots on goal than Woolwich's attacker Sanchez—seemed almost anticlimactic, even as it clinched Spurs' first finish above their rivals in 22 years.
The final match at the Lane, a 2-1 over Manchester United in the rain, was as perfect as one could have imagined, featuring a highlight film narrated by Kenneth Branagh, an operatic version of "Glory, Glory, Tottenham Hotspur" performed by an actual opera singer, and even, as if divine providence, a rainbow appearing over the closing ceremonies. As the camera zoomed in to focus on the smiling face of the team's justifiably proud manager, one could have been forgiven for thinking the new stadium would be known as the House that Poch Built.
The juxtaposition of Poch's smile and the White Hart Lane video screen projecting this same image created an infinite image, one that seemed to foretell a long future for the Argentine wunderkind in N17.
Then, the first chink in the armour came courtesy of swooping City. Their glaring hole at right back had been perhaps the biggest thing holding Pep's squad from challenging for the league title. Walker had been linked with a move to the Etihad since before the '16-17 season was over. As we would later learn in Pochettino's version of events, Walker had gone to him before the season concluded and admitted he didn't have the same passion for the club anymore.
He had every right to leave Levyland for greener pastures the following season, but his checking out like that as Spurs were mounting a title challenge and making a deep run in the FA Cup remains unforgivable in my eyes. It certainly led to a power shift. City steamrolled over Spurs in a preseason ICC match and then steamrolled over the rest of the league in 2017-18.
It's not that Spurs weren't good anymore. They were still, at times, scoring at will. They destroyed Liverpool 4-1 in November and put 5 past both Stoke City and Southampton in December. Kane ended 2017 with more goals than anyone in Europe that calendar year. That fall also saw signature wins in their Champions League group, twice over Borussia Dortmund and—in a glory, glory moment on November 1—a runaway win over a Real team in the midst of three consecutive European championships and four in five years.
Having been outshined by Luka Modric in the reverse fixture (a 1-1 draw that flattered Tottenham), Christian Eriksen provided the highlight of the match in the 65th minute by receiving a perfectly weighted pass from Kane on the counter, leaving Modric in his wake, and slotting a shot past keeper Kiko Casilla to make the score 3-0.
As Eriksen jogged to the corner of Wembley Stadium and slid on his knees in triumph, my young son ran to me and jumped in my arms, and I stuck my index finger into the air. Our Spurs, the club for which a mere Champions League playoff spot once seemed like a shining pot of gold on the distant horizon, were taking apart the champions. As one BBC analyst said, "This result will reverberate around Europe."
That Spurs side might not have been Pochettino's best, but the season showed he could adapt his system according to the situation. The single-minded pressing team dependent upon the same XI just two seasons before had learned how to play on the counter at Wembley. They had learned how to compete on the game's biggest stage.
Or had they?
When Spurs advanced to the knock-out rounds and travelled to Turin for a matchup with Juventus, they responded to an early 2-0 hole by scratching out a draw courtesy of a Kane goal and a clever goal from Eriksen that beat the Juventus wall and snuck by Gianluigi Buffon. The result in this away match against the previous season's other finalist had Spurs dreaming of a deep run. Son's first-half goal in the reverse fixture at Wembley seemed to put one foot into the Round of 8.
But Poch's men were unable to see out the win and surrendered two goals within a three-minute letup in the second half. It was a crushing loss made all the more crushing when you remembered the match ended with both Wanyama and Lucas Moura on the bench. After the match, Pochettino spoke about the club perhaps needing to delve more into the game's "dark arts" to finish such matches out. Others pointed to it as a sign that he was not made for winning big matches.
It was an unfair charge given the big matches that had propelled them to that stage, but this narrative only picked up more steam when Spurs squandered an early goal lead in the FA Cup semifinals v. Manchester United and lost 2-1. Under Jose Mourinho, United would pick up two trophies in the League Cup and the Europa League while also finishing runner-up in the Premier League and the FA Cup.
Tottenham nevertheless collected noteworthy results down the stretch. They held Liverpool at Anfield, beat Woolwich at Wembley, and in their signature performance in the league that season, overcame an early deficit and beat Chelsea 3-1, their first win at Stamford Bridge since 1990, courtesy of a stunning, dipping Eriksen equaliser and two glorious goals from Dele. Having sunk down to fifth in the table through two-thirds of the season, Spurs rallied to finish above Liverpool in third and cemented yet another spot in the Champions League.
But in the wake of Walker's departure, other seams had begun to show, too. Alderweireld missed considerable time when he was injured in the Real Madrid victory, and he was unable to regain his place in the XI even after regaining fitness. There would be rumblings of a rift between him and Pochettino for the rest of the manager's stay. Walker's left-sided counterpart, Danny Rose, had missed most of the season to injury, after criticising the club's transfer policy in a controversial interview with The Sun.
Rose's timing was wrong but his points were not. Tottenham sent more players than did any other club into the final week of the 2018 World Cup. The rest of the squad competed in the preseason International Champions Cup and managed to win that tournament—something, at least, for the trophy case. So the team returned from the summer tired, injury prone, and robbed of a proper preseason together.
For a squad that ran double-daily training sessions under a physically demanding manager—and a team overly dependent on key starters like Dembele, Eriksen, and Kane staying healthy even as they were driven into the ground—Tottenham badly needed an injection of new blood to mount another title challenge. Preposterously, the club bought no one that summer. And bought no one the following winter window. It was the only time this had happened in Premier League history, a dubious distinction.
When the season 2018-19 started, Spurs looked haggard. Eriksen missed several matches. Aside from a second-half outburst in a 0-3 win at Old Trafford featuring a brace from Lucas (the only transfer acquisition across three consecutive windows) Tottenham arguably did not log a complete match performance until they shocked unbeaten Chelsea 3-1 just after Thanksgiving.
Rather than plummet down the table, Pochettino's squad grinded out result after result, turning many a draw into a win. Improbably, Spurs sat second at the halfway mark. Commentators wondered whether Spurs were in a title challenge again. The table said yes. Pochettino said no, suggesting Liverpool and City were still the odds-on favorite.
Perhaps he knew then what would become obvious. His squad was threadbare. When Dembele had suffered another bad injury at Wolverhampton just as he had seemed to be returning to form, it was telling that Spurs found themselves desperately holding on in a match they had led 3-0. It would be Dembele's last match for Spurs. Images of his swan song earlier that spring—when he had cut through the heart of Woolwich and Juventus and Chelsea with the grace of a ballet dancer and the gusto of a bull all in one—would serve as bittersweet reminders that the core of the team had worn away. Wanyama's legs had gone, and Dier missed most of the season after undergoing an emergency appendectomy.
Offensively, the team was peaking. A stellar 6-2 onslaught of Everton at Goodison Park had the media thinking up nicknames for Dele, Eriksen, Son, and Kane. "DESK"? (Tidy but unsexy.) "The Fab Four"? (Apt but unoriginal.) No matter the moniker, there was little doubt they comprised the league's best attacking foursome.
In that match, though, keeper Jordan Pickford tweaked Dele's hamstring with a dirty challenge on his England teammate well after an offside whistle had blown. Dele missed some time, then did his hamstring for real in the Fulham match that Spurs won on a last-minute Harry Winks header (served up by none other than Georges-Kevin N'Koudou, the one and only highlight from one of Pochettino's biggest transfer gaffs). Dele was never the same that season; only now has he begun to look like himself again.
Tottenham, meanwhile, were competing on four fronts with a League Cup semifinal (after knocking out Woolwich at the Emirates), FA Cup matches, and the Champions League group stages all to come. Rather than bringing in vital reinforcements for the squad, Levy only weakened it by selling Dembele to China rather than risk losing him for nothing as his contract ran down. Pochettino found himself having to play Harry Winks out of position as a DM and the long-slated Moussa Sissoko as a midfielder who was less box-to-box than he was bull-in-a-china-shop.
(The much-maligned French national, though, was a surprising source of stability that season – along with Harry Kane, he's one of the most stressful players to watch.) Poch was forced to go with this duo again and again, 90 minutes a match, twice a week, with only the inexperienced 18-year-older Oliver Skipp to spell them on occasion. As the core of the team's setup went to pot and nearly every single player on the roster missed significant time to injuries, Spurs' plunge down the table was less of a surprise than people have made it out to be.
But bigger and happier surprises were waiting in Champions League. With just one point in their group after three matches, Spurs looked destined for more European misery and an undesirable dance card on Thursday nights. But then Llorente won it late v. PSV and Eriksen won it late v. Inter and, most improbably of all, Moura's equaliser at the Camp Nou, assisted by Kane, earned the club an unlikely draw against mighty Barcelona.
The 1-1 result would prove to be all Spurs needed once PSV notched a surprise draw at the San Siro, which Tottenham players only learned about when they saw their travelling supporters burst into celebration from their lofty confines in the stands. Woolwich and Chelsea fans—now facing irrelevance as they watched their clubs struggle in the league under new coaches and playing against Eastern European outfits in the Europa League—dared to mock Spurs supporters for celebrating a draw against Barca's "B team."
They conveniently forget that Barca had brought on Busquets and Messi in the second half as they sought to finish off our boys. Let it never be forgotten that Sissoko, in a performance so dominant it was laughable, once outplayed the best player in the world.
We advanced to the Round of 16 versus Bundesliga leaders Dortmund. In perhaps his signature performance for the club, Jan Vertonghen (whom Pochettino, in a stroke of brilliance, had put at left back) scored a goal and assisted another as Spurs ran away and hid 3-0 in front of the home fans. In the reverse fixture, after Spurs absorbed relentless pressure in the Westfalenstadion and its apiary wall of yellow and black, a Kane counter finished off the tie.
The fates show frugal Spurs no favours. In the Carabao Cup, Tottenham drew Chelsea for a bitter, two-legged semi, while obscenely rich and deep City drew League One club Burton Albion. For the Champions League quarterfinals, Spurs drew league leaders City for the quarters. Surely, nothing good could come of this.
It was the first European night at the new Tottenham Hotspur Stadium (name rights pending). Cheers of "Oh when the Spurs go marching in" drowned out the Champions League anthem. But when Danny Rose picked up a VAR-triggered penalty, Lloris saved the day. The club and World Cup-winning captain has drawn his share of critics, having committed some high-profile errors the past few seasons.
But he had two key saves in '18-19. One helped preserved a home draw in the NLD that proved the difference between Spurs staying Top 4 and Woolwich staying down in the Europa League. The second, perhaps the most pivotal play in the tie, saw him dive to his left on Aguero's spot kick to deny City the early lead and crucial away goal.
With the score still scoreless in the second half, Kane suffered another bad injury that looked to have shelved him for the rest of the season. But Son rose to the occasion in Kane's absence, as Son had done throughout the season. South Korea's superhero collected an Eriksen pass near the goal line, almost fumbled it out of play, but stuck with it and scored an eye-opening goal as City slept.
He had broken in the new stadium with a goal in the inaugural victory over Crystal Palace, and now he had scored the venue's first Champions League goal. The home supporters were ecstatic. City left stunned. What's more, Pochettino had out-coached Guardiola, the man routinely called the best tactics man in the game, who had strangely played most of the match defensively.
All that was accomplished in the first match seemed to go out the window when Raheem Sterling scored just five minutes into the reverse fixture. But Son struck right back in the 7th and 10th minutes to give Spurs a 3-1 aggregate lead.
Then came the City onslaught. Chaos reigned as Sissoko was lost to an injury and Pochettino went all in by replaced him with striker Fernando Llorente. That 3-1 lead become 3-2. Then 3-3. Then 4-3 City. It was all falling apart.
But the stars that night, they shined so bright, Fernando. His hip didn't lie as he deflected a corner into goal to give resilient Spurs a lead in the tie once again. What was most remarkable was not that Spurs were standing up to City at the Etihad even with Kane on the sideline but, rather, that the goal had somehow seemed…expected. The theme of '18-19 for Pochettino's squad had been grit. Spurs battled. They held on.
They almost surrendered it in injury time when Eriksen's ill-thought back pass seemed to have set up Sterling's winner. But then came VAR. Offside. No goal. Pep in disbelief. Poch in disbelief. The final whistle. Hugs all around. The treble-winning City denied their most desired prize by a ragtag squad on a fraction of the wages. Players shouting in triumph as they funnelled into the dressing room. Poch yelling, "How big are our balls!?" Surely, this would be the highlight of the season.
April turned to May in this magical Spring. Although Spurs were expected to beat an upstart Ajax side in the semis, at the time I gave them about a 40/60 chance of doing so. With a depleted squad now robbed of its leading scorer, Tottenham were hanging on for dear life in the league, whereas Ajax had just dispensed with powerhouses Real Madrid and Juventus in the previous rounds. Spurs looked old and tired in the home leg, Ajax was sharp, fast, and clinical.
The Eredivisie had postponed its matches the preceding weekend to allow Ajax to rest up for the match. (The Premier League, meanwhile, continues to find ways in the schedule to punish its European clubs.) Pochettino's setup was a disaster in the first half, and the Dutch side could have (and should have) escaped with more than the 1-0 lead it took from Tottenham's ground. Spurs seemed doomed when Ajax scored goal in the first half of the second leg at Johan Cruyff Arena.
But again, chaos.
The introduction of Llorente at halftime proved key. Neither Premier League castaway Daley Blind nor 19-year-old phenom Matthijs de Ligt could cope with the 6' 4'' Spaniard striker in the air. And for one amazing half that night in Amsterdam, no defender could cope with Lucas Moura. He scored in the 55th minute. Momentum began to shift. He scored again—a scintillating goal—in the 59th minute, the Brazilian seemingly hypnotising the Ajax defenders with his samba steps in a manic scramble in front of goal. Suddenly, the comeback was not just possible but very much within Tottenham's grasp.
As the clock ticked down, more chaos. Tottenham abandoned its orderly play out of the back and began to launch balls downfield. Vertonghen almost won it in the 87th minute on a header that hit the crossbar. Deep into the 95th minute, with the Ajax supporters whistling for a match-ending whistle, Sissoko lobbed a pass forward to Llorente who knocked it down to Dele who left it for Moura who got to it just in time to….
Order within chaos.
I was watching the match with my family. When the ball skirted past Andre Onana's reach and hit the back of the net, I heard my son yell "Yes!" But I had yet to process what happened. I was experiencing cognitive dissonance. Did what I just see really happen? Did it really happen for us? For this club? For my club?
In 1951, Bobby Thomson hit the most famous home run in Major League Baseball history when he defeated the Dodgers and sent the New York Giants to the World Series on what came to be known as the "Shot Heard 'Round the World." The Yankees would win the World Series, but no matter. This home run remains so momentous that fans know Russ Hodges' home-run call that day by heart. Don DeLillo used it as a centrepiece of his novel Underworld.
Three shots taken with Moura's weaker left foot. Three goals. Tottenham's first trip to the finals. This was our shot heard 'round the world. This was our miracle.
If Lucas Moura running to celebrate in front of the away fans was the iconic image of the match, the second one happened just a moment later as Eric Dier and Ben Davies, two players brought in during his first season, neither of whom played in the game, ran onto the pitch to embrace their manager and celebrated as if they had scored the winning goal themselves. The third iconic moment: Mauricio Pochettino falling to his knees, crying euphoric tears.
Tottenham's manager had cemented himself as one of the best in the world. His club, built on a fraction of the payroll of the other big clubs throughout Europe, with a midfield gone ragged and just one new player brought in across three transfer windows, was going to the biggest club match in the world. Pochettino would be named a finalist for UEFA Coach of the Year honours, and deservedly so. No one dare argue the point. He was magic.
And, he must have assumed, he had all kinds of credit on his account now.
Recipe for a boring match: Take two teams from cold weather climes, both of whom had been run through an emotional wringer all season, one of which resembled a M*A*S*H unit. Make them play a match after a three-week layoff. Have them play in the 95-degree (F) heat of Madrid and don't give either team the water breaks that are customary in such heat. Then suck the life out of the match with a ridiculous penalty after just 20 seconds…
Tottenham's loss in the final was disappointing, but perhaps not as disappointing as how poor the match was. It later came out that Liverpool's physios reportedly had voiced their concern that their team wouldn't have enough left if they fell behind and had to chase a match. Referee Damir Skomina obliged them with a gift in the first minute—cruelly, a penalty called on Sissoko (many supporters' pick as the club's Player of the Year, although Son won that honour).
The Slovenian referee also held up play again and again as he pranced and preened and made every dead ball an exercise in narcissism. Even more cruelly than the handball penalty, Pochettino was, once again, ending a season trophy-less in this, perhaps his most miraculous season.
Should he have started Moura over Kane? In 20/20 hindsight, sure. (Hey, with the 20/20 hindsight of a 2-0 result we now have, we should've started Janssen up top and rolled the dice.) But if Kane was deemed by his staff to be fit—and we know how much stock Poch put into fitness—would we really want to sit the club's top scorer?
Many wondered if Pochettino had "lost" Moura by not starting him in the final, conveniently not considering what sitting Kane—already a club legend and, perhaps, its future captain—in the biggest match of his life would have done for morale. Albeit one for the ages, Moura's second-half hat trick performance in Amsterdam, versus a back line featuring a teenager and an EPL exile, was a small sample size to measure against Kane's career. And who's to say Moura would have been any better than Kane when facing Virgil Van Dijk, the world's best defender, who went a full season without anyone beating him on the dribble?
As for "losing" Moura? The Brazilian forward signed an extension with the club this summer.
The grumblings had begun before the final. Poch joked how maybe he should just go home if Spurs won the Champions League. Anyone with a fair pair of ears, and without an agenda, could understand what he meant. In the context of that season and the seasons leading up to it, if a club such as Tottenham won the biggest prize in club soccer, it would have been one of the most incredible managerial performances in history.
His words were the equivalent of your boss saying "We can all go home" if some miraculous deal becomes reality and turns everyone into millionaires.
Armchair analysts and media pundits—the same ones who had campaigning for Poch to leave for "bigger" (read: richer) clubs ever since his team's surprising emergence as title contenders—took his words literally and damned him for unsettling his squad with threats of jumping ship.
Never a perfect or exact speaker of English, the Argentinian had had his words turned and twisted to fit media agendas again and again. Even when speaking sincerely of his intentions to stay long-term at Tottenham, anything short of a lifetime commitment writ in Malbec-infused blood was never going to prevent rumours of his impending departure.
Were they were being unfair to the man again? Or had he been a little too honest with his joke? Perhaps he should have talked up his team's chances, instead of talking about an impending refresh—"Tottenham 2.0."
I had thought little of Leicester when they fired Claudio Ranieri in the season after they won the Premier League. Yet just six months after what might have been Pochettino's crowning achievement with Spurs (albeit one without a crown) the magic man was let go by Levy. This, as they say, is football.
The reaction of club supporters in the immediate aftermath of his sacking was like nothing I've ever seen in sports (and is perhaps my biggest motivation for writing this piece). There was an outpouring of emotion across the world. I felt it, too. When I read to my son Dele's tweet of appreciation for Pochettino, it was hard to keep my voice together.
I got choked up all over again from seeing the viral image of a Pochettino scarf and Madrid 2019 tee-shirt left outside Tottenham Hotspur stadium, the words THANK YOU POCH written on the shirt.
Understand that people weren't just angry. They were sad. Their hearts were broken. This May-November breakup was the end of a love affair between Pochettino and the club's supporters. Keep in mind, this was not a star player who had departed. We went through that with Bale, the freakish, one-in-a-generation talent who left us for another. This also was not an ageing coach of a decade or more leaving a record of trophies behind.
This was a coach of 5+ seasons who was loved by players, loved by supporters schooled in defeatism, and, as promised, made us proud of our club. He life-hacked the league with an ethos of hard work, bravery, and loyalty, and brought the club and its supporters to greater heights. It wasn't just that his players had bought into his system. The supporters had, too.
After Dele's tweet, many commentators, both professional and amateur, took yet another opportunity to see the negative side behind the scenes: Why didn't more players rush to voice their respect on social media? Why didn't Alderweireld look unhappy when speaking about it on TV? Why hadn't Kane tweeted a statement sooner?
Never mind that, as we later found out, players had gone to Pochettino's house to speak directly to the man who had given them their first starts in the league. As Dele said, "After I heard the news, I couldn't wait to see him. I was very upset. It wasn't so much a conversation about football more two friends having a chat." Expressing a sentiment that has been shared by many Spurs players during Pochettino's tenure, Dele explained, "It's clear that our relationship was more than just football.
"He's a person that meant a lot to me and a lot of the players here. He wanted us to be good footballers and better people." Kane had tweeted "Gaffer. I'll be forever thankful to you for helping me achieve my dreams. You were my manager but my friend as well and I thank you for that relationship." Even Dier, who shares Portuguese roots with Mourinho and was clearly looking forward to working with him, noted his good fortune in having played under Pochettino, too.
Given the team's woeful league record in 2019, it's easy to see why Levy felt a change was needed, even if the change was a cruel ending for a manager who had done so much, and so recently, for the club. If Pochettino was stubborn at times—stubborn in thinking he could win with Ben Davies charging down the left or by playing out of the back with Sanchez and Dier—it was a stubbornness that came from a deep belief in his players,especially the players that believed in him and his system. It can be said, then, he was sacked for the same reason he succeeded, and for the same reason he was loved by Spurs supporters:
He made people believe.
Another cruel irony: under Pochettino, the club's best manager since the days of Bill Nicholson, Tottenham's profile rose so high that Levy could finally entice Jose Mourinho, Pochettino's replacement.
Since getting sacked by Manchester United last year, Mourinho had stayed connected to the game as an occasional TV analyst. No one could question his record or his knowledge of the game, but in his new role—that of the jilted lover scorned by a game that threatened to leave him behind—the famously confident-to-the-point-of-arrogance Mourinho began to seem…likeable. He resurrected his image much as the ever-controversial Alex Rodriguez has as an intelligent, on-screen baseball analyst.
In one interview, Mourinho even showed a soft side and teared up as he spoke of how he missed standing pitch side. In the past, he seemed as if the game of football could not do without him; now, he spoke of himself needing the game.
Tottenham, then, might be getting him at the best time possible: when he is hungry and humbled. The man who had said he has difficulty with today's young players now made a point to say he was looking forward to working with the academy products at Spurs. Given the club's wage scale and transfer budget under ENIC and Levy, it was a smart move.
Early results have been promising. In Mourinho's Tottenham debut away to West Ham, Spurs played with a spark and fury that had been missing for months. Three days later hosting Olympiacos in the Champions League, the team looked lethargic out of the gate (just as they had, it must be admitted, too often under Pochettino) but came back with four goals after going down by two.
New manager bounce, or signs of a new system? Will Jose bring trophies to Tottenham, as he has done for every other club he's managed? Will it end in a train wreck, as it did for him at Manchester United? Will it be both?
One thing has become clear. It has been made clear in words of players like Dele, Dier, and Kane, and even in the respectful words of Mourinho himself when speaking at his debut press conference with the club. If this Tottenham team achieves success under Mourinho, it will be undeniable that Pochettino will share in some of the credit.