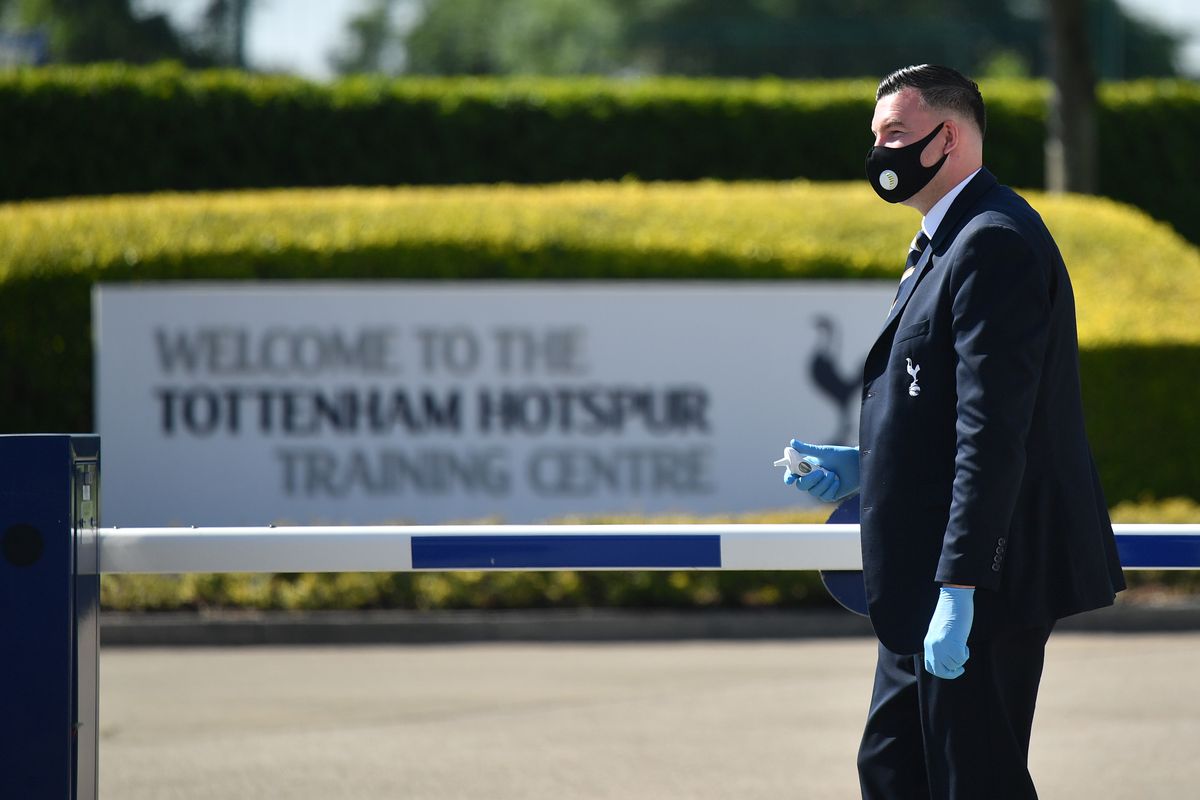 This lockdown, this year, has been a surreal journey that has punctured our lives in more ways than one. So even if it isn't quite normality it's something to bridge us towards the end of summer and the start of a proper season. Whatever 'proper' will look like.
Brace yourself.
I'm now actually looking forward to the football returning. Even if coronavirus is lingering like an away supporter wanting a dust up with a fan wearing home side colours. Just keep ya distance mate. No need. The games over. Go home.
It's a distraction, the footie (no politics in this blog). It's not a distraction I've cared too much about. But as the world burns (no politics, I promise), at least it provides another avenue to pump those creative juices with some good old fashion satire.
COYS > COVID
Get well soon to the unnamed player that tested positive. 7 days self-isolation. Keep away from escort girls fella.
The football coming back is a bit like being asked to do a mundane task at work that needs doing. You wait until Friday, work from home and stick it in your Outlook calendar as 'admin work' and pop a reminder for around 3pm to get it finished before logging off.
It's going to get done one way or the other but your heart is never going to be in it. It doesn't need to be. You are completely reliant on auto-pilot and that's more than enough.
This lockdown, this year, has been a surreal journey that has punctured our lives in more ways than one. So even if it isn't quite normality it's something to bridge us towards the end of summer and the start of a proper season. Whatever 'proper' will look like.
Work with me here please.
This isn't as easy as I thought it would be (writing this fluff).
Normality might not be back for several months. Football won't be the game we left behind until everyone can turn up to watch their team, no matter the venue. Until then, our best bet is to pretend it is normal and just get on with the basic fundamentals and ignore the relentless push to complete the season the authorities have prioritised with obsessive fortitude. Money money.
So, what or how do we combat the remaining games to make it exciting for ourselves?
I know as THFC supporters, we are all looking forward to a bit of self-deprecation. A bit of eyes rolling and facepalming. So I thought I'd draw up a list of things that might assist us with expectations and the rest. Don't fret, this is barely scratching the surface of deep analysis. It's simply a list of bits and pieces I will entertain myself with once we start to kick a ball about again.
N'dombele
The enigma. Looked a baller pre-Spurs but has suffered since making the record move to N17. Instead of carrying the midfield, he's been carrying extra pudding around the waist. The lad always looks like he's blowing out of his backside faster than I do when the missus tells me to take the bins out.
Of course, our beloved fanbase (the vocal minority that make the loudest noise) have designated him as the go-to-scapegoat. I get it. We spent a lot of money, he arrived with a lot of substance (not hype). But it hasn't gone to plan. The substance remains on YouTube. His fleeting on the field content for Spurs, thus far, is more apt for TikTok.
I think, for as much as we like to mock, there's plenty we tend to skip around and ignore. He's mental health and state of mind, this might not have been synced into the transition to England and the mess he walked into at Hotspur Way. Motivation is essential. If a player of his calibre is struggling with it, then there is something deeply wrong. You aim to fix it. Or at the very least try to.
It's very early days, he's young and for all the frustration of seeing him struggle and incapable of playing a full ninety, he has also showcased immense levels of vision and touch. In cameo. Tanguy mate, when you hear the call you've got to get it underway.
Wilson Palacios retired this past week. It reminded me of how long we struggled with powder-puff central players and then we were blessed with top drawer enforcers, destroyers and conductors (along with the occasional refined workhorse). We set ourselves benchmarks and persisted with improvement. Wilson never recovered with what happened to his brother. Others fizzled away whilst our team evolved and we kept seeking upgrades. Wanyama is another that makes me sad, in the 'what could have been'' category.
N'dombele has the skill set. The brain and the physicality. On paper and with previous form. We need an end of season promise from him to give us a certifiable uplift that he has the ability to deliver on those skills well into the next campaign.
Jose, he's not quite magic, but is he an illusion?
He broke lockdown rules. The rebel with a clause (sack him and he gonna have money money). He's like a maverick Alan Cummings without the bare-foot drive and Toblerone. The only castle here is the one built with sand that is about to get swept away by the tide. So say the doubters.
Am I a doubter?
Yes and no. We keep reading about his CV, his honours list. To be fair, we don't need telling, his pedigree and influence is as good as it can get. It was as good as it can get.
But what about his relevance today? His ideas and that influence haven't appeared to age well. But he's still stating he will win something and I guess that's all fans want. To win something. Regardless of identity and belonging and feeling like the team is a reflection of everything you desire.
No, it's okay, don't browse away. I'm not going to do the existential flex today.
Jose has to do more than say he's changed and adapted. He has to make us believe we have a chance. Talking of which…
Poch
He was magic, illusions and all. Poch was The Prestige. But like the best, sometimes you can't unlock the chain and you drown. At least his tenure wasn't the accidental genius of a Tommy Cooper. It was more David Blaine, perhaps too self-indulgent in the end. We run out of ideas, starved ourselves of ingenuity. A glorious one trick pony with no back-up once our legs snapped.
Okay, so during the lockdown, he got interviewed via webcam and he continues to speak so highly of us, the fans and the club. I love him. He is us. We is us? AVB with a Nostradamus. He (Poch) chased a dream that he imagined, one that we all shared. However, in kicked the sleep paralysis and the night terrors. When we woke up, we fell out of bed.
I want him back at Spurs one day. I don't care if you think that's nostalgic or romanticised or weak minded. Maybe he will have the type of luck we failed to gravitate towards and create at Spurs, elsewhere. Lose his cherry out in the wild and return home before he too becomes redundant in the future modern game. Go into the wild, like what the Amish do with their rites of passage. Mauricio is out doing Rumspringa. Just don't enjoy it too much mate. Remember to come back.
Jose, in many ways, is unfortunately the antithesis of longevity. But again, it's how modern football is measured and tailored. There is no empire building to be had here. Hopefully a shock and awe, a single battle that sees us victorious and numbs the pain of failing to consolidate the legacy Pochettino should have got.
After-all, it was never a penalty.
I hope he goes to La Liga. I can't have him winning things for another English club. I won't be able to handle the meme intake. It would be like eating three hash cakes and then walking the streets of Amsterdam searching for a red light and finding the bottom of a canal thanks to a misstep. I will literally have to sleep with the fishes.
Citizen Kane
Nope, this isn't a pun on Harry wanting to leave and join a club where winning trophies is a given based on the mega-rich platform pre-FFP has bestowed on them. Kane to City isn't likely. Is it? Oh God, of course it is. Let's hug and cry it out in a years time. Until then, the pun above sees Harry in lockdown, rolling over and letting go of something he's holding in his hand. He utters the single word, "Sheesh" as he lets go of their takeaway menu and then proceeds to fade from reality.
High brow movie analogy there. Of course, Kane isn't dead and neither is he regretful. Well, aside from perhaps having one too many of Chigwell's finest kebabs. Looks more bluff than buff at the moment. But he's back on it and I wouldn't bet against him scoring a fair few goals on his return. He's vital, as ever. The spearhead. The complete forward, with or without a six-pack (of beers?).
And of course, seething rival fans trying to push their pen merchant propaganda is the type of salt I want on my chips.
New signings (y u lol?)
I'm honestly, not even going to entertain this. I give zero f*cks and give less for the anti-ENIC rhetoric that will no doubt creep back in again if things don't go well in the games left to play. Even if most of us are claiming we don't care, fans will no doubt fire up their angst for those social media impressions (that's if anyone is following you, otherwise it's an echo chamber of your own self-loathing).
New signings for me are the ones we already have that need to awaken. Proper insight there. Souness levels of knowledge. Kane, Son, N'dombele, Le Celso, Winks, Dele and the rest including the recently signed. We haven't got a bad set of players. They're just playing badly in patches and not playing consistently as an all conquering unit. We're a bit of a soft touch at the back. There's no spine, there's old tired legs. The system is half cocked. Or least that's how things were left. Spurs need to be refreshed.
So we do need new players. We need competition and a resurgence. But alas, we've been in a state of flux© for a long old time. Add to it the COVID 'mare and the billion pound clubs needing to search for shoe boxes under the bed to help finance any potential transfers. Looks like we're stuck with 'arry Redknapp style dealing and wheeling. Can't wait to see Jose hang out of his car window talking to Sky Sports.
It was never going to be easy and in a perverse way, perhaps this break will help management and our coaches to appreciate the work required to reboot this side and get that one last glory dash towards a rewarding consolidation (next season). For now, we just need players firing on all cylinders. Even if it's at a reduced capacity. Intent and the willingness to win. The basic fundamentals that give way to hope.
Remaining fixtures and CL football
The end of this season is practically a pre-season for the next one. Momentum will be the weapon of choice. Let's hope we have enough bullets to hit the target. I think I will be needing a pre-season to sharpen my analogies. Blog banter.
It will be interesting to see what everyone's application will be. Not just at Spurs. How motivated will all players be to push up the table, especially when they have no supporters to abuse them, I mean support them in their potential ascendancy.
Liverpool will be crowned champions. But a couple of those Champions League spots are still up for grabs. Europa? Okay, go on then, I'm sure our fans will be content with winning that next season. It worked for United.
Our list of obstacles (TBC running order, although should be as listed):
(H) Man Utd
(H) West Ham
(A) Sheffield Utd
(H) Everton
(A) Bournemouth
(H) Scumbags
(A) Newcastle
(H) Leicester City
(A) Crystal Palace
The original order of play. Although not sure about the NLD timing. It doesn't look too shabby a finish, does it? That's if we suddenly display a bit of oomph and urgency.
Hold up.
Oomph?
That ain't gonna happen and on second thoughts, that isn't an easy finish at all. Those first three games alone will be a baptism.
Let me have a think.
Still thinking.
Can we just beat Woolwich please? That's all I'm asking for. A few more points will do too but it would be nice to look like a decent, solid side. Efficient and dare I say aggressive and just beat the nomads good and proper.
We have our best players back and if they do have more faith and enthusiasm than most of us – we might have something to smile about after ten or so weeks locked in doors.
Wait? What? Derby games are going to be placed at neutral grounds?
Okay, that's fair. Really fair. Anything to stop fans making the journey to say, White Hart Lane, and getting into a social distancing brawl. Firms throwing air punches whilst improvising getting beaten up and dishing out wallops. Ye Olde Street theatre. Larry David wannabes everywhere, curbing their enthusiasm for violence. Maybe the police can pretend arrest them to break up the non-existent trouble. Let's at least wait until the pubs are open, yeah?
I need to work on my analogies for sure. Blowing out my backside like a non-peak N'dombele.
It ain't fair. It remains shambolic. You can't have fans at a spectator sport. You can't have home advantage against your most hated.
Add to the mix, the injury conundrum. You know, the fact that there's a potential risk of said injury as players haven't played for a while. They've had time off, returned to reduced training sessions and thus will not be at their fittest.
Here's me asking for players to give it their best but their best might be a daft option. Which means selection and rotation will not aid momentum. Five substitutions is going to be a majestic carnival of carnage. More so for us because we hardly have any options off the bench. Which means, well, no point getting our hopes high for top drawer intensity.
This isn't going to work, is it?
The Return of the Smack
TV coverage is going to be bombastic. It has to be. "It's liiiiiivvvveeee…" as Martin Tyler screams whilst there's no real change at Anfield, with the speaker system pumping out the standard crowd noise and that song they stole from Celtic.
It's eerie, I just can't get on it. There is no tangible tension to this. So the pundits will bang out their iPads and try to make it entertaining from an analysis point of view.
I don't see how these matches will look and feel like anything other than exhibition/friendlies. Again, it's because there are no spectators. Which means there is no organic vibrancy and thus no atmosphere. Just loads of audible swearing from the players and dugouts.
But as distractions go, I'll willingly accept all the live games. I've had enough of ITV giving us the 1987 Cup Final and the absolute travesty of Liverpool inventing 'bottling it' in 89.
All the live coverage will have to do. Mainly because I've now watched everything on Netflix twice over.
Carole f*cking Baskin.