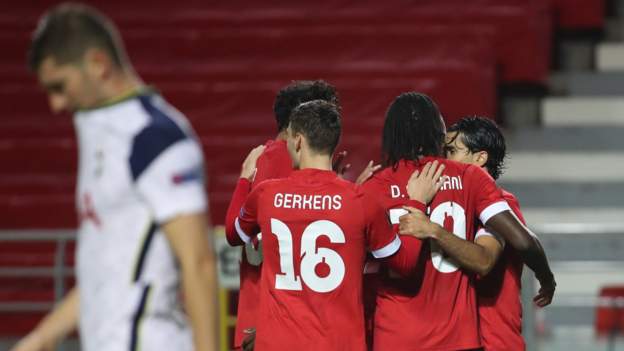 Occasionally, when the team is not 'on it' and when the free-flowing arrogance isn't there to dismantle the opposition, you have to find another level, in the mid-range, to inspire opportunities to steal the points. It's a mental thing, a state of mind.
Burnley (A)
Pre-match, Jose Mourinho predicted we wouldn't be treated to the slick, fluid and positively savage showcase that has brutalised opponents in recent weeks. The game would be tricky and perhaps not easy on the eye. Mou's gone fully Nostradamus. He was correct of course. The game wasn't the most entertaining and yet there was something satisfying about watching Spurs win without the glamour and swashbuckle.
It wasn't so much about digging deep and grafting out the result (even though there was an element of professional patience required to see the game out and claim all points). It was a case of retaining a high level of concentration until an opportunity was created to punish them.
Before the game I was sat comfortably in my 'we got this' zone. I was eyeing up 5th spot and consolidated my thoughts on how we could have been sat pretty, top of the lot, had it not been for late late VAR versus Newcastle and the narcolepsy against West Ham. Thus far, we've been immaculate away from home and wasteful in N17. And yet a win against Burnley and we're back in the mix (even if 'the mix' is a fairly redundant concept until the 15th game of the season).
Considering last season was bossed by the pandemic and the All of Nothing Amazon documentary, there remained a detachment through-out the lockdown and super short pre-season that Jose and his Spurs side were nowhere claiming an identifiable style of play. The 'we got this' zone has since slotted itself into my consciousness because of a variety of progressive forward thinking momentums.
Daniel Levy backed the manager.
The players (post-Everton at home) have displayed an urgent, hungry desire for ruthlessness.
We have depth.
We have players in extraordinary form (Kane and Son). We have players.
The likes of Ndombele and Højbjerg are proving to be engineering our midfield – from the foundations to the dizzying heights; architects of Spurs scraping the sky.
That missing identity is beginning to take shape.
We still have Gareth Bale (once he is fully fit – something I don't expect for a few more weeks) and an abundance of benched talent (including new boy Carlos Vinícius) to shine some light in amongst the stars, currently blinded by the brightest one of all, the Son.
Perhaps, second brightest after the supernova Kane.
Son and Kane are going to take some stopping on this form. The goal, a lovely bit of improvisation in the box with Kane heading the ball into the welcoming path of Son's enthusiasm to then cleverly nod it in – was wonderful. Topped with Son gleefully asking Harry if he got the assist. So cute and wholesome.
Hugo did his bit with a couple of solid saves. Erik Lamela (providing the corner delivery for the goal) was his usual ankle-biting self, a catalyst of semi-controlled chaos that manages to agitate the opposition enough in pockets of play to stop the tempo going against us. You really do love to see it.
There was one or two nervous moments at the back, but not too much to moan about post-game. A clean sheet too. I can't moan at all. Tottenham's away record could prove to be key in the chase (as long as we ignite at home). These types of games, where the home side are well drilled and organised and do a decent job at defending in numbers and congesting space is a test and one we'll have to re-sit a fair few more times.
Occasionally, when the team is not 'on it' and when the free-flowing arrogance isn't there to dismantle the opposition, you have to find another level, in the mid-range, to inspire opportunities to steal the points. It's a mental thing, a state of mind. And if you take a step back and consider where this club was last season and where we stand now – the reality is; it's still far too early to know just how consistent we can be. The tests will get harder and we'll have to find another level, another edge to our game.
I'm glad to say, so far so good. We've got plenty of time on our hands.
Antwerp (A)
I've decided to keep this short and sweet in terms of avoiding an autopsy on the still twitching dead body of Euro Spurs. Mostly because the body aint dead and I'm pretty sure it isn't twitching. It's sleeping. God damn it, it's snoring. Making me yawn too.
What to make of the 1-0 defeat in Belgium? I sort of agree that Jose dropped his worldy pragmatism of astute decision making and opted for angry emotion with the brutal half-time subs. It felt more like a statement and dare I say a sacrifice, to get his point across about how unhappy he was with the first half performance. So much so was his disgruntlement that he went into Special Dad mode post-game, sat on the coach before anyone else was.
He mad his point and we lost all three in the process. I honestly, don't care too much about it. We can get away with this shared daftness in the group games. Here's my thinking:
Generally speaking, Europa games will never have the same intensity and players won't have a zip to their game compared to the bread and butter of the Premier League. That's not to say the manager and supporters should not be treated to a confident (less pressurised, more expansive) run out. What we got was the fragmented, disjointed football we come to expect from rotation.
Even though this is an opportunity for players to make a little bit of on-field noise, the platform is bit like a bouncy castle assault cause, fall guys running around, trying to complete it whilst there is no evident cohesive pattern in how to do so. The understanding on the training pitch definitely not translating to a competitive game. Antwerp, in comparison, had a plan and a tempo and didn't have to do much to take advantage.
And yet such was the occasion, that Jose could sub off four players at half time to protest the lack of finesse and desire his starting eleven provided. So we're back again at just how important a game like this is; not much.
I'm not sure how we combat rotation effectively. I've always wanted to see us start some of the core key players to anchor that momentum from the higher intensity league games. Get the job done, then make the subs. But we have depth in our squad and there is no question we have quality too. But it's worth considering it's also too early for us to have a clearly refined second eleven that might truly be capable of allowing us to rest the likes of Kane and Son completely.
The frustrating thing for some of the players on the fringe is that ultimately, this stage and selection might not really help them prove their worth and knock on the door of the first team – because of all of the above. And if they do happen to turn on the style, no doubt some observers will comment that the opposition were farmers, so it doesn't count.
What I'm taking from this is as a positive is Jose flexing his annoyance. Even if he has to take some responsibility, you could also make the statement that his starting eleven should have been miles better than what they gave.
Still, the statement from Jose is that he has no room for half-arsed performances because it doesn't fit into the template for a winning mentality. I like this. The players should accept it. In fact, I'm going to predict we won't see another disinterested game from Spurs in the remaining group games now. That will prove the learning curve is steep and that it's actually working at an effective pace.
At some point this season – regardless of the competition – there will only be room left to deliver. No more excuses left to hold onto.
Onwards to Brighton.