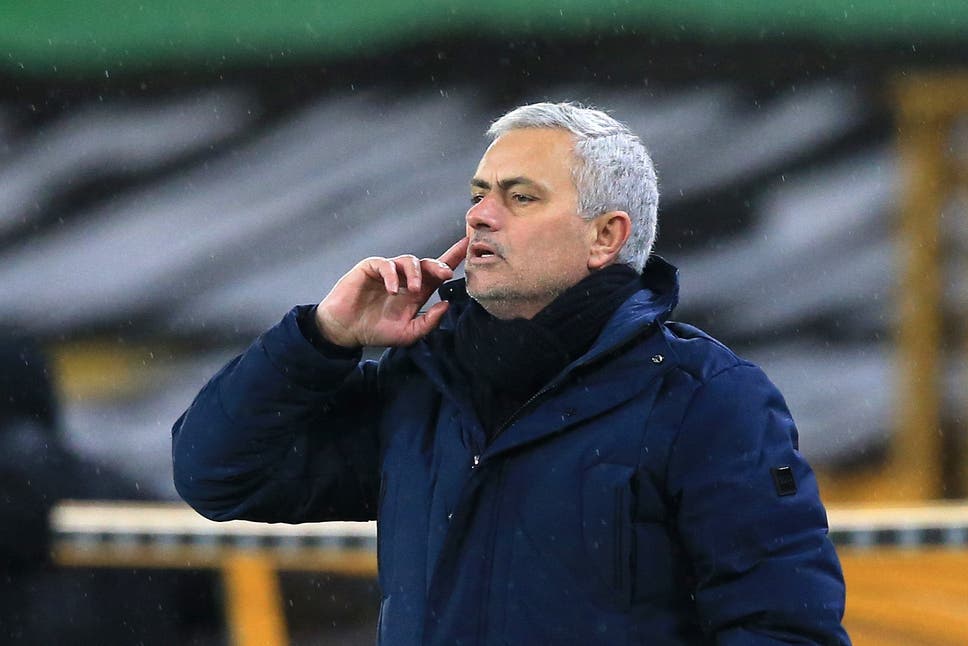 Spurs are transitioning in terms of their mental state and are seeking to be less expansive and expressive than the previous five years and, let's be honest, the previous one hundred years.
It's the start of 2021 and after the past ten months or so, it's best we ease our way into the new year with a little caution before we unzip, undress and run around bare naked yelling COYS like thunderous Vikings on a shroom trip about to pillage a town of all its worth.
I've noticed that supporters, without a hint of irony, are doing that thing they do best (again). They are moaning that they dislike Jose Mourinho and his brand of football and that it's not very Tottenham. It's supported by the fact that when the tactic of countering doesn't work, then the performance is an ugly mess of much passiveness about nothing. What is said in this moment of disdain is particularly delicious. Because in this moment, Spurs are apparently 'not giving us any joy' and that if 'we are not attractive to look at, then we have nothing in these moments'. It's the classic, 'if we don't win a cup at least our football is fun to watch' chestnut.
Can we win a cup? We're in the final against City that have made it their for the fourth season running? Would you wager in our favour? I would thanks to Jose and his Masterclass astuteness. Check out 20Bet live casino site if you enjoy a punt.
Now let's go back in time when Poch was at his peak (good luck at PSG dad). During his finest moments, we would often hear the same people bemoan our lack of mettle and inability to adapt to a Plan B and win – no matter the cost to style. That winners, true winners – find a way, often sacrificing their traditions to win when winning means more IN THAT MOMENT than the fashion of how its delivered. They would often remark 'I don't care about playing free flowing football, I just want to win, I just want a cup'.
I don't need to delve deeper here into the fickle psychology at play. We bend the rules of perception to match whatever perspective caters for the agenda we currently commit to. See, ego once more is the commander and chief of our emotions. We – the royal version – want to always be on the side of right because not being there means we lose face. There is this inbuilt mechanism to protect ourselves from failure, especially the type of failure that comes after displaying loyalty for a particular opinion.
Of course, you can change an opinion and you can admit you are wrong. But many don't and even more choose to pretend they are not contradicting themselves and thus hypocritical. Now I get that in football, a week in the game, can feel like a lifetime. That results define how you feel in any given moment. This is our life. We are by nature a bit fickle and defensive and want the best of it all and embrace petulance whilst trying to prepare for the worst. But in the case of the present day, do we really have a team that is half as contentious as our fanbase suggest? It's all based on this epic battle of identity that has consumed us all over the brand of Mourinho football and the projected (hopeful) output.
Spurs are transitioning in terms of their mental state and are seeking to be less expansive and expressive than the previous five years and, let's be honest, the previous one hundred years. We are a club that has done it one way all of our generations. And it's been flawed, aside from the odd occasion we puncture the decade with a cup final win. Based on that, if we get nothing in 2021, the rest of the decade is going to be a long haul.
We have lacked the endeavour and discipline and astuteness to truly battle with the elites. Money buys all of those things, which we've not done in the way others have perfected. Under Poch, we played a new style of football. It wasn't traditional Spurs and revisionists would have you believe all of the football under Mauricio was wonderful. It wasn't (I'm not referring to the last 18 months by the way). He instilled a work ethic we did not have before. A spiteful, togetherness, a band of brothers.
I think we always tried to play, always looked to press and swarm but it didn't always work and that left us in positions of vulnerability where opposing sides could take advantage and punish us for the loss of focus and concentration. Poch will hopefully come away from PSG with new traits and new experiences to forge his future ambitions. In the mean time, we have been mended (in the midst of it) by someone with all the experience football has to offer. A coach that has won it all and is now challenged with taking a club of the ilk he has never managed before. Without the war chest. A broken squad that needs repairing, that has to be reinvented. Except reinvention isn't the path to our redemption.
I've said many times in the past six months that Jose isn't fixing the problem Poch left behind. He's not reinventing it. He's creating something new and inviting those brave enough to enter its realm of possibilities. Sure, it's pragmatic and calculated and perhaps lacks that daring is doing ethic. We are not risk takers, we treat every game in the same way even if Mou adapts for specific opponents. It's shrewd and not very sexy. But it elevates the desire to avoid losing at the cost of being desperate to win.
It's not very Tottenham but it's a new version of Tottenham, one we have not had before. And yes, it's an extreme version of the mettle and mental fortitude we have lacked in abundance in the past and now have relatively consistent access to. It has flaws and kinks and there remains an element of human individual errors that prove costly to the team. But this would exist in a side that attempted to play football like Gods of swashbuckle, shirts tucked out and socks rolled out. There is no such thing as perfection but there remains consistency and often attaining this at the very top tier requires sacrifice that the lesser amongst us hold onto dearly (because we/they can never reach the upper echelons). But we can. Or might. We aspire to.
The change we need, isn't something that will be bestowed on us over night. Personally, I can wait because there is no choice, aside from disconnecting from the experience altogether. I waited over six months for Pochettino to work out what he was going to do with his own philopshy and the players he had. Some fans wanted him gone at the start of the second season (his first full season), such was their reluctance to be patient. They could not see an identity. Surely, considering we failed at our majestic 'best version of ourselves' we can wait and see how it pans out under the lesser swaggering stylings of someone that has won a lot? We've come this far, we can hardly go back now.
I think the moral of all this is that we can't have it all our own way. We can't have the best of both worlds with immediacy. We have to correct the ills of our past, the personality of being a soft touch or bottle jobs or whatever. To do so, we have to find another level to our capacity to win games. The argument might be whether what Jose is implementing is the answer to the questions we ponder. is it too extreme? Is he actually holding us back in the same way Poch did when Poch failed to revert to ugly football to win games? Of course, a manager coaches his mantra to his players and the team is a reflection of said philopshy. So that tells me Jose has things to fix internally too, with how he gets Spurs up to the levels required to cross that fabled line we never reach.
We have to also wait and see if Jose has it in him to curate this Spurs squad to that desired standard and when we can contain and counter at a canter – do we then find room for the old fashion expansiveness of ye old Spurs? Is there a method to Mourinho that will allow us to be more expressive but without risk to protecting the lead and three points? Or is Jose too far gone to one side whilst many refuse to let go of the other. Also, let's not pretend that football we produce to score goals and win games isn't brilliant. It is. In pockets of ruthless brutality. This particular (element of the) extreme is ultimately elite.
At the end of this all, we are back to how we handle this particular journey. Because if you can't fight through the ugly performances and hold out for the bigger picture and hark back to 'glory' football and ignore the reality of you telling everyone back then that 'it's all good playing lovely footie but it means nothing if we can't win' – then mate, you're deluding yourself.
You bang on about the identity of the team but you can't decide what your identity is.
I know all of this, because I was once you. I was once conflicted. I learnt to be accepting.
COYS
Let's get this show on the road.