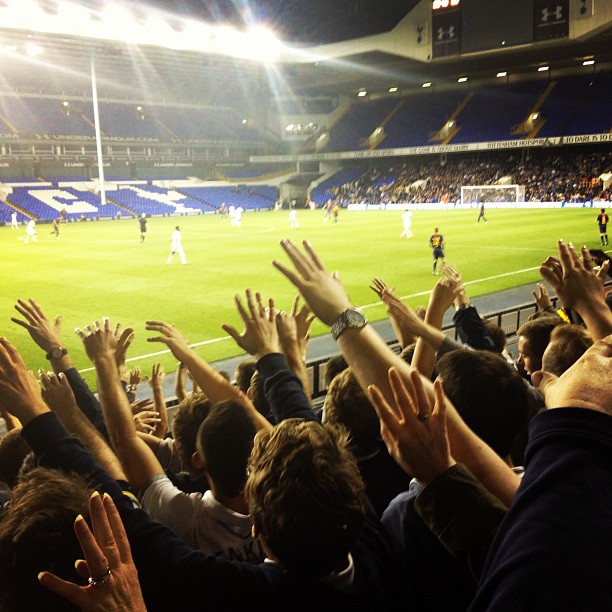 Thursday 13 September 2012 will stay with me until dementia erodes away the last pieces of my conscious mind. It is the day that my rebirth as a football fan was complete; It is the day that this game found its way back into my heart. The day many of us will forever remember as the birth of the 1882 movement. To really understand the context of my rebirth as a football fan, we need to go back to a rainy day in July two summers ago.

I woke up that day, opening the paper I saw a picture of a certain Luka Modric. The image was accompanying an article claiming that the player had been seduced by the dark caves of Stamford Bridge. Not one of those legendary clubs of old that you'd dream about as a little boy. Playing at grounds like Bernabeu, Nou Camp, San Siro or even Old Trafford, but Stamford Bridge? A place that sounds about as magical to me as my local supermarket.
Realising this broke me. It wasn't only because he was one of the best players I have ever seen in a lilywhite shirt, but also because this meant that everything I loathed about football had infested a genuinely seemingly down-to-earth bloke. Modric was the player that made me believe we could stick it to the Sky 4 clubs. A true gem pulled by Daniel Levy on a mining trip to Croatia. He took him away from his shack in the mountains and gave him a mansion worthy of his brilliance. A mansion filled with people that would love that little man like he was one of their own. But that little man did not care about all that. He just wanted more money, he couldn't give his own rat's ass about class or history.
That day I sent a mail to a certain well known spurs blogger saying: football is dead to me (a bit of melodrama is not foreign to me). That whole summer the transfer window and its under the table, backroom shenanigans disgusted me more than ever before. I gave up on the game and went looking for another passion. I went to see basketball , hockey and even women's beachvolley and although that offered a slightly different but welcome sensation it could not make up for so violently falling out of love with such a trusted lover.
We screamed, we laughed, we sang , we drank and we saw. This was a good thing.
The season arrived and more out of habit than will I went back to the aforementioned blog. I saw an announcement about something called The Fighting Cock, a name conjured images of a gay gangbang more than anything else, but nonetheless curiosity got the better of me. I had to check out what all the fuss was about. This small gesture of clicking a link on a blog, something I could have easily forgotten, had an important impact on my life (again the melodrama kicks in) and I can't thank the people involved enough for this.
We are about year and a half later (give or take) on. And I'm writing this on return from a completely bonkers, but immensely fulfilling trip to White Hart Lane. My voice is gone, some **** flashed a knife at me on the way to my car, I had a fallout with the head steward, I fell asleep waiting for my boat, I picked up a speeding ticket and wasted (according to many) two days of holiday on watching a mere Tottenham Hotspur youth game, but none of that matters. The people that judge can't grasp how it feels like to be involved in a night that felt going back to days before Technicolor. I'd attended the 1882 event at for Tottenham's NextGen Series game against Barcelona's youth set up.
This was the final stage in my reconciliation with the football game. After the podcasts, the forum and the Charlton event back in March, I now realised that this is what it's all about. In fact I learned today that there is a hippie somewhere inside this cynical old man. A hippie that felt and shared lots of love for a community, a club and a game. It sounds silly even to me to be so strongly drawn to a simple game, but looking at the faces around me I knew I wasn't the only one captivated by the whole experience.
We screamed, we laughed, we sang , we drank and we saw. This was a good thing.
1882. Football as it should be.
[author name="Belgian Spur" avatar="https://www.thefightingcock.co.uk/forum/download/file.php?avatar=354_1329130670.jpg" twitter="Teflon6″ website="" tag="belgianspur[/linequote]