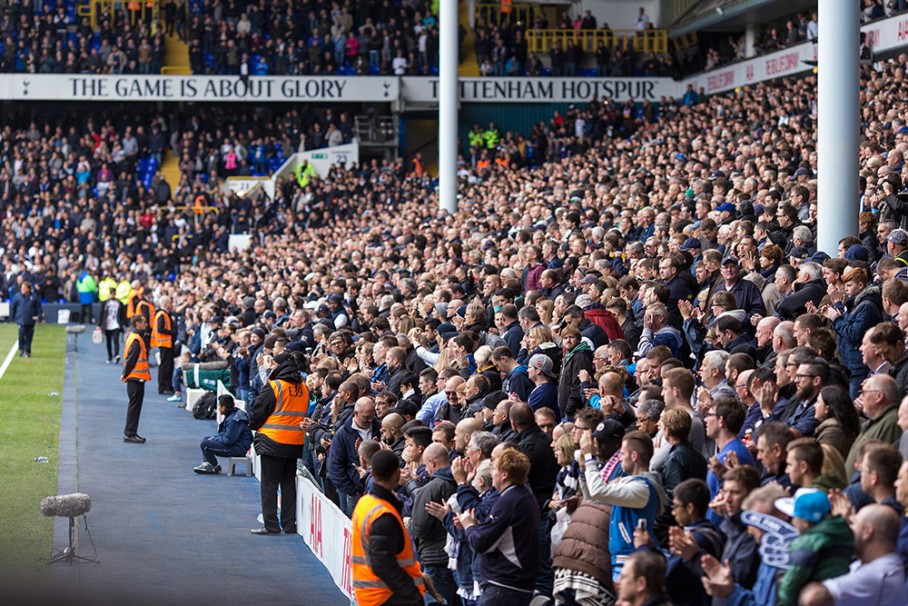 After going to games during some of the worst periods in our club's history, Jack Doyle asked the question.
The VHS tape was slid into the TV, swallowed by the largest, deepest TV set that the late 1990's had to offer. The grey screen crackled and spat out inaudible words and phrases until suddenly it subsided to reveal the most immaculate football pitch I'd seen up to that point in my short life. It was interspersed with 23 men, some wearing red, some in white, one in black and all wearing shorts that Jimmy Savile would've been proud of. A slightly overweight bloke who looked like he'd jumped the fence from the terraces onto the pitch ran towards the lifeless ball, and with one swipe of his right boot sent David Seaman clutching at thin air and my Dad into what can only be described as a dance of overwhelming joy. Even all those years later, Paul Gascoigne's free kick against Arsenal in the '91 Semi Final still had a profound effect on my father, similar to the profound effect his reaction had on me. I'm not sure that at that moment I really understood what was happening, or what any of this really meant, but I knew in my mind that I wanted nothing more than to be a part of it.
It wasn't until many barren (League Cup not included) and energy sapping years later that I plucked up the courage to ask my Dad the question I'd pondered for quite a while.
"Why do I support Spurs, mate?"
This was a partly rhetorical, partly anger fueled inquiry at the lack of success I had experienced following my club. I knew that I had no choice but to support Spurs and I had come to terms with that a long time ago, but what I really wanted to work out was why I had continued to come to games, continued to argue in playgrounds and pubs with people who said something I deemed not fair about a player that I also thought was dreadful, why had I continued to care? I had sat through and been a part of the worst period in this club's illustrious history but even then you couldn't keep me away.
I knew that I had no choice but to support Spurs and I had come to terms with that a long time ago.
I had quickly come to the conclusion that it was for the moments of brilliance that we would see on an almost bi-annual basis. A wonder-goal from Ginola, a piece of mastery from Berbatov or artistic defending from King. These moments were spectacular, not only in their execution but in that they were performed by Spurs players, in front of my eyes. They were a glimpse into a world I craved so much for my team. They were moments fit for Barcelona or for Bayern Munich, not mid-table mediocre Tottenham.
But as much as these moments of pure pleasure and literal ecstasy fulfill a certain amount of what I need from football, they weren't the sole reason for my almost religious attendance. It wasn't the hope and anticipation that was pumped through the newly fitted speakers at the Lane or the prospect of success that was built into the crumbling wall of the East Stand, nor was it my Dad luring me into the car with sweets and a promise of a Chris Armstrong hat trick. It went deeper than that.
Even all those years later, Paul Gascoigne's free kick against Arsenal in the '91 Semi Final still had a profound effect on my father
My Dad answered after a few seconds, a few seconds longer than I was expecting. I felt perhaps that all those years him and his friends had spent shouting abuse at the officials had got the better of his ears, but he had heard and he answered nevertheless.
He smiled, "It's everything, isn't it." And he was right.
It was everything, it's a perfect storm. It's the atmosphere of the crowd, it's making your way through the hoards of people outside the stadium, it's the stench of fags and stale beer, piss and disappointment. It's walking up the steps to your seat and craning your neck to catch a glimpse of the pitch. It's the tension and anxiety. We're all there together, all willing the ball to go in the same net, we're there together in jubilation or anger. And regardless of the issues we experience in our own lives, we can all stand together for two hours on a Saturday at 3pm (or Sunday at 4pm if we've played Anorthosis Famagusta on Thursday night) and watch and sing and moan and feel that we belong to something. It's a part of our lives, it makes up the fabric of our being, it's always been there for us and for me, that's 36,000 times more important than any 30 yard screamer, even if it is against Arsenal.
And so, as we move ever closer towards the ultimate uncertainty of Wembley for a season and a new stadium for what I assume will be the rest of my lifetime, each visit to the place where I have spent countless hours watching, swearing and gesticulating at some of the best and worst that the world of football has to offer has become more and more poignant for me. Now, just the sound of Roger Lloyd Pack's goose bump inducing voice over the speakers at White Hart Lane as part of the 10 minute motivational video package before home games leaves me with a lump in my throat. And that is because throughout my life Tottenham Hotspur has always been a safe haven for me. It has given me hope and optimism. More often than not it has given me disappointment and mild forms of depression but most importantly it has been there. It's given me and my Dad something of a common ground, a shared love. And whether we had Andy Sinton or Gareth Bale on the wing, whether it was Stephen Clemence or Luka Modric in midfield, Milenko Acimovic or Harry Kane leading the line it will continue to be there. And in spite of the fact the club will be housed in a new stadium, empty of all history, devoid of the rectangular block of atmosphere that makes our current home so special, it will still be Tottenham, it will still be White Hart Lane to us and it will continue to provide promise and despair for decades to come. I can't wait.