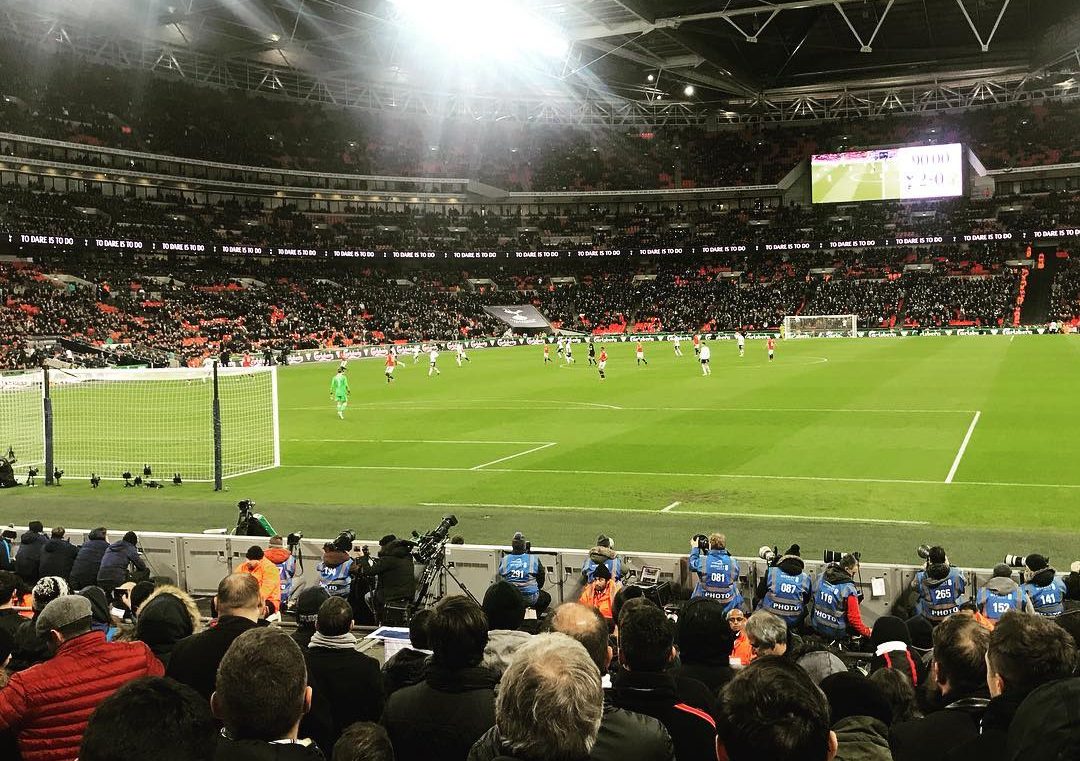 Victims of our own success or missed opportunities? Keith Wikle looks at Pochettino's reign under Daniel Levy and wonders how we will approach next season.
As our season is winding down, one thought has stuck with me since we crashed out of both the Champions League and the FA Cup semi-final. I don't want to say it's been a disappointing season. We've outperformed all expectations and improved our overall performances, but not exactly our league form.
So, what next? How do we improve on what we have, but still maintain our identity?
This leads me to ask, how did we even get here? Two things answer that question.
The first is Daniel Levy. He somehow managed to turn a terrible public image, into a sort of ok public image. Largely he achieved this by building our new stadium in our cultural home. There are definitely open questions about his decision-making. The recent list is: ticket prices, including corporate boxes in the single tier stand, cheese and craft beer bar at the new White Hart Lane. His stewardship will likely see some of our fortunes improve, like getting a bet365 bonus code. In the past Levy has had a public image that borders somewhere between the Simpson's Mr. Burns, and other less savoury stereotypes. His approach to running the football club, at times, seemed to be taking a series of somewhat laughable risks. Some have brought us close to glory, and then blown up in our faces. Harry Redknapp was a measure of both. His approach to running Spurs fit perfectly within the club's culture. High-risk behaviour leading to high reward, and then a crushing ultimate letdown.
There are definitely open questions about Levy's decision-making
After Harry's departure, we all know the carnival ride of ridiculous appointments and player sales that led to the appointment of Tim Sherwood and then finally Mauricio Pochettino. We should collectively recognise how big a gamble Pochettino was at the time. Manager at Espanyol, and Southampton. That was the total sum of his experience. He was better known for "fouling" Michael Owen. Levy characteristically rolled the dice on Pochettino.
This brings me to the second thing. It gets tricky.
Two different things happened almost at the same time. Levy's gamble on Pochettino was looking iffy, until Harry Kane started scoring. Our once in a generation homegrown striker breaking into the first team from the Europa league made Pochettino's fortunes and Levy's. Pochettino's methods, tactics, and approach finally seemed to start making sense after this. I am betting that if that goal at Aston Villa hadn't gone in, we would have another manager. The ball did go in that day and we all collectively thanked the football gods.
Pochettino's methods started to pay off after that. I always think back to the Chelsea 5-3 on New Year's Day where I thought to myself, I believe. It seemed impressive, dominant, and methodical; rather than some fluke we were used to seeing. The relentless pressing and quick movement combined with Kane's ruthless finishing looked classy and muscular. This was not something I'd ever seen in my time following Tottenham as a young man. I was used to hail-Mary's, one-man shows, and half-baked defending. The subsequent seasons delivered a brand of football that is frankly unrecognisable to me. It surpassed all expectations. This includes our two title challenges. He has totally changed our club. He changed everyone's expectations about Tottenham Hotspur.
So why do we sit at the end of another season ruing our missed chances and our inability to bring it over the line for glory? Is it something in our DNA, or is it something simple?
My hypothesis is this. When we look at our squad, we see energetic youthful players who want to do it for the manager. Sadly, not all of them are completely capable of delivering in the crucial moments. We all know which players we have question marks about. Why do we have the nearly there squad, apart from the key spine of the team? Why does our title challenging team and our clearly capable manager find themselves in this position?
No one expected us to get this good, this fast. Not Levy, no one, including Pochettino. Certainly, the rest of the league didn't expect it. The media never expected us to have a once in a generation squad and manager. It has all happened very fast. Four years ago, we were still depending on Kaboul in defence and Andres Villas Boas to lead us. Fast forward to now. We knocked Dortmund out of the Champions League and defeated Real Madrid at home (Wembley). We have now finished above our hated rivals twice. We've been within points of leading the league in the final stretch of the season twice. We've flirted with greatness before, but this seems very different.
Sadly, not all of them are completely capable of delivering in the crucial moments
Pochettino himself said, "We are victims of our own success because we are ahead in our project. I remind you that in my first meeting with Daniel and Joe Lewis, the target was to arrive in the new stadium in four years and to create a team to have the possibility to fight for the top four."
So the real question is, if the football improved to this point, but no one was ready for how much, what does that change? Risk taking is in our DNA. It is how we got here in the first place. Tottenham, we hope will never be bought by a Russian oil oligarch, or an Abu Dhabi oil prince. So we will have to compete another way. Pochettino mentioned having a chat with Levy over how they will approach next season.
I hope what this means is that we combine the methodical, calculated approach of Pochettino and make a few gambles with our squad and our wages that see us double down. We all know it could blow up spectacularly, we're Spurs. It feels as if it doesn't happen soon, this generation will wither on the vine, rather than see glory.