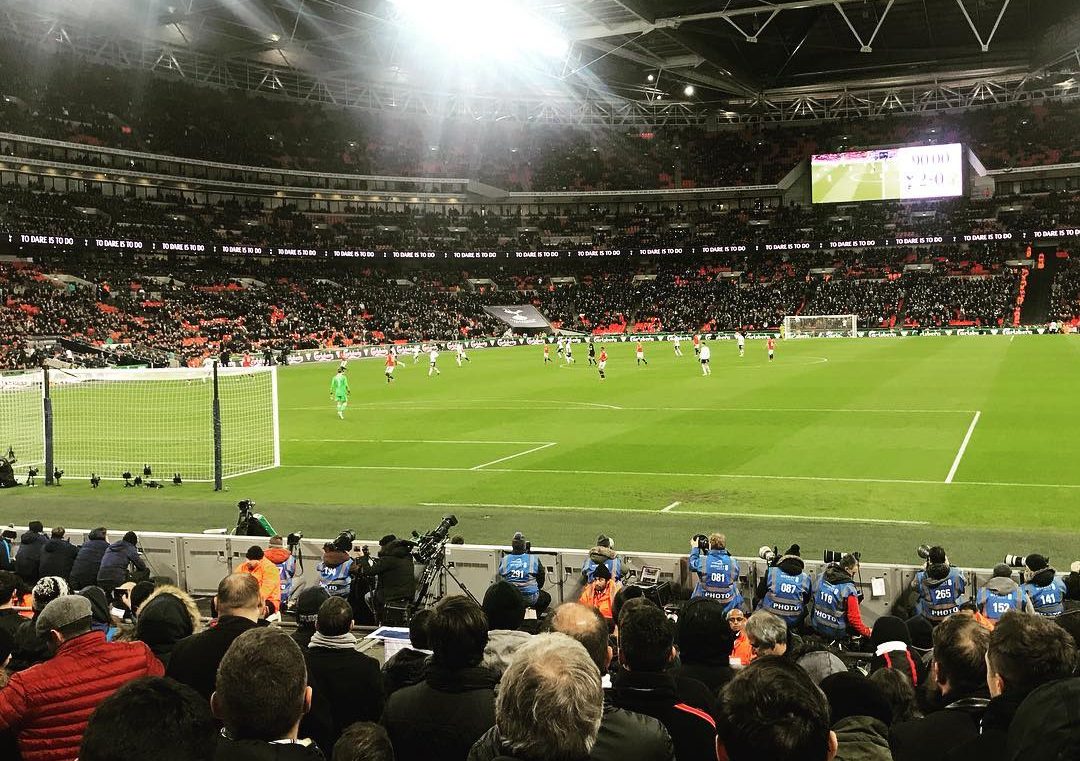 Sharing magical moments watching Tottenham under the lights midweek against some of the best in Europe is what it's all about for Sam Marlow.
There is something special about Tottenham in Europe. The all white kit, under the lights, fascinating new and exotic opposition. It all adds to the magic of it. But there is something almost mythical and ethereal about those glory, glory nights that you just cannot explain.
Before the Real Madrid game last season, as I walked up the gangway to my usual seat at Wembley I was feeling very nervous and tense. Looking at the back of the programme, names like Ronaldo, Ramos, Marcelo, Varane and Modric all jump out at you. What a privilege to watch a game like this, after many years of not being allowed to dine at the top table of European Football. We were seeing footballing royalty in Real Madrid.
There was a nervous tension in the air. Were we about to get our pants pulled down by the champions of Europe?
But then something changed. As the teams walked out to the Duel of the Fates music, 80,000 Tottenham fans erupted into a unified chorus of Come On You Spurs!
The energy in that moment was electric and you could feel the fans coming together like one organism, willing the team on. At that moment I got a weird feeling, almost as if I knew we were about to witness something magical. The players must have felt that energy but there is something powerful about it that you cannot put your finger on.
Looking back at the video of footage of that night, when Christian Eriksen scores the 3rd goal, the camera is literally shaking due to the sheer volume and energy of that moment. Goosebumps don't come close to describing it.
The players must have felt that energy but there is something powerful about it that you cannot put your finger on.
Fast forward a few months and I was rifling through my Dad's bookshelf. This is a man who has been following Spurs for almost 5 decades so he has pretty much seen it all. I love listening to his stories about the UEFA cup win against Anderlecht at White Hart Lane.
One book jumped out at me. It was faded and dog eared. "The Glory, Glory Nights: The Complete History of Tottenham in Europe" published in 1986. The foreword is by Irving "Client Reference Number" Scholar which perhaps holds some bitter irony 30 years on.
The photos in this book are phenomenal. All the history of Tottenham being the first ever English team to win a European trophy in 1963, up to the UEFA cup victory in 1984. It becomes obvious that the Real Madrid night wasn't a one off. It is merely one tiny chapter in the Tottenham European story.
The only thing it can possibly boil down to is our fan culture. Billy Nicholson famously said: "It's magnificent to be in Europe, and this club – a club like Tottenham Hotspur – if we're not in Europe… we're nothing. We're nothing." This runs to the very core of being Spurs.
It is no coincidence we have beaten the champions of Europe twice since 2010 (Inter Milan and Real Madrid). Those nights are pure magic and it is down to our fans. An quote from a match day programme from 1961 describing the European Cup first round match against Gornik Zabre which we won 8-1 shows exactly this:
"It was thrilling to hear the old-time 'Tottenham Roar' at full blast, but though our supporters were obviously out to do their best to help the team… their vocal enthusiasm seems to have worried some members of the Press."
The intensity of these nights is something else.
The draw for this season's Champions League against Barcelona, Inter Milan and PSV Eindhoven is mouthwatering. I don't care what anyone says. You want to see your team play the best of the best. I will take Barcelona over APOEL any day.
Sharing magical moments watching Tottenham under the lights midweek against some of the best in Europe.
Watching Spurs demolish the champions of Europe (twice) is a night we will never forget. In this age of social media and "what have you won" banter it is easy to forget what football is all about.
For me, the game is about these moments. Would we honestly swap those games for another Carabao cup? Of course we wouldn't. We have the best nights of our lives watching Tottenham in Europe. That is what matters to me as a fan more than anything else. Sharing magical moments watching Tottenham under the lights midweek against some of the best in Europe.
Today I got the email saying I had been successful in my application for a ticket for the game at the San Siro against Inter Milan. This is my first ever European away day and I cannot articulate how much I am looking forward to it.
This game takes on a special meaning for me for other reasons. 3 years ago I moved to Milan by myself to live there for a year, so Milan is almost like a second home. I was obviously very apprehensive when I first moved and I didn't know anybody when I arrived.
Yet, by chance, the first person I met in Milan back in August 2015 was a Tottenham fan from Essex called Charlie. Fast forward 3 years, Charlie and I have our season tickets together and sit with each other every week. We can't wait to go back to Milan and see Spurs at the San Siro.
In this year in Italy, we truly grasped the impact Spurs have made in Europe. My Spanish friend Pablo found my old 1984 Holsten shirt in my flat, and instantly mentioned Ossie Ardiles, Glenn Hoddle and Ricky Villa. He is a Madrid fan who has seen his team win countless European Cups but knew about little old Spurs.
Charlie and I soon built up a group of 5 or 6 Spurs fans from Norway, New York and Essex who went to the pub every week and watched the games together. It reached the point where the bar man would switch the channel over to the Spurs game when we walked in. Over time we converted people to Spurs and often it has been the foundation of friendships which will last a lifetime.
The Tottenham family never fails to disappoint. Bring on this year's Champions League. Come on you Spurs!