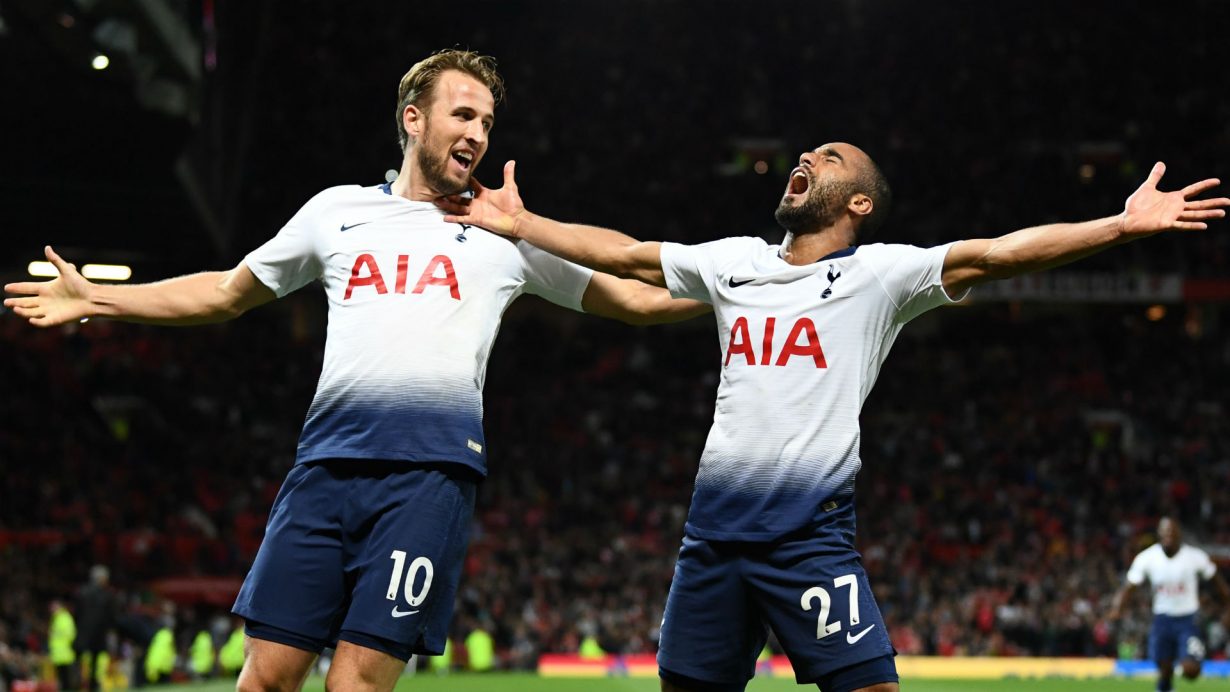 Like all of the recent successes that have come before him, Lucas Moura's ascendence to becoming a permanent first eleven fixture is a matter of patience, writes Josh Bolton
It's often said opportunity knocks. But as Nathan Baker's wayward header sent the ball hurtling towards the unguarded side of Brad Guzan's goal and in, Harry Kane's credentials had been banging on this particular point of entry for some time.
Having scored six goals in as many games during starts in the Europa League and League Cup, Kane entered the fray with only half hour to spare on what was a crisp November night at Villa Park. The rest, as they say, is history.
With hindsight, Harry Kane's last-minute winner in 2014 was a turning point of dual proportions: it jump-started Pochettino's Tottenham tenure and spearheaded the young striker's evolution from burgeoning understudy to irreplaceable mainstay.
But at that point in time, and on a personal level, Kane's deflected strike secured his overdue escape from a Pochettino-honed purgatory — a hypothetical place where the Argentine's fledgling squad members are expected to demonstrate flawless patience, unwavering perseverance and an acceptance of biding their time as they are gradually eased into the rigours of the Premier League.
It's a place where Lucas Moura find himself stationed at present. As since signing for the club some 14 months ago the Brazilian has had to play the waiting game, having seen first-team opportunities and consistent form in fleeting measure. Like Kane, is Moura in need of his own Baker-assisted juncture to inject impetus into his Tottenham career?
There's an argument to suggest such moments have already occurred (and have been spurned). A sprightly debut against Rochdale provided no catalyst; neither did landmark goals against Fulham, Manchester United or Barcelona. Even an impressive, game-changing cameo versus Watford in recent weeks was followed by a swift return to the periphery.
Perhaps it's unfair to contrast Kane's breakthrough to Moura's lack thereof. Aside from the obvious differences between the players, the former established himself in a team still finding its feet under Pochettino. In comparison, Moura is attempting to earn his stripes in a faction finely tuned to its manager's intricate specifications.
Instead of Kane, a more relevant muse for Moura should be fellow teammates Son Heung-Min and Moussa Sissoko. Both had limited success in their first year at Spurs as they struggled to acclimatise to Pochettino's tactical demands. Both were expected to depart without fanfare during their lowest ebb. Yet both experienced a career resurrection of biblical proportions.
Of course, new players signed for significant sums are expected to hit the ground running, but considering Morgan Schneiderlin — remember him? — said it took over a year for Southampton players to fully grasp Pochettino's tactics, combined with the manager himself asserting last May that new singings under his guidance need "months to adapt themselves to the team, the dynamics, everything", why shouldn't Moura be afforded extra leeway?
Factor in that the player was frozen out during his final half-a-season in Paris — appearing only six times, all as a substitute — and is undertaking a major renovation to his overall game from out-and-out winger to dynamic attacking midfielder/makeshift striker, the player should be well entitled to the virtue of patience.
Yet football, as a paradigm of modern society, is hampered by a ceaseless demanding of the here and now — waiting is not an option. It's a deficit of humanity that Pochettino openly laments in Brave New World, believing the internet's power of providing us with immediate answers has led us to expect the same impossible, instantaneous results in everyday life.
Despite the pedestal they're placed upon and the astronomical figures they're paid, footballers aren't robots — they're human beings who, like us, require the necessary time to adapt to new surroundings, a new culture and a new organisation.
So just how long will it be until we see the very best of Lucas Moura? Your guess is as good as mine. But as Pochettino has proved with his handling of Son, Sissoko and even Harry Winks, good things are destined to come to those who wait… patiently.