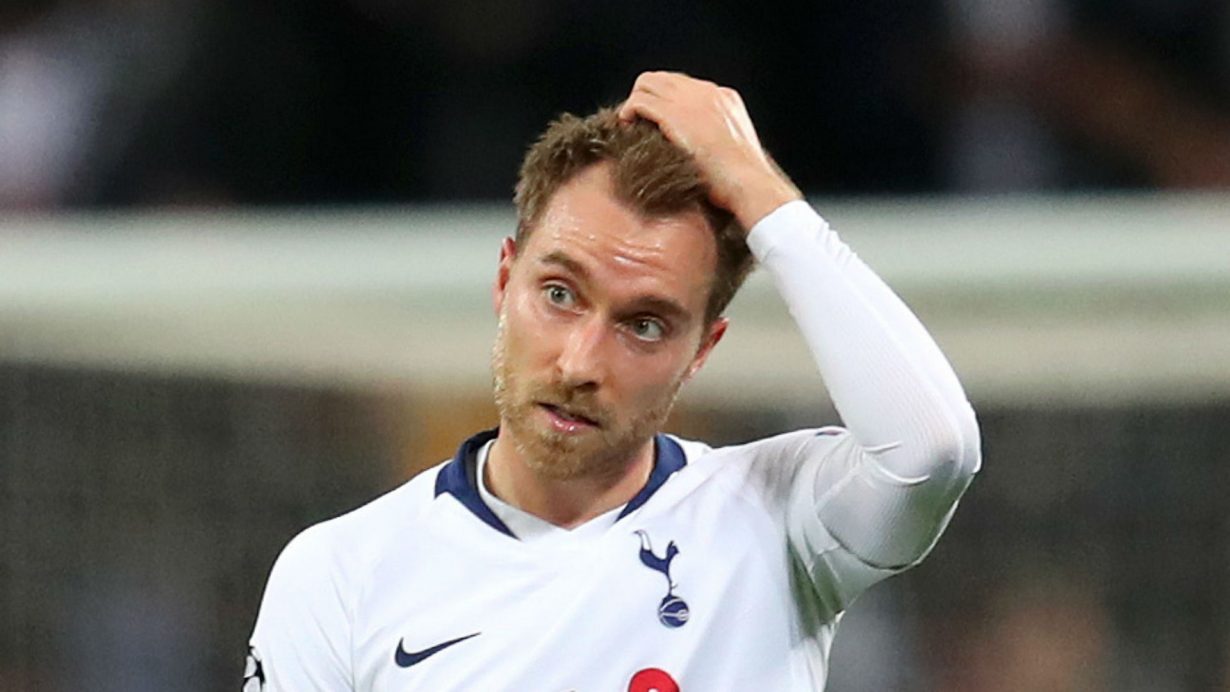 Is Christian Eriksen to blame for our lack of goals in recent games, and with it our slump in form? Paul Maslin writes.
When we mutter about a mistake by Sanchez, Rose, Lloris, Walker-Peters, or question the manager's latest selection decision, or better yet, assess his recent willingness to issue harsh criticism of his squad and what that says about his future plans, I believe we are ignoring the larger truth directly in front of us. And it is the size of two elephants in the room.
1-0-2-1-0-2-1-3-3-1-0-1-1
No, it is not a digital code accessing Cambridge Analytica's Russian reports. That's the goals scored by Spurs in the last 13 fixtures. 16 of them, to be exact. And for comparison purposes, though there was a Tranmere Rovers Cup fixture in this mix, in the five previous games we scored 24 goals. So after an orgy of goal scoring– nearly five per game– we have fallen off the proverbial cliff and now have managed barely one goal a game for more than two months.
And the games where we scored three were a home affair v Leicester where the Foxes were the better side and it took some considerable good fortune to produce the result, and a game v Dortmund where the first goal was produced by a cross from a player who never plays left back, and the second was scored by that same defender making an all-too rare run on goal, and the third was a rare deflected corner kick from a rarely-used striker.
So what is the problem exactly, and more to the point, what can be done about it? Injuries to Harry Kane and Dele Alli are unquestionably some of the issue, yet games at the beginning of this run and now another just played did feature both of our most dynamic attacking players. Defences have gotten smart– by clogging the middle, often surrounding Kane or Heung-Min Son, forcing Spurs into 1 v 3 situations they seem unable to defeat. The flanks are under-utilised because either Davies or Trippier can't get around the opposition, or Rose/Aurier can't place a proper cross into the box. The holding midfielders– chiefly Winks and Sissoko– have been, due to injury, been stretched to their limits, and while both have considerable virtues, with rare exceptions (the Fulham winner, the Dortmund through-ball) finishing is not one of them.
Kane himself has seemed a bit out of sorts since his return– the goals still are coming, but his connection to his teammates seems more tenuous. It's as if the attack with him absent and Son in his place better understood how to create pressure and score from the break, and somehow despite all the success of the past four seasons it is disjointed now that he's back in the lineup.
But I think there's a bigger reality at the heart of this recent slump. Christian Eriksen– who has been wont to have stretches of subpar play, though to be fair not for a couple of seasons– is for whatever reason experiencing perhaps his worst period of football for Spurs since before Pochettino's arrival. To be sure there are still some elegantly chipped balls and nice service from the Dane– but along with them are repeated missteps– poor first touches, bad decisions, passive play, weak or misdirected shots on goal. One watches a Spurs game and generally before halftime the grousing about Eriksen's play reaches a fever pitch. I hate to use the analogy but he's almost becoming our Ozil– though certainly at a bargain price.
And perhaps that is the real problem. The contract hasn't gotten done. For all intents and purposes he seems headed somewhere else this summer– perhaps to Spain, perhaps to one of our domestic rivals. He seems to have one foot out of the door already– while we all think each game is vital and loyalty to one's club ought to supersede everything else, maybe he's simply hit the wall at Spurs. Maybe he's not listening to Poch anymore– maybe he's tired of the playmaker role he has been forced to accept. Maybe he's not as good as we thought he was.
Regardless, if this team is still capable of a successful Top Four push or advancement to a semi-final in the Champions League, Christian Eriksen will have to play much better. Our Dane is not only not great at present, he's not even good. This may be the final two months of his time in North London– certainly many supporters now accept or even endorse that view. Let's hope they are productive.