Photo by @maatfc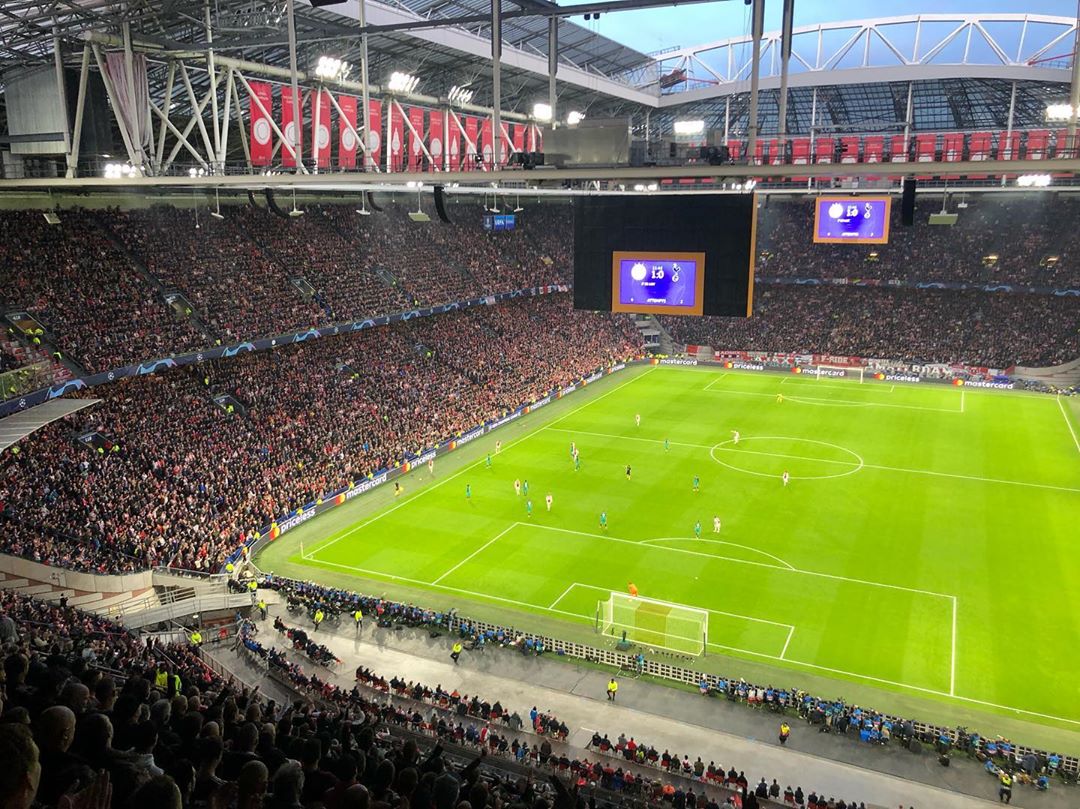 The dust has yet to really settle as Gavin Lewis looks back on one of the most glorious nights in our history.
On Wednesday night, it was thrown high up into the ether when thousands of Spurs fans from all around the world let out a primeval roar of pure, unadulterated joy. Like many, I sank to my knees and gasped for air. I searched deep within myself for a response to this totally insane situation, but a wave of emotion engulfed me, strangling my senses. When I looked up, crumpled red and white shirts were slowly falling to the floor like ten-pins, and a blur of green collapsed into the corner. It was all over.
In life, we try to rationalise and comprehend new situations by utilising past experiences. When thrown into stressful circumstances, most individuals desperately reach for a comparable scenario so that they can determine an appropriate course of action. The trouble is, there is no comparable scenario for what happened at around 9. 55 pm on Wednesday 8th May. It is unlikely that a football fan will ever again witness their team's bit-part winger, sold to them by the current manager of their greatest rivals, score a 95th minute winner which completed his hat-trick and sent his team into the final of the Champions League. What a ridiculous sentence.
Okay, fine, the game against Manchester City was also bat-sh*t mental. But it didn't prepare any of us for the drama against Ajax. We're Tottenham Hotspur, the guys who 'fail aiming high' so that even our heroic losses 'have an echo of glory.' This wasn't a loss, but it was heroic.
Okay, fine, the game against Manchester City was also bat-sh*t mental. But it didn't prepare any of us for the drama against Ajax.
As a fan base, we've been through so much collective trauma that I think many of us may have developed deep-rooted psychological issues. Them lot winning the league at The Lane, lasagna-gate, two points from eight games, the FA Cup semi-final defeats, Rivaldo's f****ng letter; horrible, embarrassing incidences that just don't bare thinking about. Night's like Wednesday make all of it worthwhile, and any past pain or misery dissipates away. The brain has a strange way of dulling these distressing episodes, particularly when they're punctuated with moments of historic brilliance.
The whole team deserves so much credit for showing such desire, passion and resolve. In that second half, they looked like they craved the Champions League trophy- like they yearned for the tangible success that has so far eluded this talented Tottenham side. However, Mauricio Pochettino, our leader, deserves to be singled out for particular praise. He is a true architect of miracles, and this astonishing team is molded in his image.
At this point, I need make a terrible confession. You have to understand, I'm not proud of this. Really, I'm not…but, okay here goes. On more than one occasion this season, I doubted the ability of our gruff, Argentinian general. Ah, that feels so much better now that it's in the open. I worried that we might have reached our ceiling, and that he wouldn't be able to take us any further. I echoed pointless platitudes about needing a 'winning mentality.' I know, it seems ridiculous now, but football has an amazing ability of making even the most considered sentiments appear quickly erroneous.
The whole team deserves so much credit for showing such desire, passion and resolve.
How on earth did Pochettino managed to squeeze such a performance out of this group of injury ravaged and exhausted players? Dele looked finished at half time, but he came out for the second half looking sharp and rejuvenated. He was truly outstanding. I thought we may never see Trippier in a Spurs shirt again after another defensive horror show, but he came back from the dead after the interval and prowled up and down that right flank in a way that I didn't think was possible.
And where to even begin with Llorente? Beautiful Llorente! Those piercing blue eyes and handsome features have had to do a lot of heavy lifting for the Spaniard over the last eighteen months, but Wednesday night he showed that he is not just a pretty face. To be honest, he as been a crucial component of our entire Champions League campaign, scoring important goals against both Dortmund and City. Against Ajax he rolled back the years and won header after header. The young Dutch side didn't know how to deal with this anomaly- a throwback to a different era of football. In many ways, this feels like a last hurrah for the aging Fernando. We didn't sign the striker in his prime, but he's shown glimpses of the wonderful, world-cup winning player he once was this season, and he has been a genuine asset.
So, what do we do now? Seriously, any ideas? I'm totally stumped. What if we actually…you know? Do better than just reach the final? Perhaps the world will end. Perhaps the indignant anger that will be generated by Woolwich, Chelsea, West Ham and Scouse fans will create a negative spiritual energy that is so intense it forms a psychedelic vortex that envelops the earth. Perhaps Levy will decide to end on a high, fold the club and turn the new stadium into a monument for Moussa Sissoko. Either way, things will definitely change, because the truth is, despite an enourmous amount of progress over the last five years, we've not yet quite eaten at the top table.
Sure, we've been thrown a few scraps here and there. The odd gnarled chicken leg, a little slice of cheddar- we've certainly got a taste for the finer things. On the 1st June, however, we can put on our best suits, pull up a big comfy chair and stuff ourselves stupid. Because two teams will line up under the lights of the Wanda Metropolitano for the Champions League final, arguably the biggest cup competition in the world. One of those teams wears lilywhite. They come from a corner of North London, and proudly wear the crest of a navy-blue cockerel on their chests. They are Tottenham Hotspur, and they are daring to dream.