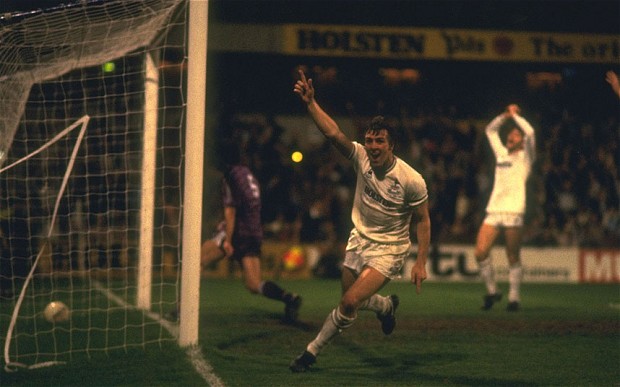 Billy Nick understood what Europe means to Spurs. We even won the UEFA cup under the lights at White Hart Lane in 1984.
For the last 4 seasons we have dined at the top table in Europe, even managing to stay for dessert last season. However this year it appears our status as a Champions League club is seriously under threat for the first time in a while. This has sparked some debate amongst Spurs fans as to whether it would be better to avoid the Europa League all together. I disagree.
"It's magnificent to be in Europe, and this club – a club like Tottenham Hotspur – if we're not in Europe…. we're nothing. We're nothing."
Billy Nick understood what Europe means to Spurs. We even won the UEFA cup under the lights at White Hart Lane in 1984. Seeing Spurs play in all lilywhite at home under the floodlights is still special to me, regardless if it is on a Tuesday or Thursday night.
Many Spurs fans think that being in the Europa league will be vastly detrimental to our league form next season. Given that Wolves are currently above us in the table, I don't think this is a massive issue. And besides, so what? What are we playing for?
Liverpool currently have over twice our points tally this season. We don't stand a chance of winning the Premier League without obscene money being spent in the summer. And if Mr. Levy were to invest in a title winning side, we could just play the kids in Europe and give them the chance to develop. That was after all how a young Harry Kane forced his way into our first team not so many years ago.
The Europa League represents another chance at a trophy, and another chance at Champions League qualification.
A club like Tottenham should be able to sleep walk to the quarter finals and then we would get a shot and some wonderful Glory, Glory Nights™. I would love the chance to do some away days to places like Seville, Lisbon and Prague.
I think the real reason fans don't want Europa league is because of the age of online football banter that we live in. Where supposedly professional outlets like ESPN tweet "Spursy" in response to Martin Cloake and Alex Flynn's brilliant book One Step from Glory, and rival fans mocked for playing on a Thursday night. A stigma has been created.
None of this matters. It only bothers you if you actually care what other fans think. If your enjoyment of Tottenham is reduced because of the tweets of rival fans then I think you are missing the point.
Anyway, since we were last in the Europa League the ban on buying beer in the stadium has now been lifted. Thursday nights with our friends and family, cheaper tickets, a few beers and good football isn't the end of the world. I would be very disappointed if it got toxic like it does down the road.
Don't get me wrong, I would much rather get into the Champions League every year. We have proven that we can make it to a final in that competition. However, I would much rather see Tottenham challenge for trophies. Finishing 4th is not a trophy. There won't be dressing room selfies and fans dancing in the street if we finish 4th like at some clubs. If we won the Europa League, that would be a brilliant day for us all.
Legitimate questions do need to be asked about how UEFA manage the second tier European competition. Putting finals in Baku and having a round of 32 does give it a somewhat tinpot feel. But then again, a good chance at a trophy, some fun away days and another chance to watch Spurs play in the week…
I think on balance Mr. Nicholson was right.