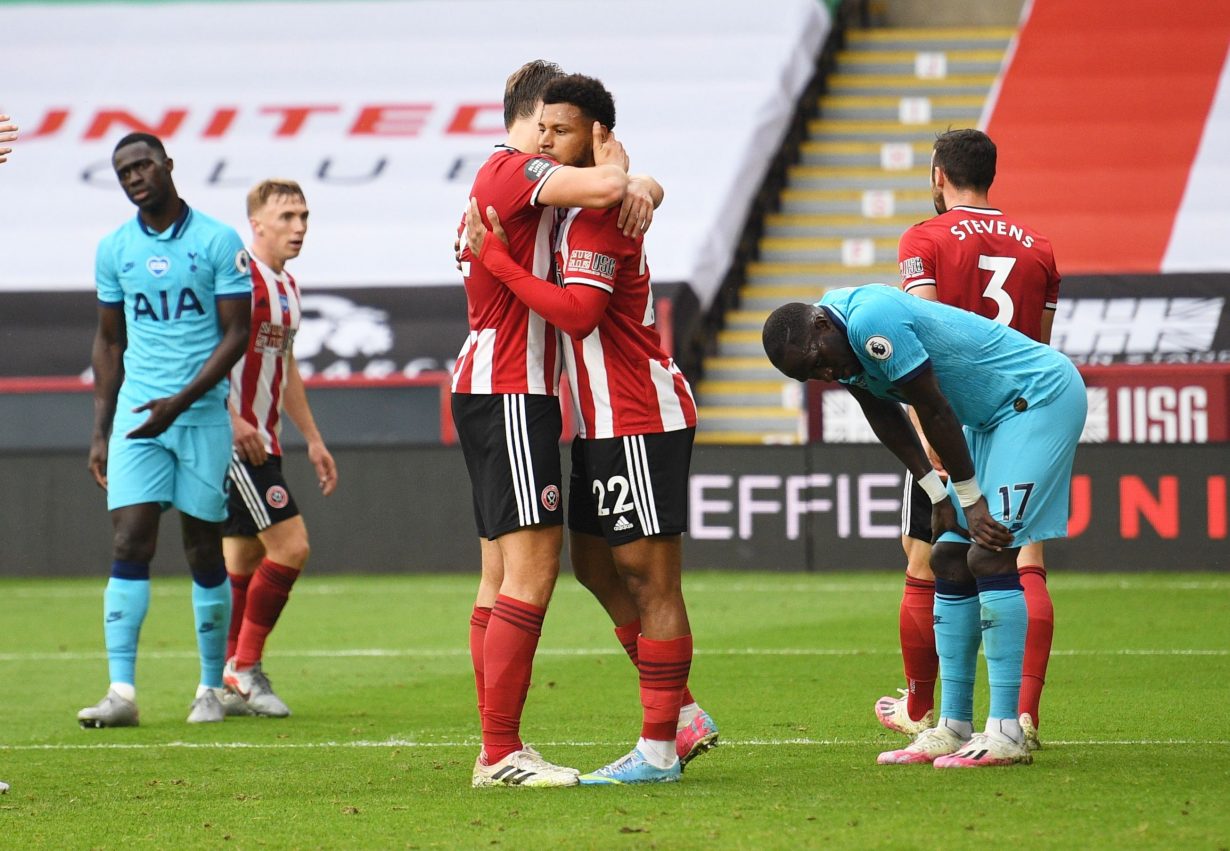 In a way, you have to hand it to the current group. Their ability to implode is second to none. If nothing else, they are incredibly proficient pyromaniacs.
I was ready to admit I was wrong. Badly wrong. Now, I'm not so sure. It's a confusing business, this football fandom.
A couple of weeks ago, I wrote about the return of football, and how it was a welcome escape from the pressures of everyday life. Then, we were hammered by Sheffield United, and the impending destruction of humanity seemed like a cheerier topic than Tottenham Hotspur Football Club.
Was my reaction a bit knee-jerk? You bet it was, but I still don't feel great about that particular result. It felt like a nadir in a season of lows.
I genuinely thought things were looking up after the enforced break. The draw with Manchester United has looked increasingly respectable, and our performance against West Ham was solid if not spectacular. The 3-1 capitulation last Thursday, then, was really quite unexpected.
In a way, you have to hand it to the current group. Their ability to implode is second to none. If nothing else, they are incredibly proficient pyromaniacs. We don't just strike a few matches, throw them onto the pitch and hope it'll catch alight. We pour petrol all over the gaff, put a few fire lighters in the corner, play Sanchez at centre half and watch with a grim satisfaction as the flames lick around the edge of the golden cockerel. I know I should be used to it by now, but I'm not.
It barely needs to be said, but I wasn't expecting much in the build up to Everton. They'd been in decent form, and I wasn't sure our players would be up for the battle. What I definitely did not anticipate was a gritty, 1-0 win. It was only our sixth clean sheet this season. West Ham have had just as many, and we all know where they are.
The match was classic Mourinho-ball. We scored a scrappy goal, but then barely threatened. Our players took it in turns to hack down Richarlison, Toby was booked for time wasting and Lloris had to be separated from Son just after the half-time whistle. What's become of our club? It felt like a toxic negativity was seeping into its very foundations. We won, but not with style, and certainly not with a flourish.
Mourinho loved it, of course. He called the Lloris and Son clash 'beautiful,' and said that the team needed 'to grow up.' He's spoken a lot about the need to change our mentality in recent weeks, and maybe he has a point.
I thought our 'lad's it's Tottenham' reputation might have finally been buried by Pochettino a couple of years ago. The Argentine threw nearly twenty years of fragility into a casket, along with Younis Kaboul, and lowered it deep underground. Here lies Spurs, 1992-2017. Gone and hopefully forgotten. I wish.
That flakiness is so deeply embedded within the club I'm not totally convinced it ever left. Even during our Pochettino pomp, we were still prone to startling acts of self-destruction. Newcastle and Chelsea immediately spring to mind. Also, as I'm often reminded, we never actually got over that final hurdle, and part of me wonders if we ever will.
What is it, then, that has made us the way we are? It's one of life's big questions. Is it in our very nature? Is there an intangible, illogical, unexplainable presence at White Hart Lane that means we'll always be doomed to fail? I can't quite believe that. I'm a man of science, not mysticism. We were good once, and we'll be good again. How long that takes, however is another matter entirely, because we currently sit in eighth place. We're only two points ahead of Burnley.
Make no mistake, it has not been a good season. We were Champions League finalists last year, and now even Europa League qualification is far from certain. Everyone's looking for a scapegoat. Who's truly responsible for such a prolonged drop in form? It's hard to say. The manager? Maybe.
When Mourinho was appointed, I tried to keep an open mind. He's won trophies everywhere he's been, and I thought his pragmatic style might be a nessecary evil. Like many of us, I clasped tentatively at the idea he might be the missing piece of the jigsaw. I thought a real, shit-housing competitor would be just what we need. Poch had brought the club up to the 'next level,' and Mourinho was now coming to finish the job.
I know. You don't have to tell me. I was hopelessly naïve.
To expect Jose to come in, all guns blazing, and fix a squad riddled with holes would be to ignore everything Pochettino had said in his last twelve months or so at the club. He spoke often of the 'painful rebuild' that was needed, and he knew better than anyone that this squad desperately needed freshening up. He could see we were slowly fading, and he could see that big changes were needed. Some players declined; others seemed to forget how to play football entirely. The rebuild never happened, so we've been left with a strange, imbalanced, unmotivated team.
Granted, we are starting to look to the future. Lo Celso is a real player, N'dombele has a huge ceiling, and Bergwijm, similarly, has the potential to be a star. The trouble is, it's all too little too late.
We were on the cusp of something. We really were, and all we needed was that final push. A little bit of investment. Literally any investment at all, at a crucial juncture in our history. That's what makes all of this so difficult to take.
The buck shouldn't just stop with Levy. Pochettino and Mourinho were and are responsible for motivating and coaching these players, and they must also take some of the blame for what has happened. Likewise, the players themselves must bear some responsibility. I think very few members of the first team could say they have honestly given their all over the last eighteen months.
My main point here, I think, is that building a successful team is not easy. Otherwise, everyone would do it. It's incredibly complicated. Success relies on the chairman, the scouts, the players, the manager, the coaches, the youth academy…everyone, really. Everyone is responsible, and equally, everyone can be culpable. We've got it wrong in the past, and no doubt we'll get it wrong again in the future, but very occasionally we'll get it right.
However, and it's a big however. Throughout most of my life, I felt like we were building towards something greater. First, we developed a young, hungry team. Then, we started to qualify for the Europa League. Soon after, the Champions League became a regular occurrence, and we began construction on a brand, spanking new stadium. I could live with the failures, because, like a good Christian, I thought it was all part of a bigger plan. Now, I feel like we've stagnated.
I put a lot of it down to hubris: a dangerous trait that has toppled whole empires, not just football clubs. We assumed we would always be able to eat at the top table, no matter what decisions were made both on and off the pitch. A state-of-the-art arena doesn't entitle you to a cup and a top four finish. As a consequence, we've regressed. I need to feel like we're building again, and I need to feel some optimism emanate out of the club.
Of course, I might be totally wrong. We might come back next season with a renewed focus and a crushing determination. We might sweep all before us, win the double, and build a statue of Mourinho outside the front of the stadium.
Or not. I don't know, man. Like I said, it's complicated.