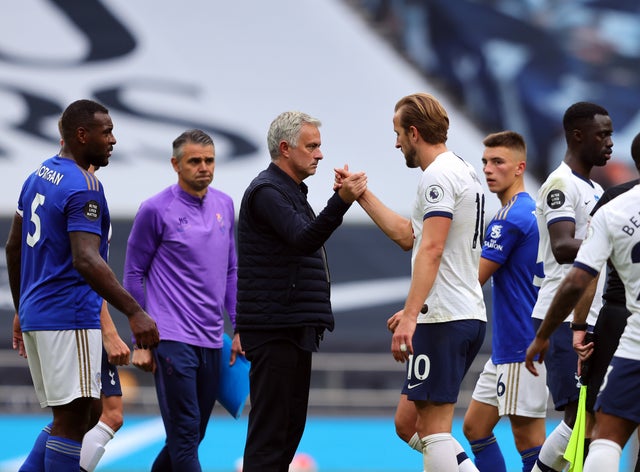 So, is José Mourinho a stop gap appointment? Of course, but in the context of the club and what it needs it is probably the only one that makes sense. Will it be ugly?
I'll be honest, I've always detested José Mourinho. Not just the football his teams play, but the circus that surrounds him and the conflict that seems to preclude his departure from, well, everywhere.
Yet here we are, and here he is.
We've all been here before with Tottenham, and though sometimes Levy's mid-season gambles have backfired; this time round the new broom can be truly thought as top tier, at least until very recently. Importantly, there was no expensive buy-out required and all Spurs had to be was more tempting than a studio seat next to Jamie Carragher to land their man.
If £15 million a year wasn't sufficient motivation for José, today's Tottenham represents the perfect setting for him. After a year of supposed self-reflection, the coach with the legendary self-confidence strode into a club so starved of silverware that even a modest return will represent a success to all but the biggest critics.
The trophies he won in Manchester- dubbed by some the 'least impressive treble of all'- would immediately catapult him to being Tottenham's most successful manager in over 30 years. Talking of success, if you fancy some of your own, check out these online bonus codes for football betting and perhaps even complete your own impressive treble.
The appointment also heralds the alignment of many stars for Daniel Levy, who has long admired the Portuguese coach. Nevertheless, despite the new real estate and the crop of international players at the club, it is entirely thanks to the fractious nature of his last two appointments that the move was even remotely possible. Make no mistake, had José achieved anything like the expected return for his time at Chelsea and United, he would not have looked twice at Tottenham; regardless of the show-home.
There is something very 'Tottenham' about appointing Mourinho at a point where his methods are consigned an artefact of yesterday by many. He may have bought trophies to Manchester United, but both the football and his abrasive nature rankled with their fanbase from the outset. It is entirely likely that the same thing will happen again this time round, of course; and the critics (myself included) have been quick to identify worrying signs already. That said however, predictions of Mourinho's demise as a footballing force are more than a little unfair. There is more to this story than a game evolving beyond one of its key protagonists.
Truthfully, José Mourinho was a poor fit at United, following as he did from the failures of David Moyes and Louis van Gaal. What he found was a club still trying to free itself from the ghosts of the past empire. This was further complicated when the club became the biggest footballing franchise of them all (at least in financial terms). More than ever, public relations became critical with such sums at stake, and in this context, conflict- and failure- was inevitable. Mourinho the arch disruptor needs to be the point around which the show revolves, and this one had just become too big for one man.
As time went on, his rancour became more evident. These antics have always been claimed to deflect the spotlight from his players, but jibes at Smalling, Pogba, and Shaw gave lie to this at United. Whatever his motivation, it was clear that he was struggling to play a role within an organisation with such new brand concerns. The acrimony of Chelsea and Real Madrid had altered him; shortened the temper and added more spite to the off-hand remarks. The Mancunian showdown arrived like clockwork with all too predictable results.
It is necessary to look beyond his return to England for full context, however. The 2010's are a mix of spite and silverware for Mourinho. Real Madrid- surely the most toxic, personality-driven, football club in the Northern hemisphere – is itself more of a saga than a sporting institution.
Battling Barcelona for honours, Mourinho's remit was first and foremost to stop the Catalonians. They did cause Guardiola's side a few uncomfortable moments, notably in the 2011 Copa del Ray final; but the contain and counter tactics were unsuited to a club with the profile of Madrid, and friction between the ego-laden manager, superannuated players, and popularity-driven employers became the dominant narrative. Often controversial, frequently unpleasant, Mourinho's Madrid won cups but not compliments. When viewed against the mirror of Guardiola's media darlings, it simply wasn't enough.
Back at Chelsea, Mourinho was reunited with the notorious Abramovich. Few of his appointments linger, regardless of what trophies they bring. In his never-ending quest for a footballing 'identity', Roman Abramovich has a propensity for the managerial hair-trigger to rival Daniel Levy. Nobody with any knowledge of their history gave credence to Mourinho's assertion that he would stay and build an empire at Stamford Bridge; although the speed that it fell apart was perhaps a surprise. Of course, he fell upwards and landed the job he had coveted at Manchester United. From there, the cycle inevitably repeated, bringing us neatly to Tottenham.
Considering the given identity of the club, where we say the 'game is about glory', the appointment of Mourinho looked to some – including me – to be a disaster waiting to happen. His well-known brand of anti-football flew in the face of the club's history, and his brash persona could not be further from Mauricio's self-confessed 'Llorones' tendencies. But dig a little deeper and there is something surprisingly serendipitous to this unlikely union.
From the perspective of both Spurs and Mourinho, the appointment was almost perfect. The Pochettino 'project' had seemingly come apart at its seams. The first team was obviously in an advanced state of fatigue, and with ongoing discontent emanating from the squad much of the progress of the last five years was unravelling before our eyes.
The fatal mis-management- regardless of who was ultimately to blame- culminated after a year of decline, and the comprehension that 'it's happening again' was written on faces down both Wembley Way and White Hart Lane. Whatever the injustices of Madrid, the dream, and the project from which it was born, was dead.
From here however, and importantly for Mourinho, this club is in the perfect place to adopt his ultra-pragmatism as means to a much sought-after end. In a team two years overdue for major changes, all our attractive options have been played out. Stakes are at an all-time high, too; we can no longer afford to dwell in obscurity. It may not have worked at Manchester United; but that does not mean the approach has no merit at Tottenham.
For us, the road back to the top may have been mostly travelled, but the last steps look set to be taken over the emaciated corpses of style and swagger.
The transformation is rapid, and defeats of Manchester City and Arsenal were pure Mourinho. Possession percentages in the 30's are blunt statistics, but they epitomise the key to his approach. If he indeed has a true 'style', it is the pragmatism of using the players in the most effective way, on that day, based entirely on the situation. If that means abandoning work with the ball for preventing opposition progress, then all to the good for the coach.
A faltering Spurs would have been taken to pieces by City in February had they tried to compete toe to toe, so José set up to prevent a game from taking place, knowing exactly how to win it. This is always his approach against the Cruyffian sides, regardless of his playing staff. Likewise versus Arsenal most of the work is done off the ball, importance placed on the work of disrupting the opposition flow. Tellingly both managers opined post-match that they failed to turn dominance into victory; and this is a common theme. As a microcosm of what is to come, these games couldn't be bettered.
All this is not to say there isn't development in shape and style from Spurs across these games; but be under no illusion, José has had no epiphany in the last year – this is the way things are done. After five years of possession, Spurs are learning the antithesis of Pochettino's Bielsista philosophy. It promises to yield results if the players buy into it – at least for a year. But that is all that is needed, and nobody does short-term solutions quite like José Mourinho.
If this approach brings silverware to the celebrated bridesmaids of the Premier League, it will bring vindication to all parties whilst allowing a troublesome Rubicon to be crossed. It will legitimise the sacking of Mauricio, let the board off the hook for their negligence, and perhaps it is the only thing that keeps a world class player like Kane at Tottenham past this year. Furthermore, it will be the final piece in the career of the man whose halo has slipped of late.
The theory that Mourinho needs to spend big – and often – to win is almost certainly going to be tested at Spurs. The current crisis aside, Spurs have neither the finances or status of any of the clubs he has managed post- Porto with which to attract big names. This challenge represents the last unconquered territory of the all-conquering man.
So, is José Mourinho a stop gap appointment?
Of course, but in the context of the club and what it needs it is probably the only one that makes sense. Will it be ugly? Without a doubt, but in the light of our experiences last year, ugly is better than heartbroken, at least for now.
Arriving at this opinion has been a difficult process, for me. I am unashamedly all about the entertainment, and this has presented me with a tough choice. This Spring I did something I've rarely done before, putting aside my preconceptions I read everything I could find about Mourinho. It is perhaps telling that of all the modern managers, there is more to read about our new coach than almost anyone. I started this piece by admitting my intense dislike for the man, but I find now I understand him, I no longer feel this way.
I still feel incredibly sad for how things ended up with Mauricio, but in knowing José a little better I find not only a greater appreciation of what he can bring, but more importantly why at this time Tottenham is as important to José Mourinho as he is to us.
I've come to the conclusion that distasteful as it is, he is not only the right man for the job, but possibly the only one; not because he is a proven winner, but because he's the ultimate pragmatist. The squad needs to be broken up wholesale – Mauricio told us as much. José is as well connected as any in the game, and simple-but-effective tactics will be key in uniting new faces quickly. We may fear the inevitable fallout, but for now function trumps form in the pursuit of success.
Hold on for the next year- it promises to be if not beautiful then certainly eventful.