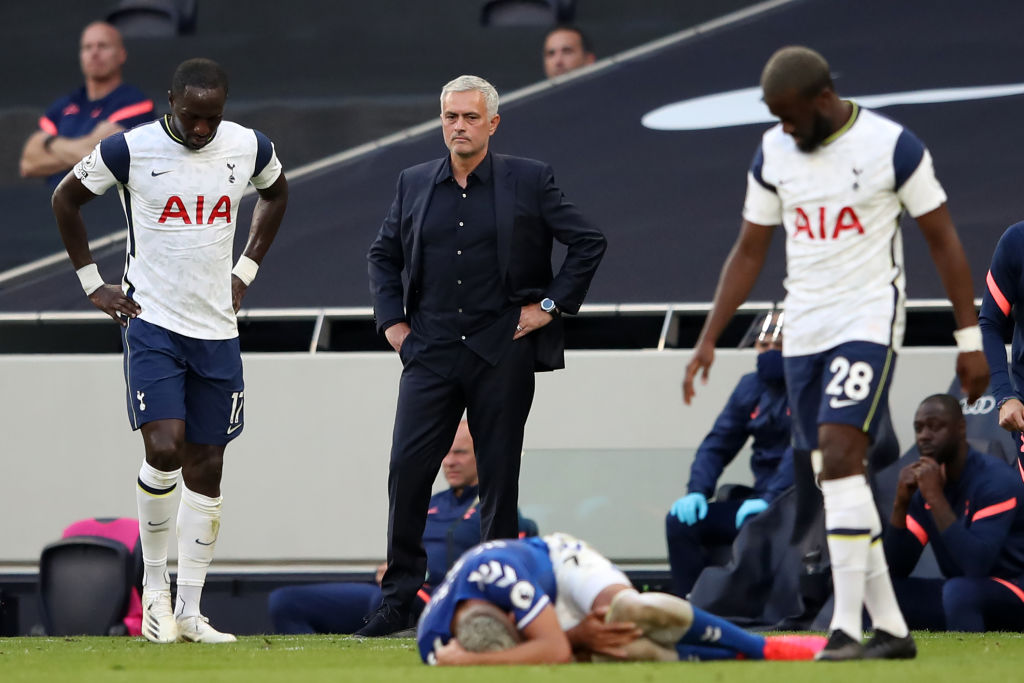 The Special One? More like The Septic One. lol AMIRITE?
During the game and post-match
Don't you worry about wanting a new striker, we're in desperate need for identity. No idea, not a clue what I'm watching here. I'm not even knee jerking. No guile, system, intensity, creativity, desire. This is ketamine football. Spurs are deep in the k-hole. It's like that time in the main room at Fabric, when I stood facing a wall for three hours unable to move but believing I was chatting up a group of girls. It ended up with me trying to finger a chair.
You can only play this badly if you set out to play this badly. Think about that. It's numbed my brain. I'm exhausted from watching us do nothing.
At the core of it, the fundamental weakness is in the risk to squeeze out a cup using a fading tier 1 manager. It's a weakness because this is the remnants of Mauricio Pochettino's team. A broken team. Two years on, still broken. Spurs weren't in need of a reboot. They are in need of a complete reinstall. Shut it down, pull out the hard drive, the graphics card and the sound card. We don't just need new tech, we need a re-design, a new case. I'm talking water cooling system, a solid state drive and an operating system that doesn't persistently dish out blue screens. Instead, we've scrambled for a scratched copy of Windows ME and we're trying to find the slot in a Mac Book to install it.
Alas, all the Levy haters that hated on 'the zero success of the Pochettino era' embraced Jose as the solution to 'just winning a cup, any cup' just for the sake of winning a cup. Which would be nice. But at what cost? You all wanted the moneyshot without the build up gymnastics. Well, now you've got yourselves a stunt double that can't get wood.
I ain't even angry. I still have faith in us doing well this season. I know, it's another classic paradoxical conundrum. But I have little faith in me enjoying any of what the team will offer up as style and entertainment.
COYS tho. I love this club so much I can never stay mad.
Praying I'm proved wrong and that we do end up enjoying the football part of the football.
The Day after
I'm a lot more mellow today compared to yesterday (Sunday). Maybe it's the realisation that I can't control anything. Maybe it's the reality that I don't want to control anything. I'm here for the experience. Be it, the good, the bad and the f*cking dreadful.
I'm so mellow I could even, just about, make an argument in DEFENCE of Mourinho. But I can definitely, comfortably make a statement on behalf of most Spurs fans and would like to think they will all agree with it; We just want to see a bit of swagger. That'll do*.
*Dare I speak for every Spurs fan, in no way am I doing so considering how miserable most of them are. A favourable majority want Levy to sign players and then dismiss all the other systemic problems that haunt us season after season.
Why swagger? Because swagger has hope, belief, confidence and a sense of purpose all rolled into it. Last season, re-watching it via All or Nothing on Amazon Prime, has reminded me how much of a sh*tshow Jose inherited. Maybe he'll realise we are not a soulless entity, a blank canvas he can scribble all over, in time to save his re-branded image. That this is Spurs and there is no requirement to remain unequivocally loyal (stubborn) to your philosophy.
It proved to be the downfall for Poch, not adapting in moments, in games. Not considering how to win above and beyond his mantra. Sacrificing everything we stand for in terms of footballing heritage and tradition – just to make sure we don't lose and then claim/steal victory.
The same thing applies to Jose here. It's Everton at home in the opener. Be more expressive, less deliberate. Take more of a risk with movement and instead of focusing on bog-standard passages of play that might break through the opposition in the final third – allow individuals to galvanise the teams fluidity, with swashbuckling intent. This comes with a little bit of freedom.
We looked so passive and lethargic. Scared. The passing was so slow and mechanically inept. Jose wants nasty boys. We went from nice boys to narcoleptic boys. And sure, there were moments in the first half that could quite easily have led to home goals. Jose has the players to do so much more than to just snooze-fest the output we're suffering.
Of course, just for laughs, he is missing:
An Eriksen replacement to conduct creativity from deep positions and in transition/counters.
A creative link up player.
Another left back.
An alternate striker to Harry Kane.
Perhaps another centre-back.
Lo Celso and Ndombele might just provide the release of quality we need. Gio can be the player behind Kane and Dele (much like Christian did when pushing forward). Ndombele could also be key, perhaps playing in central midfield. His cameo (ignoring the misplaced passes) proved again how natural he is with seeing space that our players can instinctively invade if the ball is played into it.
Get them both fit and playing and that spark will ignite. Also, get Dele playing to strength, free to roam and pull defenders with him, tucked in behind Kane. Add Son in the mix and Spurs are borderline spoilt.
Re: Tanguy, sadly, having watched the final eps of All or Nothing, I think regardless of fitness he's in for a combative season. He's not only fighting Mourinho's reluctance to believe in him but also the player has quite obviously struggled to adjust and adapt in England. I'm not sure right now – based on edited footage from a documentary that has been produced as light propaganda and a marketing tool – that he is willing to fight as hard as Sissoko did. I pray to the footballing Gods I've misread this.
Also, this is no excuse, but f*ck me, no spectators in a football stadium is to the detriment of everything football is about. I know, hard times, we're all making sacrifices, but there is no in-game momentum forced by the noise from a crowd. Not an excuse though. Everyone is in the same boat (we're heading for an iceberg). Blame COVID though. Always blame COVID.
The fear? If I had to define it? Had we not lost Harry, Son and others to injury – yes, we might have consolidated top 4 last season. But I wonder if we would have done so in spite of the football we play under JM. We'll find out in the next few months. New signings or not, we'll see if his words of wisdom and encouragement are still prevalent in the modern game. The games are about to come thick and fast. Surely, the levels of under performance displayed at home to Everton wasn't a continuation of last seasons plodding stylistics? Surely not. If he is instructing players to press, the resulting output can not be the lazy non-existent skipping we endured during that second half debacle. Shirley?
Anyways, what I said yesterday (Sunday) still rings true. We need a proper culture defining overhaul and I don't see that happening until after Mourinho has won (lol steady on fella) a tin pot cup and left the club.
I'll end with a shout out to everyone that pulled their willy out to p*ss over what Poch gave us. Which was 'nothing' according to them. Which technically, is true. But I'd swap today with yesterday just to taste some of that proper spite, spirit and swarming swagger again.
All of Nothing does serve to remind me that the work Jose has to complete isn't a quick fix that many wanted and expected. It took Poch six months and some to get things going. Spurs need more bodies in the squad and then there is no excuse that is passable. He can then go to work. I don't think Daniel Levy is contemplating any scenario where he lets Jose go and pays out a massive severance pay. He's here to stay. We're here to endure it.
COYS