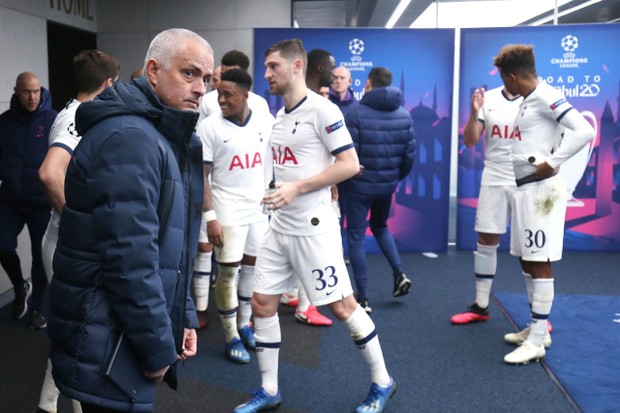 What the series does show fans emphatically is that players at this exalted level really do care passionately about their football.
The opening voiceover to Amazon's nine-part documentary series charting Tottenham's 2019-20 campaign, claims "…the season will be one of the most defining in the club's history." Spoiler alert; Tottenham finished 6th in the Premier League and did not progress beyond the Round of 16 in the cups. Barely defining.
The first episode, A New Signing, truncates almost a third of the Premier League season into twenty minutes. As Mauricio Pochettino's sacking fell in the international break, the cameras were not rolling to capture the end of an era which had seen Spurs transformed. The Argentine, it is worth remembering, had qualified Spurs for the Champions League in four consecutive seasons and taken them to the final of that competition in 2019.
Other than a fleeting mention that Harry Kane spoke to Pochettino after the axe fell, we see nothing of the squad's reaction to the demise of a manager who moulded these players' careers. Instead, the story that Amazon and Tottenham chairman Daniel Levy want to tell is the arrival of Jose Mourinho.
As Levy explains; "There are two top, top coaches in the world. One of them is at another Premier League club, the other is Jose." Before we can speculate as to whether it's Klopp or Guardiola the Tottenham supremo doesn't rate, we see the players nervously awaiting the arrival of the self-proclaimed 'special one.' They are sat in the palatial Tottenham training ground, which is the documentary's primary location.
As the first-team eat their breakfast, their eyes are drawn to a giant screen showing a film curated seemingly by the club for this very moment. Clips of Jose Mourinho lifting trophies across the past two decades -some painfully secured at the expense of these same players he will now manage – hammer home the intended message. JOSE MOURINHO = WINNER.
Mourinho himself is keen to point out that he has developed, and is now driven more by winning for the club than furnishing his own reputation. This sits somewhat awkwardly when we see players called into the Portuguese's newly decorated office for one to one meetings. Positioned strategically behind the manager's shoulder, directly in the player's eye-line as they sit at his desk, is a picture of Mourinho holding aloft the Champions League trophy. Repeated humble-brags that Mourinho only has himself to blame for the level of expectation he creates in a club because of his past success quickly become a feature of the series.
With a billion pound new stadium, state of the art training complex and world-renowned manager, All Or Nothing Tottenham Hotspur is part of a strategy to install Spurs firmly in the ranks of European football's super clubs. The series serves to illustrate that the globalisation of football is homogenising the game's elite clubs. Spurs have far far more in common with Bayern Munich, Juventus and Real Madrid than they do with Leyton Orient. Daniel Levy has every right to be proud of the spectacular facilities the club has constructed. But watching the players train, travel and recuperate in football's equivalent of an exclusive island, there is a nagging sense that Tottenham Hotspur is leaving its community behind.
Unlike in Netflix's Sunderland 'Til I Die, where Sunderland fans are front and centre, local supporters barely feature in Amazon's documentary. We see footage of the club engaged in admirable community work, but what Tottenham Hotspur means to the people of north London is left unexplored. Perhaps these identities are no longer of use to a club with truly global ambitions.
It is Mourinho and his players that are the focus of All Or Nothing. Mourinho's message to his squad is constant throughout the season. They are "too nice". To win, they must become "intelligent c***s". Tottenham's players do come across as the archetypal 'great set of lads'. Dele Alli delights from the treatment table with repartee about whether water should be applied to the brush pre or post toothpaste. On another occasion, he threatens to disown any of his friends who include a Bounty in their top five chocolate bars.
Japhet Tanganga's wide-eyed promotion from academy hopeful to first-team starting berth serves as a useful reminder that however cosseted the existence of a top-flight footballer may become, most hail from working-class backgrounds and have grafted ferociously to succeed.
One of the most poignant moments in the series is an early interview with Serge Aurier. The full-back ruminates on how different his life would have been had football not offered him an escape route from a difficult life growing up in France. This forebodes the tragic murder of Aurier's younger brother Christopher in July which understandably – if somewhat jarringly – is not addressed in All Or Nothing Tottenham Hotspur.
What the series does show fans emphatically is that players at this exalted level really do care passionately about their football. We see bonafide stars Harry Kane and Son Heung-Min react emotionally to news they face long-term injury lay-offs. Eric Dier is despondent when poor performance results in his substitution during the first half of a match. And then, memorably, there is Danny Rose's anger as he is ostracised from the first-team. Money isn't primarily what motivates the Tottenham players.
As part of the agreement that allowed Amazon's cameras to roll, Jose Mourinho insisted on the detailed tactical plans he is famed for being excluded from the documentary's final edit. This has prompted much online mirth at the banal team-talks that are instantly recognisable to even the lowliest Sunday League player. Harry Kane's call to arms, in particular, are far from inspirational, but with that said how many top-flight goals did Winston Churchill score?
Thankfully for England's captain action and effort on the pitch have far more value than grandstanding speeches. Anyway, once Hugo Lloris is restored to the captaincy after long-term injury, we learn even the World Cup-winning skipper relies on basically the same material. Although, his French accent adds a certain gravitas to "Fucking three points today, hey boys?"
As Spurs enter the season's relentless winter, Mourinho's problem is that three points prove increasingly elusive. Kane is sidelined by a severe hamstring injury, Son soon falls to a broken elbow. It is instructive that Eric Dier's scaling of the East Stand to confront an abusive fan follows a run of four straight defeats. Following one of these setbacks, a 3-2 loss at home to Wolves in which Spurs had led at half-time, Dele Alli and Dier exchange angry words in the dressing room.
The symbolism of two players being at each other's throats, who once so embodied the youthful exuberance of Pochettino's Spurs, was not lost on Mourinho. It could be taken as evidence that the culture was changing, a Spurs team built in its new manager's image. A later scene of Alli tenderly feeding Dier sweets as he plays FIFA on the PlayStation showed that no longterm damage to their friendship had been done.
The narration provided by actor Tom Hardy desperately tries to insert drama into a season of modest results. It becomes apparent Spurs will not reach the feted top four long before Hardy's script begins to make mention of Europa League qualification. Similarly, no amount of swelling classical music can make a comeback from 4-0 down to RB Leipzig seem possible. This anaemic exit from the Champions League was to prove the team's final fixture before the season was suspended due to coronavirus. Mercifully the filmmakers do not dwell too long on the enforced shutdown.
One memorable scene shows Mourinho stood in front of a giant voyeuristic wall of screens where he can monitor his players training at their homes. No mention is made of him being caught breaking lockdown rules to train with some of the squad on north London's Hadley Common. Any reference to Daniel Levy's decision to furlough staff in the early weeks of the crisis – subsequently reversed in the wake of fan pressure – also fails to make the cut. Viewers do learn of the club's commendable work during the pandemic. Tottenham Hotspur Stadium was used for NHS maternity services, and the Felix Project, which tackles hunger in London, also received Spurs' support.
Some much needed comic relief is provided by Dele Alli as the players are reunited following the announcement that the season will resume. "I didn't realise how easy it is to make baked beans. It's just two minutes in the microwave."
A humbling 3-1 defeat behind Sheffield United's closed doors is the restarted season's low point. In the aftermath of this mauling, Mourinho pits the first-team squad against each other in an 11 vs 11 training ground contest. A robust tackle by Eric Dier sees Son carried from the pitch. The South Korean is angry. Conflict like this is positive, Mourinho tells his players. And so we come to the Everton home game, where captain Lloris and Son push and shove each other at half-time. Son's failure to track back had allowed Everton a chance to equalise. Mourinho sits visibly pleased as he witnesses this play out. The fatherly friend Pochettino is long gone.
A six-game unbeaten end to the season suggested grounds for optimism that, in the short term at least, Mourinho's methods can bring the success Daniel Levy craves.
Football moves fast though, and before the final instalments of All Or Nothing had hit viewers' screens, Tottenham opened the new season with a depressing home defeat. For many fans, Mourinho's time is already up.
(editor: Bale to the rescue)