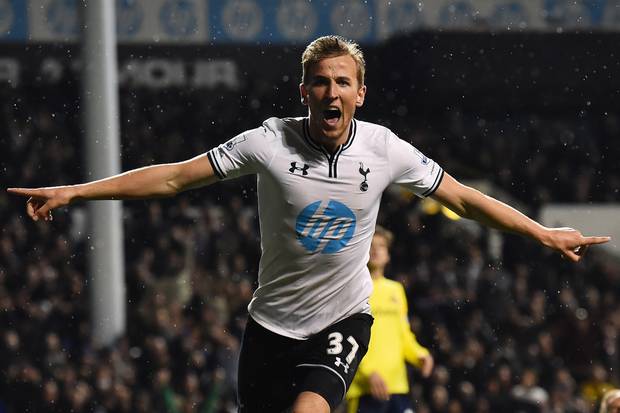 Kane's prolific goal-scoring rate and interminable capacity to pick out the bottom corner of the goal has rarely been in question, even by his harshest of critics
As Harry Kane turns 26 and begins his sixth season as Tottenham's first-choice striker, it has, once again, become fashionable to dismiss his clear talent. All it took was an injury-hit season and the knives were out. All those who infamously labelled him a 'one-season wonder' had an excuse to tell everyone just how prescient they were.
The public consensus turned again, and Sergio Aguero is now clearly better, with the likes of Roberto Firmino and Pierre-Emerick Aubameyang not far behind. If his year had not been a stop-start one due to his ankle, there's a strong likelihood that his 17 goals would have instead been more than the 22 required to equal the tallies of Aubameyang, Sadio Mane and Mohamed Salah at the head of the top scorer list. The need of certain sections of the public to downplay his skill at every opportunity is a strange one – just one aspect of a strange, searing hatred for a thoroughly likeable man.
Kane's newfound status as a barely-above-average player in many eyes was further confirmed by his lacklustre Champions League final appearance. He didn't take the game by the scruff of the neck as he so often had, which could easily be forgiven considering it was his first appearance in almost two months against probably the best defence in Europe. Context is often forgotten when the England captain is involved, however, and so those who have never wanted to like him rushed to enlighten us on how far he is from the world's leading strikers. But this simply isn't true. Since he forced his way into Mauricio Pochettino's first-choice XI in 2014, Kane has undoubtedly been one of the best out-and-out strikers in Europe, and probably the best in the Premier League.
According to Transfermarket, he has scored 181 goals for club and country over those five years, with only Lionel Messi, Cristiano Ronaldo, Luis Suarez, Robert Lewandowski and Edinson Cavani improving on that total in the top five European leagues in the same time-span. All five of those players are at least three years older than Kane too, with that period almost directly aligning with their peaks. And whilst such a basic comparison doesn't tell the whole story, it does go some way to illustrating how frighteningly consistent Kane has been since breaking in to the Spurs set-up.
The Walthamstow-born forward has a pair of Premier League Golden Boots, won in 2015/16 and 2016/17, with four consecutive appearances in the PFA Team of the Year from 2014/15 through to 2017/18. Along with the retired Steven Gerrard and 31-year-old Aguero he has the most Premier League Player of the Month awards with six. At the 2018 FIFA World Cup he became only the second Englishman to win the Golden Boot, the other being Gary Lineker in 1986. He was also named in the Team of the Tournament. The personal honours won by Harry Kane MBE are in no doubt, even if there is a pinch of validity in the constant wave of "no trophies" comments.
Nevertheless, to put the responsibility on the striker is unfair as, though they have reached several finals and semi-finals during his time as the team's focal point, Spurs have not been a truly top-tier European side. The aforementioned strikers have won dozens of trophies between them because they were surrounded by incredible supporting casts. Kane and Tottenham Hotspur, as a club, are a perfect match, but it wouldn't be controversial to argue that, as a team, the Lilywhites haven't been able to rise to his exceptional level on many occasions.
Kane's prolific goal-scoring rate and interminable capacity to pick out the bottom corner of the goal has rarely been in question, even by his harshest of critics. What is questioned, bizarrely to anyone who watches him with some level of regularity, is his technical ability, being painted as a target man using only his physicality to stop defenders easily dispossessing him. It's shocking that it has to be said, but Harry Kane is not some sort of upmarket Andy Carroll. His passing range, for example, is up there with the very best in the country, often switching the play with one of his diagonals to the full-back on the opposite flank immediately after taking his first touch.
His quick feet can be seen in his goal against Barcelona in Tottenham's 4-2 defeat at Wembley in October, where he turned Nélson Semedo inside-out before rifling an unsaveable shot past Marc-André ter Stegen. His hold-up play was demonstrated against Spain in the 3-2 away win in the same month, holding off Gerard Piqué and Sergio Ramos and playing a defence-splitting pass through the pair to Marcus Rashford.
Even the way Tottenham's talisman speaks is used as a stick to beat him with, as if someone with a lisp clearly lacks the make-up of a world-class footballer. As with much of the criticism aimed towards Kane, it is entirely nonsensical. Messi only reached the lofty height of 5'7 due to a childhood human growth hormone treatment. Ronaldo is vain to a fault and Suarez bites people. Personal flaws should not be taken into consideration when judging a player's ability, particularly when the flaw in question is entirely superficial.
The teetotal Kane appears to be a model professional who stays late at training, gives up his own time for fans, and judging by the photos released by the club recently, does not treat the summer break as a chance to give in to urges as some footballers do.
Of course, as so much does in the sport, it most likely comes down to jealousy. Tottenham have a home-grown, elite player who loves the club and has never so much as hinted at a willingness to move on to pastures new – there aren't many of those around. When it comes to Harry Kane, the goalposts keep getting moved. His first season would never be repeated, he couldn't do it in the Champions League, he couldn't do it at the World Cup – he has proven the doubters wrong at every turn and there's still so much more to come from a man the majority of Spurs fans would already consider a legend.