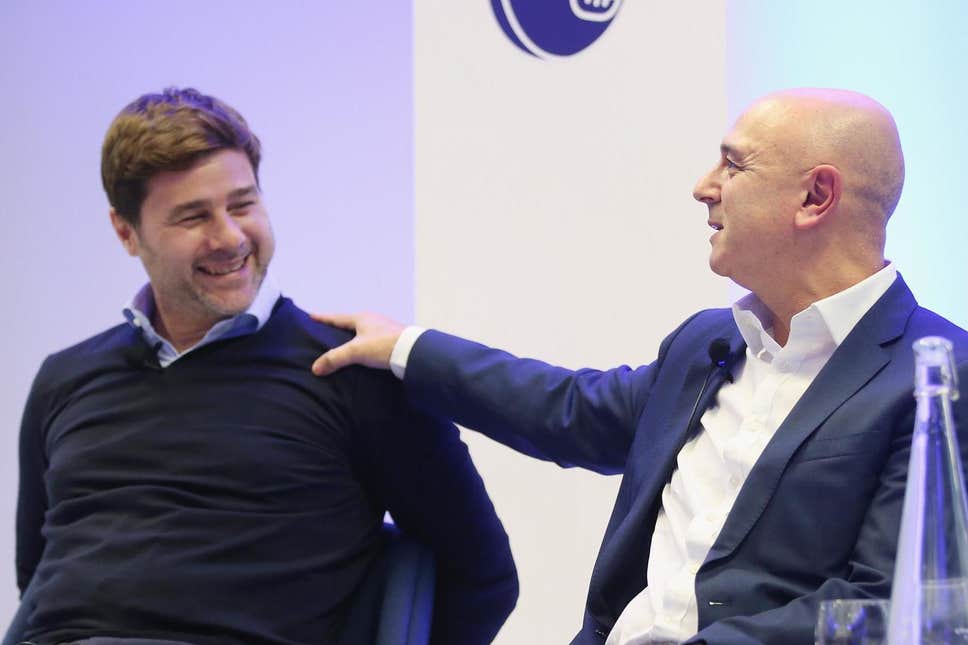 There's evidence to suggest that all we're going to be showcasing is the very worst of an evolving football team – the dying lights of players losing the ability and will to perform at the highest level, but before the new generation can be sworn in.
There was a certain irony to the jumbo screens at the Tottenham Hotspur Stadium showing the incorrect VAR decision after Dele's goal against Watford this past Saturday. Spurs fans need to get used to something being shown to millions of people that is a direct result of incompetent decision-making.
The decision to document what was, by our own admission, always going to be a difficult season is quite incomprehensible. Without doubt, the main motivator behind it is commercial, with the club's all-out-assault on having 'Tottenham Hotspur' beamed to every corner of the globe at every opportunity taking priority over protecting what appears to be a squad utterly devoid of drive and confidence.
As a piece of marketing, this documentary is in itself not necessarily a bad thing. What is questionable is the timing. With players questioning his tactics anonymously yet very much publicly, actively seeking moves elsewhere or, as is the case with some (and we're looking at you, Danny), a bit of both, Pochettino must be wondering what exactly he's got to do to get a little privacy.
Daniel Levy will, of course, have almost full creative control which will almost certainly lead to a very dull series that appeases shareholders and invites little scrutiny. Unfortunately, if early signs are anything to go by, it's also one that will have a backdrop of negativity and unrest.
Pochettino shouldn't strike anyone as a particularly worthy protagonist right now, particularly as whatever there was to learn about him was written in 'Brave New World', Guillem Balague's book on his friend released a couple of years ago. If anything, I'd rather he kept his weird nonsense about the energy from lemons to a smaller audience rather than take it global.
As well, Pochettino is clearly unhappy. He's been surly for almost 2 years now, breaking his self-imposed cautionary approach with journalists to speak often contradictorily about his situation, as well as that of his players and the club.
The worry isn't necessarily that Spurs have come full circle under Pochettino, it's whether he has the energy to run around the track again. If we're talking about peaks and troughs, the noises from the club currently suggest we're still navigating the landing from the Champions League final, let alone in a position to start a climb up the next mountain.
Choosing to record every second of that feels tone-deaf at best. It's beginning to feel less of a marketing piece and more of a snuff film.
Sitting just off-centre, 30 yards from goal, there was a familiar look to a late free kick against Watford on Saturday. Against a struggling side and locked at 1-1 after another insipid performance, Harry Kane stood over the ball, just as he was almost 5 years ago to the day against Aston Villa.
On that occasion, Pochettino remembers looking back at his coaching staff on the away bench at Villa Park, to men who were all just a few months into their new roles at Spurs. 'Pack your bags', Pochettino recalls telling them, according to his book.
Like on Saturday, Spurs got themselves back into an untidy game via a slightly fortuitous equaliser that day. At 1-1, a free kick on the edge of the Villa box was lined up by the still-emerging Kane, full of confidence and relentlessly turning whatever he touched into gold.
Pochettino points to the moment when Kane sailed the ball past Brad Guzan in the Villa goal as the turning point of his Spurs career. Redemption by way of a deflection off somebody's considerable arse, the divinest of intervention. What a narrative.
Against Watford, the free kick was ultimately taken by Erik Lamela, who hit the wall. On this occasion, there was no arse big enough for the ball to deflect off, and as a result we subconsciously curse the sale of Vincent Janssen.
These are fine margins, made finer by where we stand in 2019. Spurs are – at least outwardly – an entirely different beast to when Pochettino took over in 2014. The new stadium, the Nike kit deals, the global partners and fanbase, the £60m signings.
In that first Pochettino season, Gary Neville analysed a goal that Spurs conceded against Newcastle on Sky Sports, just 8 seconds into the second half of a game we had led 1-0 and ultimately ended up losing. 'Never ready' was his assessment. 'Weak'. Remind you of anyone?
For the next 2 years, it felt like every pass, tackle, and late run into the box by a Spurs player was directly and emphatically aimed at debunking Neville's comments. 'We don't like what people are saying about us', said Eric Dier, less than a year after the Newcastle reverse and having just smashed Man City 4-1 at White Hart Lane.
Over the next 4 seasons, Spurs challenged for the league title twice and reached the Champions League final. The story arc almost had a perfect ending only for a sworn enemy to come in at the last minute and steal victory away. Now that's an Amazon series.
And therein lies the issue. There's evidence to suggest that all we're going to be showcasing is the very worst of an evolving football team – the dying lights of players losing the ability and will to perform at the highest level, but before the new generation can be sworn in. They're calling it 'All or Nothing'. Spoiler alert: nothing.
It's impossible to imagine how demoralising it must be for players who have invested the majority of their careers in Pochettino and Tottenham, to feel that even when throwing punches with every fibre they have to give, they're still being left sprawled on the canvas.
Seven first-teamers remain who were at the club when Pochettino first arrived (either existing or bought in the first window) are still here. Lloris, Rose, Davies, Vertonghen, Dier, Eriksen, and Kane. Three more arrived within the next year: Alderweireld, Dele and Son. Michel Vorm has just returned to the club as an emergency signing.
This shows a collective failure off the pitch, as bad as anything on it right now. It's well known that of those players, five will leave for nothing as early as January 2020. At least two have been in decline for around 18 months. Is this really the environment ripe for showcasing and consigning to the digital archives?
The series could document us reaching another Champions League final. God knows last year we were in a worse state than this at about four separate stages of the competition, clinging on for dear life and somehow dragging ourselves to Madrid.
It could document an FA Cup win, Pochettino's first silverware as a manager.
It could show us developing a new-era Spurs under the watchful eye of 60,000 fans in a state-of-the-art stadium, saying goodbye to long-serving players who were Spurs through-and-through; good, just maybe not quite good enough.
It could do all that. But this is Tottenham, isn't it?