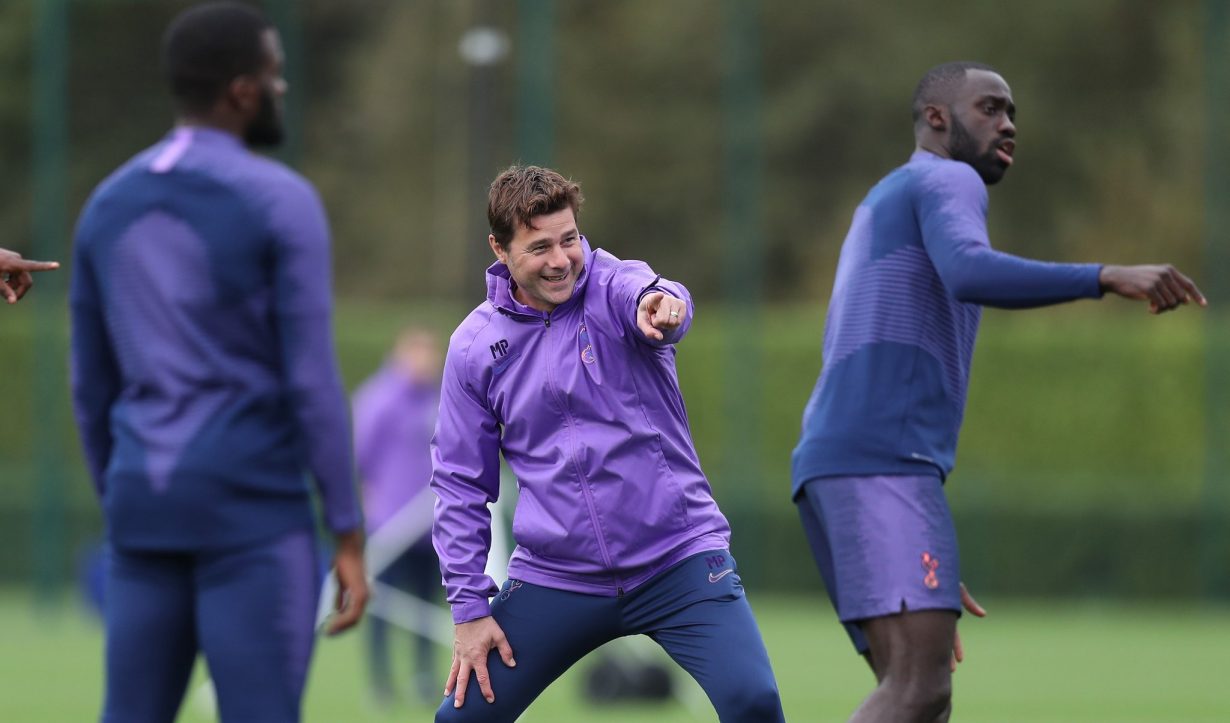 We elevated ourselves into a position of contention, be it on the outside edge of the inside we so desperately wanted to gain access too. It's been a throbbing five year session with no climax.
Tottenham haven't lost a game for two weeks. Our defence hasn't conceded a goal in the same time either. Progress.
…
Calm down. I'm a dad so dad jokes are my forte.
Let's all thank the glory that is the international break, a respite from the sort-of-kinda-of-crisis going on in N17 at the moment. There were ugly distractions off the pitch when England smashed Bulgaria 6-0. There was a beautiful masterclass on it from Harry Kane, the visionary with the Hoddlesque passing range. Scores goals too when he's bothered.
Then there's the written stuff we've all scanned during the domestic league interval. The minutes from The Trust meeting with the board. Daniel Levy taking responsibility for perhaps not doing more to support Mauricio Pochettino's reboot that has crashed to a blue screen since the summer reinstall. Not so much with failing to sign more players (that would have helped us bolster and flex the squad dynamic further) but more so in regards to the players we failed to off load.
It all makes sense now.
Poch, his glum face accompanied with sadness in his eyes, was a simmering boil of frustration. He knew the team, his team and its key players, had maxed out. Something that tends to happen every four seasons or so for most high-end cycles. We've gone from having one of the youngest, hungriest squads to one that has peaked and appears bloated (because those key players, 'the gel', have come unstuck).
If we can't offload we can't replace. Not with the way the club deal with balancing the books. Not with the methodology our chairman stubbornly adheres too. The business philosophy has stunted the footballing one.
I know I often bang on about how we have over-achieved under Poch. However, stating that he 'should have done more with the players he had' is borderline fantasy. He practically rejuvenated the entire culture and identity of this club with the footie. So enough with the revisionist history, please. And if you are really asking yourself 'what has he given us?' then browse away now. Go read some bile about how we could have done better with another manager, because that makes absolute sense, comparing the Poch tenure to a non-existent one.
No silverware though, right? So be damned with it all.
We elevated ourselves into a position of contention, be it on the outside edge of the inside we so desperately wanted to gain access too. It's been a throbbing five year session with no climax.
In terms of build, the infrastructure from a financial perspective is now in place for Daniel to dive into a room full of gold coins like good old Scrooge McDuck. Revenue will continue to increase and Spurs will become power-players. We're going to change in ways that still make me shift uncomfortably. Wanting that success, pun intended, will come at a cost. One I'm sure we're all willing to pay. One many are already paying with the cost of match day tickets.
The point of this ramble is that in amongst all the written stuff where Poch has been linked to Manchester United (again) and Jermaine Jenas firing shots at Levy, we've also had an article from Guillem Balague that has covered some fairly meaty discussion points. All of which find us in the same place we sat before the international break. A messy place. A messy happy place if you enjoyed the photos of a smiling Poch training with his footballers. Obviously photo-shopped propaganda to sell more shirts.
Balague simply amplified what we all know already. We're stuck with this problem. The dysfunction. The lack of synergy. The lack of a recognisable plan. It's not going away. Not in a sudden blink of the eye. The players our manager wanted gone are going to have to be inspired for us, somehow.
It's the same group of players we have adored for half a decade, which is staggering when you consider how good they played together at their very best but also hardly a shocker how much they've regressed because of stagnation. That massive push towards achieving something tangible, the sheer volume of thrust and motion, to claim something to stick ribbons on has taken it out of everyone.
The side has aged and the swarming pressing pressure that was a trademark of the early Poch side is now a distant memory. Spurs are left needing to reinvent themselves and having to (momentarily) do so by innovating with the same personalities at the core. In the short term. Long term, we have to wait until next summer to find out if there's a fix from our Argentine magician or if he's simply an illusionist incapable of showcasing the prestige.
If our gaffer persists in selecting them in the present. I can't see him overhauling that dramatically, not with the quality we still have. Let's not pretend we don't.
Otherwise we overhaul which means we unite and agree to write this season off completely. I doubt the fanbase, media and the modern day tempo of following this grand old sport will allow this to happen. What with finality being centre to most when projecting the immediate future. Is Poch trapped by contract clauses? It would take an extraordinary level of method acting if he was self-sabotaging. But he's not that Special*.
*amirite?
So what is my actual point?
I guess I wrote this all down to remind myself (lol, like I really needed too) that the mistakes made are ones birthed by the two most important people at the club. DL and MP. We can't keep looking back and pointing the finger of blame. It's not like the past five seasons haven't been utterly fantastic. We all have to grow up and grow some balls and hold back from puking petulance.
Poch continues to add to the confusion, now stating he doesn't expect new players in January (he doesn't want any) and has also (for extra confusion) stated his trust and belief in the current bunch. Which is either great or more maddening contradictory soundbites. This is the very same players that looked dead and soulless against Bayern and Brighton. He's been invited to a team dinner by one of them. So things must be peachy behind closed doors. Hopefully no lasagne will be dished up.
My point is this. Finally…
F**k all of the above. All of the theorising and analysis. All the checklists of what we need to do to progress. It comes down to the next ninety minutes of football. I just want us to play like a team. That's it. Play like a group of friends, professionals that have a desire to fight for the shirt and for each other and for us lot too – the supporters. We need that singularity. It's not stats or formations or selections. It's that feeling, that almost cosmic tingle that is made up of a bit of belief and purpose and urgency. It pulsates and it excites and you know everything will work out because you can see it in the players, personified in application and solidified in results.
Maybe, just maybe…it does all go away in a blink of an eye.
That's my point.
A win would be lovely. But I want a team. My team. I'm gonna say it and I don't care…I want my Tottenham back.
There. I said it.
COYS yeah.