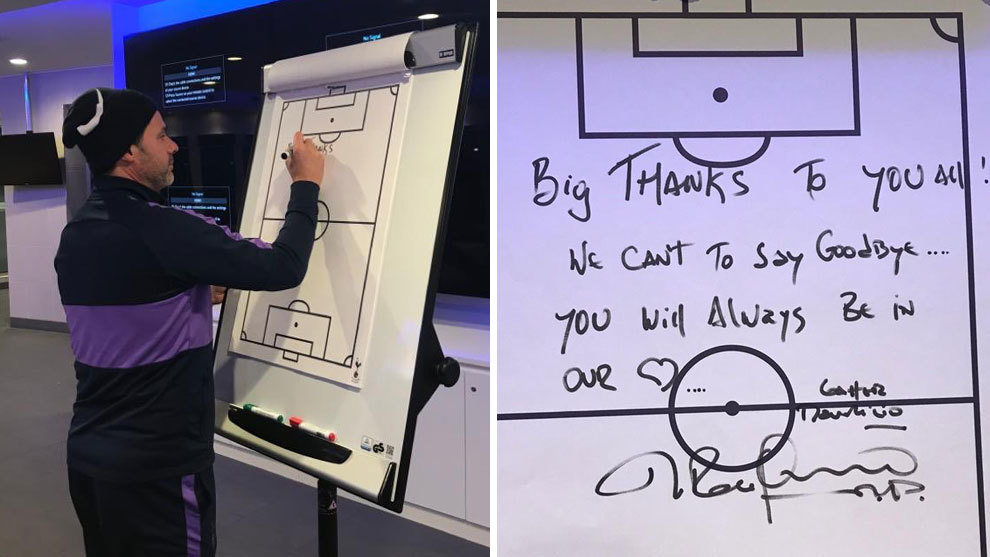 You promised to look after our beloved and make it something to be proud of. You didn't let us down.
Dear Mauricio,
Five and a half years ago, you came knocking on our door, relatively unfamiliar to us. Letting someone new into our relationship with Tottenham isn't easy. We know best, we always know best and so we are guarded, fearful of outsiders who might not give it the care we know it deserves. You promised to look after our beloved and make it something to be proud of. You didn't let us down.
From the very first days, it was clear we would have fun together. A last-minute winner at a London rival and pandemonium in the away end; you can't ask for a better start than that. It wasn't straightforward in that first year though and the familiar doubts crept in before we really got to know you.
But you had a plan, boldly digging up the rotting soil that had festered underneath White Hart Lane. You drained out the poison and infused our team with the fresh blood required to usher in your revolution. We would like to thank you for a few things. Firstly, thank you for respecting the importance of our shirt. You made sure the players understood that importance too, and refused to tolerate anyone who didn't. That's what we needed above all else when you arrived.
The 5-3 thrashing of Chelsea remains one of your defining moments with us. It was a glimpse of what was to come, as you slowly put your plan in motion. It was spearheaded of course by your greatest general. Another thank you is owed to you for Harry. That win was the start of something special for you, him and us. He is extraordinary in his own right, but he and we are so lucky that you were the man to oversee his transformation into the leader he is today.
Not long after, you and Harry made it abundantly clear you were ready to make a seismic shift happen. It was his goals, but your demand for intensity, that set the Lane alight in your first home North London derby. With your own personal experiences, you did not underestimate the rivalry. You understood how much it means to us. So, thank you for the bragging rights. It is because of you that the long-prophesised power shift finally came to be. It is because of you that we could flex our superiority over the other lot in these last few years.
That first year was positive, relieving if anything after the state we were in before your arrival. But it was in your second season that the magic began to happen. An uneasy start, but then…
win…
win…
win…
Big wins, late wins, difficult away wins. All now coming with a familiar pattern – reproducible methods and recognisable characteristics. The philosophy. Your philosophy. You kept reminding us of its importance, but it is hard for us fans to imagine until you see it in action. Press, win the ball high, move it on efficiently and be clinical in your actions. Do this, and keep doing this, and do not stop doing this until the final whistle and it will bring results. Those were your lessons and that is what we became known for as we climbed new heights. Thank you for your philosophy. Thank you for giving us an identity.
Another defining game was that win at the Etihad. From nowhere, you had convinced the country that we were contenders. For the league title. Us. We're not sure even now you realise the significance of that. An entire generation had grown up without believing we belonged near the top. Now, midway through February, we were keeping pace with the leaders and winning away at clubs used to that elite status.
It didn't quite happen of course. But with your identity firmly stamped on our club, we were never going to go down quietly. That night at Stamford Bridge might sting more for you than it does for us. That's because to us it demonstrated once again that your Tottenham is different to the one we had come to know. It signified a change in discourse about who we are, who people expect us to be. It takes something special to shift the context in which an entire club is viewed. You did that. You, and the late tackles, and the snide stamps, and the mass brawls, and the eye gouges. At long last, Tottenham had toughened up. And no one liked it. No one but us.
Another season under your guidance brought even greater peaks. The previous year we had arrived in the title race in disbelief and confusion. This time you took us striding into each week with an arrogance that comes from a sense of belonging. You had us blowing teams away with football envied by fans across the land. Most of us have never followed a club so machine-like in its excellence. Another home win over a rampant Chelsea would be symbolic of your latest achievement – a performance that served as the perfect example of confident, efficient brilliance. Again, somehow no silverware came to mark another raising of the bar, but you delivered a captivating journey that had us dreaming like never before.
That season was always destined to be a defining moment in our long history. Thank you for defending our home and giving it the team it deserved to grace that stage for the final time. You made sure no one stormed our castle and you gave us a farewell worth remembering, on the pitch as well as off it. There was an image of you – we're not sure if you've ever seen this or are even aware of it – looking around our famous old ground, drinking it in with a look of pride on your face that only we could understand. In that moment White Hart Lane captivated you like it did all of us. It was your home as much as it was ours. And we are proud to have shared it with you.
Another new season brought new challenges, but you were never one to back down. Once again, you delivered consistent excellence that was alien to those of us under the age of sixty. In unfamiliar surroundings we continued to match the best, not just from these shores but from the continent too. You had us toe to toe with Real Madrid in the Bernabéu, and then battering them with haymakers at The Home of Football. Three mad minutes prevented us causing an upset against Juventus, but your brand of brave football had taken them to the brink in their own backyard. It is you that made us a consistent fixture at club football's top table and a force in Europe once again. Thank you for that.
These achievements did not go unnoticed, of course. With increasingly tighter constraints, you continued to have us punch above our weight. Sharks began to circle, keen to have a taste of your magic formula. Yet, despite the dazzling lights of the biggest names and despite all our imperfections, you refused to mishandle the faith we had placed in you. Your integrity has always been admirable and it is those qualities as a person, as well as your obvious talents as a coach, that set you apart. Thank you for your patience and your loyalty.
Patience was needed for the following campaign, where you were expected to work miracles again, this time with no financial support. Somehow, you kept us chugging along with your typical refusal to yield under difficult circumstances. After almost two years guiding us through the wilderness, you returned us safely to the warm lights of home. It feels so right that you are the man that took us through that transition after doing so much to raise the team to a level worthy of the infrastructure. Thank you for managing the biggest evolution any of us will ever see at our club with such grace. We are so glad you had a chance to hear us belt your name from that giant new south stand. We are so proud to have had your flag adorn our new manor.
Then there is that final chapter. Your zenith. There is not much more we can say that hasn't already been said. From the great escape of the group stage, to the ruthless professionalism of the last 16, to the frenzy that was the quarter final. It was a journey that no one, in any lifetime, had experienced before with Tottenham.
Then there was Amsterdam. Thank you for Amsterdam. Thank you so, so much for Amsterdam. Without you, we never would have had the greatest night of our lives.
Whatever followed, whatever follows, we will always have those moments with you on the pitch in the aftermath. Separated by two tiers from those in the stadium and by hundreds of miles from the rest of us, we've never felt closer to you. Thank you for sharing every part of yourself with us. When you collapsed in a heap on the grass and when you wept in front of the cameras you allowed us to see you. The real you. The one that people only reveal to those they have the closest bond with. That is a privilege we are so grateful for. Your tears were our tears that night.
Please do not underestimate how much we all wanted to see you lift that trophy in Madrid. Not just for the club, but for yourself as well. You deserved to have that crystallised, crowning moment just as much as we did. Yet please do not assume that we think any less of you because it didn't happen. That night in Amsterdam, those images of you streaked on the turf, will forever be your moment with us. Etched forever into the fabric of our club. That is enough for us. That is enough. Thank you for never being afraid of aiming high. So high in fact that even failure had in it an echo of glory.
Moving on will be tough. We are sure you are struggling right now, but trust us when we say we are hurting too. This feels so wrong. But you have taught us more than most how to face adversity. You struggle, you reassess, you move on and you go boldly into the next challenge, making the best of it you can with the tools you have.
From the bottom of our hearts, we wish you all the best. We are not sure in which direction we are heading yet, but we are certain you will continue to do incredible things. Maybe one day, our paths will cross again. We hope so.
Thank you, Mauricio, for the time of our lives.
With all our love,
Your friends at Tottenham