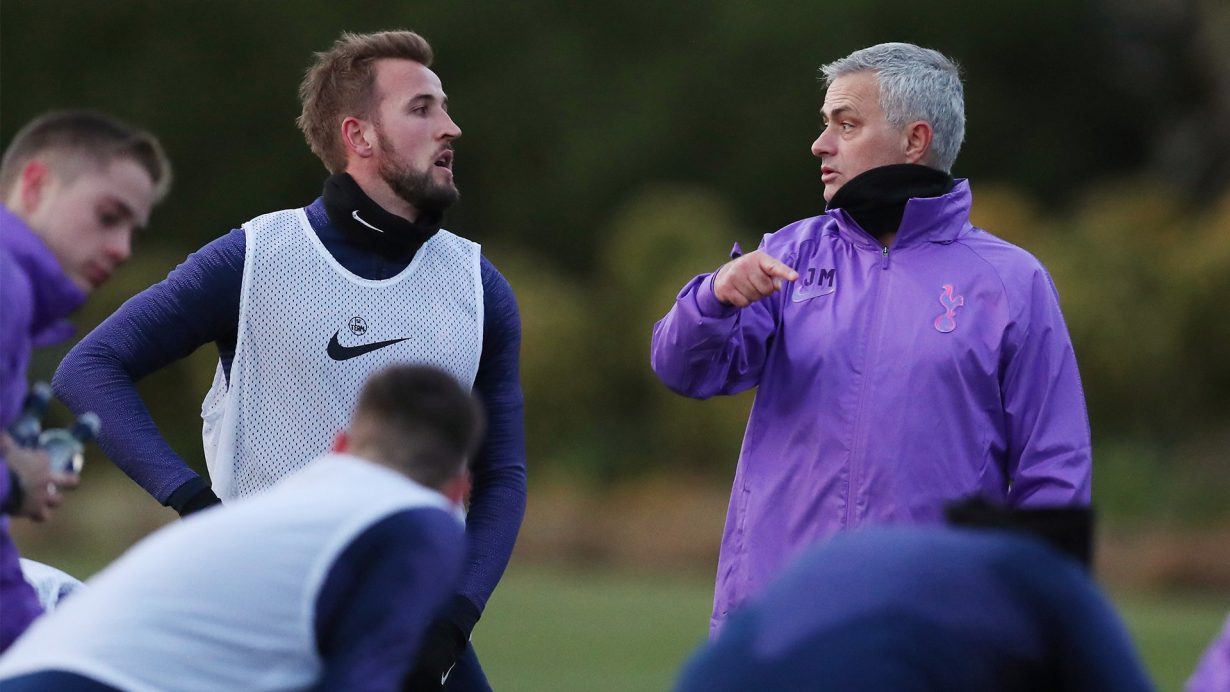 As for the football, Jose will do what he needs to do. I don't know if we will be playing with a brand of uninhibited, flair football, but I am certain it will be effective.
The dust hasn't settled, and it won't for a long time.
Watching his press conference felt weird. Opening the @spursofficial tweet, showing him holding up the shirt, felt weird. In fact, there isn't a lot that hasn't been weird for the last few days, yet here we are; 'The Special One' about to lead out Tottenham Hotspur against Canning Town Bingo club.
Tuesday's news immediately divided Spurs fans who were forced to digest two separate issues. The sacking of Pochettino and the appointment of Mourinho.
Poch was a gentleman. He did things the right way. He wasn't perfect but there was a period where he was damned near. It wasn't an easy start for him, inheriting a disjointed group of apathetic players, few particularly bothered about Tottenham. He did the right thing, appointing Kaboul as captain and Lloris and Adebayor as vice-captains. He was prepared to allow the status quo, ensuring that there was little disruption to the squad, while stealthily laying the foundations for his own framework.
When it was time to jettison two thirds of this captaincy, he was ready to bring in players he trusted to run their hearts out for the team. After a shaky start, the transition between the old and the new was made carefully, as the season progressed. Poch showed his ruthless streak.
Poch's first game for Spurs, saw starts for Kaboul (C), Naughton, Capoue, Lennon and Adebayor. The final game of the season, featured Lloris (C) Vertonghen, Bentaleb, Mason, Dembele, Lamela, Chadli and Kane.
A lot of managers would have done their best with the established players, who clearly held weight within the dressing room. The transition might have got a tune out of these players for a while, but it wouldn't have been for long.
This was brave. How many new managers join a club and so visibly implement a long-term strategy, at the potential detriment to short-term results? Making an immediate impact is usually the name of the game.
Pochettino's influence was obvious from then on in. Missing out to Leicester and our pride and disappointment drowning out the embarrassing '3rd in a two-horse race' platitudes from our neighbours. Most of us even managed not to give too much of a sh*t about the hammering from Newcastle on the final day. The boys were knackered. They did us proud.
The following season was even more extraordinary, with a record 86 points – enough to have won the title 12 months before. Dele with 22 goals, Harry with 35 and Eriksen still wins fans' player of the year. The task of surpassing the first few years' progression was always going to be massive, however Poch prevailed.
2017/18 was solid, given our transitional year in the NW London soulless hell. Last season's top 4 and the CL final (not to mention the incredible games leading up to it) was some achievement, following the lack of a single signing for two transfer windows.
Absolutely no one can deny that Pochettino was a success. Ok, turn on Talksport and you will be reminded on the hour, every hour, that he didn't win a trophy™ but this really isn't the only way to measure the impact of a manager.
And now he's gone, and the speculation is abundant.
Throughout his tenure, there were a couple of times where fans were confused by a few renegade decisions or comments made by Poch. A sense that this was almost inviting people to test his authority. To dare question him. A manager whose club has seen so much improvement under his reign.
An example of the former, could be playing Son at left-back in our FA cup loss to Chelsea. This was incomprehensible for most Spurs fans, particularly when Poch revealed Davies was fit after all. There was an explanation involving Victor Moses, but no one was really convinced.
As for his comments… we all know that Poch can be a bit 'barbed' at times. He utilised his lack of English well at Southampton but once the mask was off, it was clear that, when Poch was pissed off, he wasn't great at hiding it.
The most telling, of course, was the comments made before the Champions League final. In his own words:
"To win the Champions League with Tottenham in these circumstances this season, maybe I need to think about maybe doing something different in the future.
"Because to repeat the miracle, you know…"
Surely this was completely at odds with his initial long-term objectives? Or had it been a 5-year plan all along? Start off at level 1-1, to lead them to victory against the final boss and bask in the glory?
Champions League? Completed it mate.
Only this time, Mario did not beat Bowser. Lives lost. We were transported back to level 3 and who can be arsed to go through all that again?
Things weren't right before the final, of course. Our league form from February onwards has been diabolical for a club who were meant to be challenging for the title.
So, what happened? It does seem unlikely that a squad, so 'together' on that hallowed final day at the Lane, could conceivably stay that content. That close.
The decision not to cash in on Eriksen or Toby and the hope of a Steven Gerrard-style post Champions League pledge to stay, didn't work out. The frustration of not landing or not wanting certain targets definitely took its toll.
It's possible that Poch ended up too close to his squad to the point where it was now impossible to swap out players, like he did with Azza and Ade. Where the unrest of certain players, fed through to the manager, and circumstances meant that he was powerless to do much about it. Where his own frustration was channelled back through abject performances.
My own sense is, that I would have been happy for Poch to be given the season to turn it around but by now, is this what he wanted? His stock is still relatively high but let's say he stayed on and things didn't change. Imagine all that you'd achieved in the face of adversity, only for it to be unravelled in a single season, despite a shiny new stadium and three high profile signings?
"What's your excuse now, Mauricio?"
Obviously, it's not as simple as that and I don't know whether he was booted out or agreed to walk but I doubt there was much kicking and screaming.
All in all, this may have been more mutual than many of us assume.
In due course, Poch's propensity to make his own viewpoint heard will no doubt shed light on a few things. However, I hope he realises that the vast majority of fans were gutted to lose him, even if their support glosses over more recent performances. I have 'properly' supported Spurs for 30 years and Poch gave me, by a significant distance, my best times and not a trophy in sight.
And now over to Jose in his gilet. An ominous sign, if ever there was one.
The disappointment of Poch leaving, no doubt influenced a lot of the negativity towards Jose's announcement, but I was surprised at the level of some of it.
I expected a lot of 'Man in the Raincoat' comparisons and I can (sort of) see it. This guy was never our nemesis, but he was the man that embodied that club who we love to hate. Sneering arrogance and disregard for the pleasantries, in favour of racking up a few pots. Are trophies worth winning, if that's what winning trophies looks like?
Well, are they?
Damned if you do, Mourinho was slagged off for putting in a 'too polished' performance in his first presser. I guess we are used to his insincerity.
He is a very clever guy, though and it's inevitable that you would need to be careful about your language, particularly following such a popular predecessor. He used a lot of possessive pronouns in his Spurs TV interview and made sure to pay lip-service to some of the prevalent criticisms aimed at him, when he mentioned youth and the academy. Honestly though, I am not sure what more he could have done. The real work starts Saturday, we all know that.
And, whether you think he'll bore us with negative football, fall out with everyone at the club and shatter the dreams of some of our most promising prospects; it's worth bearing in mind that this is somewhat of a gamble for Jose, too.
The Woolwich job will be up for grabs soon and their semi-recent historical success and infrastructure may have made it an easier choice, but he came to Spursy Spurs, perennial underachievers. He knows what to expect. Our resources and our constraints won't be a surprise to him.
Jose is clearly an ambitious guy. I don't think he would be here if he didn't think he could do it. An interview with Darren Fletcher revealed that he privately asked a number of people to tell him how he'd got it wrong at United. Does that sound like the actions of someone who couldn't give a toss about what people thought of him?
His time at Porto and Chelsea, largely involved a squad of loyal players. 'Us against the world'. How different must Real and Untied have been? He didn't have to mention the mistakes he made, but he did. And, while the issues he had at these clubs possibly won't be applicable at Spurs, his experience and understanding will make him a more rounded coach.
As for the football, Jose will do what he needs to do. I don't know if we will be playing with a brand of uninhibited, flair football, but I am certain it will be effective. We can't just shout that it's either Pep or Pulis, a proper tactician will have the right balance.
So, there's very little we can do now but wait. I don't think it's disrespectful to Poch to be excited. There has been a lot wrong with the squad for a while now and you'd would hope that one of the Premier league's most decorated managers, can do something. There's a lot of credit to be earned by beating the spammers.
Thank you, Mauricio. Good luck Jose. Come on you Spurs.