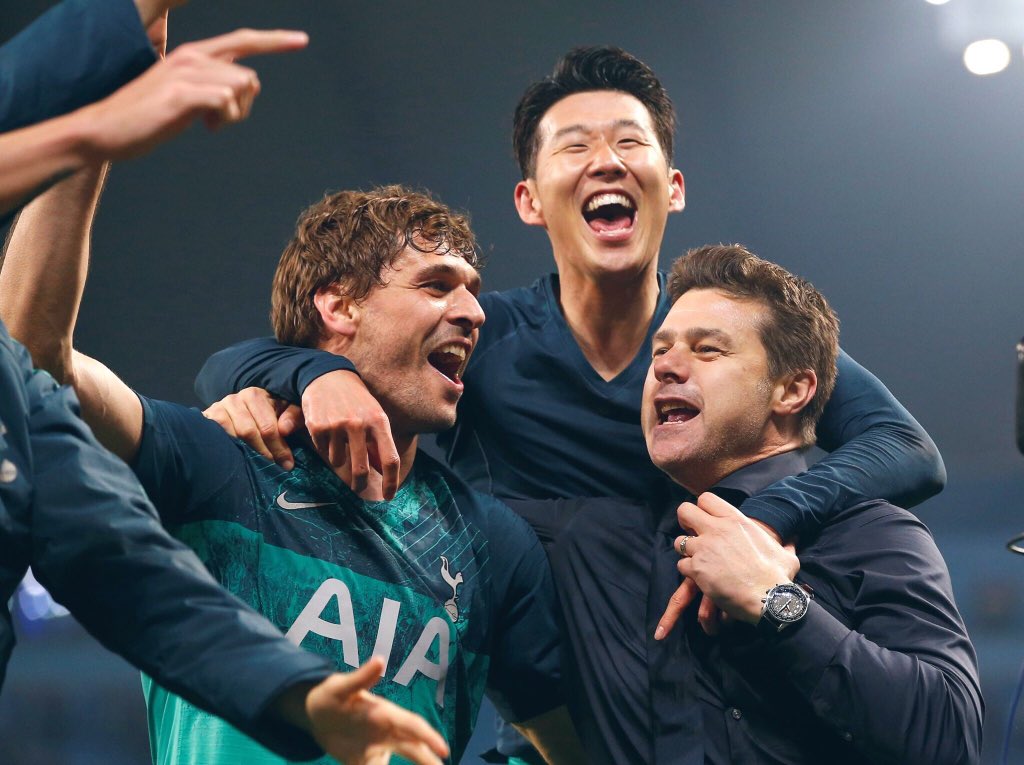 "We will try to do everything to make you (the fans) proud of this football club, of course." Boy, did he deliver.
Firstly, let me preface this piece with some warnings. This isn't a deep analysis of Mauricio Pochettino's reign at Spurs, nor is it a breakdown of where things went wrong and how things could've been so different. It's also not a critique of the club, the chairman or the former manager – it's one fan's experience of the best times his club has enjoyed in his lifetime.
Secondly, nothing written is a slight on the new manager, his methods or his personality. Again, it's a piece about my experiences of supporting Tottenham under Pochettino. So strap in…
Being as sad as I am, I remember where I was when certain things happened in football. For the sacking of Tim Sherwood, I was sat in a GCSE Business Studies (sorry, sir!) wondering how the club were going to appoint yet another manager in such a short space of time; despite my relief at Sherwood's departure. For the arrival of Pochettino I was, quite blandly, at home. It was a day of happiness as it felt like a move in the right direction; a young, progressive manager who wanted to play football the Spurs way, whilst bringing through young players and inject some much-needed energy. In his opening interview with SpursTV, Pochettino said, "We will try to do everything to make you (the fans) proud of this football club, of course." Boy, did he deliver.
Those first two games under Pochettino, the 1-0 at West Ham (I was in a hotel room in India and probably woke up neighbours when Eric Dier scored) and the 4-0 win at home to QPR, were a sign of things to come. Grit, style and a never-say-die attitude. If I remember rightly, the QPR game saw the start of #PochBringingSexyBack – a hashtag that died out way too soon, in my humble opinion. While the rest of the 2014/15 season was a mixture of great highs – the 5-3 versus Chelsea and Harry Kane's double at home to Arsenal – and some disappointing lows; the Capital One Cup Final defeat to Chelsea and the end of season league form, there was now a clear direction and a platform for Spurs to build.
That in itself felt like a success after the previous few years of instability. Pochettino had brought through Kane, Ryan Mason, Andros Townsend, Nabil Bentaleb and revitalised Danny Rose – there is no way that season could be viewed as anything but a steppingstone towards the future. The number of late goals scored that season, especially away from home – Aston Villa, Hull and Swansea immediately spring to mind – were crucial to the 5th place finish.
I remember writing a piece for my own website in the middle of 2015 about how Pochettino could follow in the footsteps of Jurgen Klopp – still at Borussia Dortmund at this point – and that there wasn't an immediate necessity to win titles, but that patience could go a long way. However, a title challenge in 2015/16 came as somewhat of a shock to all – more so because it resulted in Spurs falling short to Leicester City.
Watching that Chelsea game – at home – there was still a sense of pride about how the club had managed to advance through a seemingly long-term project so quickly. And that season provided me with one of my favourite White Hart Lane memories – ever. Kane's goal in the North London derby really, really should've been the winner and I'm not sure I've felt a stadium shake like the Lane did that afternoon. I was in the south-east corner of the ground, surrounded by complete strangers, but it felt like it was a seminal moment in the season.
Alas, this is Spurs. The 4-0 win at Stoke to close the gap after Leicester's 2-2 draw with West Ham gave us hope, we thought the tide had shifted in our favour. Again, this is Spurs, it ended with egg in our face. Nonetheless, the season held incredible memories – Sonny's winner at Watford, Eriksen's birthday goal at Man City, the 4-1 hammering of West Ham, Dele's goal at Selhurst Park and smashing three past Manchester United at the Lane are memories that still get reminisced to this day.
We went again in 2016/17, one of the most memorable seasons and one that'll live with fans for decades to come. The emotion of that season was summed up by the manager himself, with that look of pride around his home during the closing ceremony. Again, we'd run a good race but fallen at the final hurdle in two competitions. Ironically, we came unstuck against a then-record-breaking Chelsea side and would've, in many seasons, gone on to seal a third league title. The 3-4-3 with a stern centre, galloping full backs and a silky front three created memories in the final season at the Lane that will last forever.
An unbeaten season at home, with just two draws in all competitions, we lost count of the number of 3-0, 4-0 and 5-0 wins. Anyone of any quality came and lost 2-0. Again, it wasn't a trophy, but it was another step. The only away teams to score more than one goal at the Lane in its final year? West Ham (3-2) and Wycombe Wanderers (4-3)!
We dreaded Wembley, understandably, but again, Mauricio turned it into somewhat of a fortress. That night against Real Madrid will rival the Bale/Maicon game at White Hart Lane back in 2010 in terms of its stature in the Lilywhites' European history. Throughout, the manager handled the upheaval with dignity and a smile. Wembley never truly felt like home, but Pochettino created a homely atmosphere yet again. The glue that held it all together.
Another cup-semi final defeat came, one in which his selections began to be brought into question, but a third-place finish was no mean feat in the circumstances. Some more memorable games include the wins versus Borussia Dortmund (home and away), the draw at the Bernabeu, Eriksen's 10 second goal versus Jose Mourinho's United and Arsene Wenger's final North London derby ending in a 1-0 defeat. Wembley went better than many could've wished for.
Then came a summer without spend, on top of stadium delays and a jaded, post-World Cup squad. 2018/19 felt like a write-off from the start but ended up culminating in a European Cup Final in Madrid in June 2019. After Christmas, the league form fell off a cliff and ultimately cost Pochettino his job but the miraculous Champions League run – minutes away from elimination thrice in the group stage, again in the quarter finals and the 95:01 goal in Amsterdam – it was the stuff of dreams. If Spurs fans had their memories of the Pochettino reign wiped, the Ajax away leg would be the hardest to replace – impossible, in fact.
A depleted squad, running on reserves, on the brink of elimination… but he yet again pulled a rabbit out of a hat. The night in Madrid started awfully and didn't get better but seeing Tottenham Hotspur walk out in a European Cup Final was something that even the late, great Bill Nicholson was deprived of in his halcyon days. If the Argentine wasn't in the history books already, he was now.
More than a fair share of pieces have been, and will be, written about where it all went wrong and the disastrous start to 2019/20, but the reaction to Pochettino's departure spoke volumes about the way in which he operates during his tenure. I found out via a WhatsApp message from a Manchester United supporting friend, who has been a firm advocate of Pochettino and is already keen to get him in the manager's dugout at Old Trafford. My first thought was "No?!", which was followed by the relaying of the message to a few Spurs-supporting friends around me, in a low, squeaky voice, "He's gone, they've got rid of him." And then came the lump in the throat…
Since his departure, numerous fans, journalists and the general footballing public have paid tribute to the job he did at the club. Besides a few shouts of "but what did he win?", there has been little but praise for his incredible efforts – one must also remember Jesus Perez, Miguel D'Agostino and Toni Jimenez. There will no doubt be a queue for his signature. But putting football aside for one second, there'll be one memory that sticks out to me highlighting the class of the man.
It's probably something that few have spotted – or at least spoken about – but one that will always remain in my mind. After the Champions League quarter final win at the Manchester City, Pochettino was mobbed by the aforementioned Perez, D'Agostino and Jimenez – the four men shared a group bear hug on the touchline of the Etihad Stadium.
As Pep Guardiola made his way over to shake Pochettino's hand, he saw the embrace and left them to it – though I'm sure they caught up with each other later. While this is something that most would brush over, it doesn't seem like Pochettino did. Less than a month later, as the whistle blew on that night in Amsterdam, Pochettino was mobbed by most of his staff – playing and non-playing. Kane held him in an embrace so tight that it dislodged his manager's tie. Pochettino wrestled himself away and made a beeline for Erik ten Hag – the Ajax manager – before embracing and consoling the Dutchman.
While his players were in the corner of the Johan Cruyff Arena, the Argentine saw out his professional duty before indulging in celebration – on the biggest night in his managerial career. It was something I only noticed in highlights, and maybe the incident at the Etihad wasn't on his conscience, but to me it spoke volumes about the class of Pochettino – a level of principle that many would so easily overlook.
As we look back now, it's gut-wrenching that there isn't a memory of Pochettino walking around with a trophy, something he more than deserved for his efforts. My phone was waiting for that new lock screen for years. He's an admirable man, full of respect, dignity and passion. None of those things seem to matter to the average fan of the trophy-laden clubs but to us, it meant everything. He gave us days – and nights – we would be fools to forget. No, he won't get a trophy for that, but he will be forever entrenched in N17 history.
But the reason Pochettino will be remembered fondly for years to come, and will have such obituaries written about his spell in charge, is because he allowed fans to find their love for Tottenham again. Rid of mercenaries, youthful setup, a collective effort and a classy man at the helm. The reason it hurts so much is because he made it feel so good.
Mauricio, you will always be welcomed back to the Lane by the fans. You'll always be one of us. You gave us confidence, pleasure and pride. You truly brought sexy back. Good luck with everything that comes your way, and when a trophy is finally aloft over your head, know that thousands of people whose hearts lie in North London will be gushing with pride for you.
Mauricio Pochettino, el es magico.
Up the Spurs.