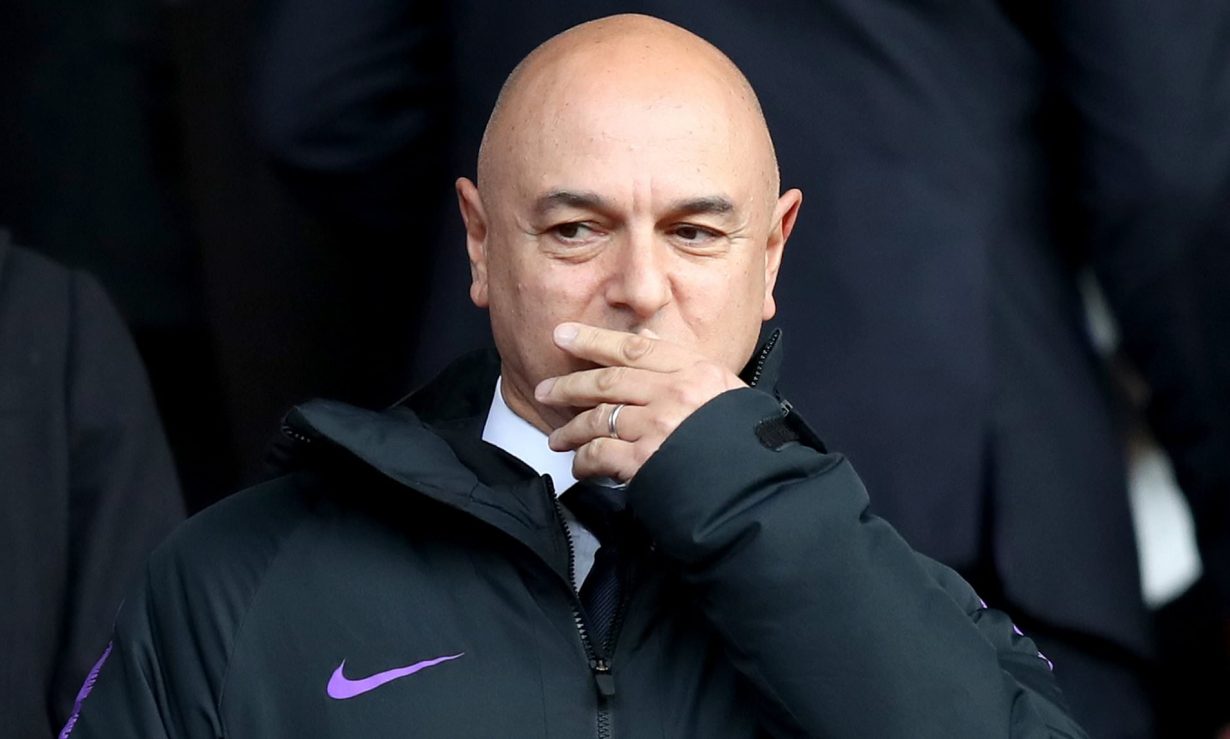 Which players out of this list would you most like to see us chase and sign? Knock yourselves out.
It's clear as day that the Tottenham squad needs major surgery and new signings need to be made if Spurs have any chance of challenging for trophies. Pretty much what we all think every summer right? I'll ignore the current socio-economic shutdown and pretend things will return back to normal sooner rather than later.
In this article, I will go through the positions Tottenham need new players in the most. I will provide a 'cheaper'(£20-£30m) a 'middle-priced'(£31-£55m) and a 'more expensive'(£55m+) as well as an 'in house' option for each position.
Right-back
Our current first-choice right-back, Serge Aurier is a very divisive character. Whatever side of the Serge Aurier debate you stand on, the fact he recently came out and spoke of his desire to return to PSG where he had been purchased from, shows that it is most definitely time to dip into the market for another right-back.
'Cheaper option'- Max Aarons
In 2018, Norwich City were forced to sell James Maddison or face big financial troubles and while relegation (should it end up happening) would likely not lead to such a detrimental financial situation for the club, they may be forced into selling numerous members of their squad that has impressed this season.
In January, Opta provided a graphic showing how Aarons ranked 4th for minutes played, 2nd for tackle success, 2nd for dribbles attempted and 2nd mins/dribbled past of right-backs to have started at last 6 games.
These stats show how Aarons performs well in both the defensive and attacking aspect of his game. On top of this, Aarons would qualify as 'homegrown', something the Tottenham squad desperately needs in order to follow Premier league regulations should Danny Rose and Kyle Walker-Peters leave which is anticipated to happen very soon.
Should Norwich be relegated to the Championship, there will be a number of players that will jump ship and Max Aarons will almost certainly be one and should he put in a transfer request then Norwich may have to sell for around £20m.
Max Aarons' stats this season. Sky reports Norwich are willing to sell the rightback for £30m. Reportedly Tottenham are debating to make an offer in the next 3 weeks. from r/coys
'Middle option- Youcef Atal
A player that has been linked with Tottenham for a while (as has Aarons), Atal has been sidelined for the majority of the season after undergoing knee surgery. In the 13 appearances Atal has made this season before being shelved, he scored one goal and had 2 assists. Atal also has an 81% pass succession rate and makes 0.8 key passes per game.
On top of this Atal is known for his searing pace and would certainly fulfil the term 'flying fullback'. Atal would likely cost circa £40m with him being one of the more valuable members of the Nice squad, it is unlikely that they would cash in for much less. Atal would not fulfil the homegrown criteria, something that will play a part in who is signed by the club.
https://www.whoscored.com/Players/361816/Show/Youcef-Atal
'Expensive option'- Achraf Hakimi
Hakimi has won many admirers this season in his second season on loan at Borussia Dortmund from Real Madrid. The 21-year-old Moroccan has formed a great partnership with Jadon Sancho on the right-hand side in Germany and has 4 goals in 8 champions league appearances this season as well as 3 goals and 10 assists in 25 Bundesliga appearances.
Defensive wise, in the Champions League Hakimi averaged 2.5 tackles a game which is especially impressive when you factor in the fact that this includes 2 games against PSG, Barcelona and Inter Milan.
The 21-year-old has attracted a lot of attention from other clubs and while it is plausible to say Hakimi will not leave the Bernabeu in the summer, Dani Carvajal still being at the club providing stern competition for playing time may be a deterrence to staying, especially when he could leave and be a guaranteed starter.
However, Real Madrid will not want to look silly for selling such an obviously talented player and will very likely command a high fee for the Moroccan.
https://www.whoscored.com/Players/320834/Show/Achraf-Hakimi
'In house' option- Juan Foyth
This option was something that circulated at the start of the season but never came to fruition under Pochettino as he demanded his fullbacks to play high up the pitch and very much in an attacking style. However, under Jose, this could all be very different. With Jose seeming to prefer an asymmetrical system in his back four of one fullback pushing forward and another fullback staying back and forming a back three with the two centre backs when the team are in possession. And breathe.
This could suit Foyth very nicely as he is good on the ball but appears to currently lack the physicality of an out and out centre back. Pushing him into a right-back role would be able to counter his lack of physicality as he would be going up against wingers rather than centre forwards and would have the help of his two centrebacks when he stays back. Foyth has already played as a right-back for Argentina and been a success and could fit nicely into Mourinho's system of having a fullback stay back and creating a back three.
Centre back
One of the hardest things to have witnessed in the club's decline from the 2016/17 season has been the fall of the 'Belgian wall' of Toby Alderweireld and Jan Vertonghen. The latter in particular has seemed to not quite be at the same level he had been at for some years and Alderweireld, while performing at a better level than Vertonghen, has shown signs that he may be on the decline and with the pair aged 31 (TA) and 32 (JV) it is definitely time for a new centre back to be signed.
'Cheaper option'- Ben White
The 22-year-old English centre half has been making a name for himself under Marcelo Bielsa at Leeds, on loan from Brighton. White is good on the ball, something Mourinho has criticised Davinson Sanchez for not being and with an 85.3% passing accuracy in 37 Championship appearances this season, White playing alongside Sanchez could help counter this.
The Englishman averages 1.7 tackles, 2.3 interceptions and 3 clearances per game and has been a big reason in Bielsa's sides success this season. Like Aarons, White would help boost the low homegrown numbers in the squad. Brighton already has Lewis Dunk and Shane Duffy so may be inclined to try and cash in on White.
https://www.whoscored.com/Players/322036/Show/Ben-White
'Middle option'- Ozan Kabak
Despite being just 20, Kabak is already at his 3rd club. Kabak is one of three centre back talents from Turkey breaking through along with Caglar Soyuncu and Merih Demiral. The centre back has been labelled as 'no-nonsense' but still has an 83% passing accuracy so is still as much a modern-day centre back rather than one that boots every ball within 5 metres into row z.
Kabak also has 3 goals and an assist in his 24 appearances. Schalke would likely not let such a young player with as much experience go on the cheap but if a bigger club were to come calling it is likely Kabak would leave Schalke.
https://www.whoscored.com/Players/356743/Show/Ozan-Kabak
'Expensive option'- Dayot Upemacano
Upemecano has gained many admirers in recent seasons and is considered one of the best young centre backs in the world. Very much the modern, ball-playing centre back, Upemacano combines pace and power to dominate attackers and also has an 88.8% passing accuracy. The 21-year-old averages 2.3 tackles, 1.7 interceptions and 3.2 clearances per game showing how he is defensively sound as well as being very good on the ball.
https://www.whoscored.com/Players/327721/Show/Dayot-Upamecano
'in house' option- Japhet Tanganga
Japhet Tanganga is one of a number of academy products to have debuted this season and was thrown into the deep end of a shark-infested ice bath by playing in a back three against Liverpool man-marking Sadio Mane for the majority of the game and blocking a goal-bound shot on the line and having a very good game. Tanganga has gone on to feature in 10 other games and play all across the back four in both fullback roles and as a central defender showing brilliant versatility.
Tanganga was part of the defence that kept a clean sheet against Man city's fierce attack and often came out on top 1vs1 against Riyad Mahrez, one of the best wingers in the league. Before anything, however, Tottenham needs to get Tanganga to sign a new deal with the club as his current contract expires on the 30th of June this year and they risk losing a big talent for nothing in the summer.
Left-back
Gone are the days of flying fullbacks at Tottenham and since Kyle Walker's £50m departure, Danny Rose has gone down in the pecking order at Tottenham. A long term injury sustained against Sunderland in 2017 took him out of the starting XI.
A few interviews with The Sun later and Rose has not been quite the same since and has never regained the form he had in the 16/17 season and is likely to leave in the summer. Ben Davies, while he fits Jose's preferred system, is not good enough to start week in week out for a club as big as Tottenham.
'Cheaper option'- Luca Pelligrini
Currently, at Cagliari on loan from Juventus, Pelligrini has impressed in Italy this season and has the second-most assists of any under 21 players in Serie A this season with 4. Defensively, Pelligrini averages 1.3 tackles per game showing a well-rounded game and a good eye for a pass to create goals. Juventus currently have Alex Sandro and De Sciglio that can both play left-back and with Pelligrini wanting to get a place in the Italy squad for the Euros in 2021, a move away may well be his best shot at going.
https://www.whoscored.com/Players/332268/Show/Luca-Pellegrini
'Middle option'- Alex Telles
Usually, Alex Telles would not be in this bracket. A 27 year old hitting his peak years, Telles' contract expires on the 30th June 2021 and with Telles seemingly not willing to sign a new deal, Porto are trying to cut their losses and are believed to be only asking for around £30m for the fullback.
The Brazilian has 8 goals and 5 assists in his 23 appearances in the Portuguese league this season, Telles has also averaged 1.2 tackles and 1.5 interceptions per game. However, due to the cut-price deal Porto is offering, there are many, many clubs interested in Telles' signature such as Chelsea and PSG.
https://www.whoscored.com/Players/125793/Show/Alex-Telles
'Expensive option'- Ben Chilwell
The Englishman has caught the eye of many clubs during his rise in English football after replacing the ageing Christian Fuchs in the Leicester side after a loan spell to Huddersfield in that 15/16 season. This season Chilwell has 2 goals and 3 assists in 23 appearances and in the last few years has solidified his place in the national side.
Leicester is said to have slapped a £75m price tag on the full-back. There are a lot of doubts over whether or not Chilwell is worth this much but with a contract not expiring until 2024 and no real reason to sell one of their best players, he certainly will not be going on the cheap.
https://www.premierleague.com/players/13491/Ben-Chilwell/stats?co=1&se=274
'In house option'- Ryan Sessegnon
It must not be forgotten how big of a coupe the signing of Ryan Sessegnon was. It is easy to forget that the Englishman is just 19 and already has 41 appearances in the Premier League despite being so young. It came out very early into Mourinho's tenure at the club that he had previously tried to sign him at United.
Sessegnon has seemed hesitant and less willing to attack in recent appearances but showed improvements against Southampton in the FA Cup that he was being more attacking and a confidence boost and more minutes could lead to him blossoming into a very, very good player.
Central defensive Midfielder
Since the sale of Moussa Dembele, the decline of Eric Dier and the decimation of Victor Wanyama's knees, Tottenham have been playing Harry winks as a defensive midfielder. However, this is not Winks' natural position and his re-occurring ankle problems have meant he has been somewhat hesitant in tackles to avoid injury.
'Cheap option'- Kalvin Phillips
Another Leeds player in this list, Phillips has also been integral in Marcelo Bielsa's side this season. Phillips put in an impressive performance away at Arsenal in the FA cup. Phillips averages 2.8 tackles and 1.3 interceptions per game showing that he is adept at breaking up the play and his 81.6% passing accuracy and 1.9 key passes per game demonstrate he can also distribute the ball to more advanced players well as well as winning the ball back.
Phillips would be another player that would boost the number of homegrown players in the Tottenham squad and regardless of Leeds being promoted to the Premier League or not you can definitely expect Phillips to be playing in the top flight next season.
'Middle option'- Bruno GuImaraes
My personal favourite, though not always played a defensive midfielder, Guimaraes has put in superb performances at the base of midfield for Lyon. Despite joining his current club in January, the Brazilian has been seriously impressive in the games he has played. The most notable being a standout performance against Juventus in which Lyon managed to score a 1-0 win over the Italian champions.
It would be somewhat naive to include Guimaraes' stats from the 3 league games he has played for Lyon so far this season, however, for his previous club in the Brazilian league, he averaged 1.5 tackles and 1.1 interceptions per game and an 88.4% passing accuracy 1.8 key passes per game. Levy and the Lyon president (Jean-Michel Aulas) have a bit of history after Aulas swore he would never do business with Levy again after the sale of Hugo Lloris.
Since then Levy has done business with him in the purchase of Tanguy Ndombele but Guimaraes may be hard to pry away from Lyon.
https://www.whoscored.com/Players/338780/Show/Bruno-Guimar%C3%A3es
Expensive option- Wilfried Ndidi
Wilfried Ndidi has been one of Leicester's stand out players this season and his importance has shown in that Leicester's only bad run of form this season was during Ndidi's absence. The Nigerian has averaged 4 tackles and 2.7 interceptions per game this season. He has been integral to Leicester's success this season and it would require a substantial bid to pry him away from the midlands club, especially with Leicester looking like they will be playing Champions League football next season.
https://www. whoscored.com/Players/327683/Show/Wilfred-Ndidi
'In house option'- Luke Amos/Oliver Skipp
Luke Amos impressed Pochettino in the 18/19 pre-season and was even given his debut in the opening game of the season away at Newcastle. Unfortunately, Amos shortly after suffered a knee ligament injury which ruled him out for the rest of the season. One of Tottenham's first bit of business last summer was to loan the midfielder out to QPR, managed by spurs fan Mark Warburton.
In the Championship this season, Amos has averaged an interception and 1.6 tackles per game and all it takes is a search of the 23-year-old's name on twitter to see how QPR fans have been speaking highly of Amos and it will be interesting if Amos will be given an opportunity by Mourinho like he was given by Pochettino.
https://www.whoscored.com/Players/329492/Show/Luke-Amos
Oliver Skipp has been rated very highly by the academy staff at Tottenham for some time now. The midfielder put in a mature performance against Norwich in the FA cup tracking back well and showing good passing and ability to recycle possession. It is questioned, however, how ready the 19-year-old is and if he would be better off going on loan to another team.
Striker
It has been blatant for some time that Tottenham is in desperate need of a backup striker. With Harry Kane suffering numerous injuries over the last few seasons with the latest being a torn hamstring which was likely a result of being run into the ground. When Kane is fit he very, very rarely is given a rest with the only other natural striker being 18-year-old Troy Parrott, another striker is well overdue.
'Cheaper option'- Neal Maupay
The Frenchman has been impressive for Brighton this season after his £19m move from Brentford in the summer. Maupay has 8 goals and 2 assists in his 28 appearances this season which would put him as Tottenham's joint-third top goalscorer this season with Dele Alli and having double the goals of Lucas Moura in fourth place. Maupay offers a big presence up front, despite being just 5 foot 7, his aggression makes up for his lack of height and unnerves defenders.
Still just 23, Maupay could really blossom into a dangerous striker especially if taken under the wing of Harry Kane, and the chance to play alongside Kane as well as European football and a move to a bigger club could be enough to tempt the forward to leave the south coast just a year after joining.
https://www.premierleague.com/players/16256/Neal-Maupay/stats
'Middle option'- Victor Osimhen
Victor Osimhen is currently at Lille and has worked under current assistant manager and attacking coach Joao Sacramento before. The 21-year-old Nigerian has 13 goals and 4 assists in 23 appearances in Ligue 1 this season as well as scoring 2 in 5 games in the Champions League. These are very impressive numbers, especially for such a young player.
Lille currently sit-in a Europa league place and Osimhen has scored 37.1% of their league goals this season showing that he is a huge part of the Lille team. The prospect of linking up with Sacramento again as well as working under Jose Mourinho may well entice the Nigerian to North London.
'Expensive option'- Paulo Dybala
It was a beautiful evening, wasn't it? The 6th of August, Tottenham had been linked with a loan move for Coutinho most of the day and much like most of the Tottenham transfer rumours, it was understood to have broken down. Hours later, and the infamous yellow banner on the bottom of the screen on Sky Sports emblazoned with "BREAKING NEWS" as Sky Sports in Italy broke the news that Juventus had reportedly accepted a £67m bid for Paulo Dybala.
It seemed like Tottenham had finally played a transfer window superbly and various news outlets began picking up the story. Alas, it was not to be and the next morning it came out that talks over the £14m stumbling block of image rights had been inconclusive. Who knows how much different our season may have turned out had the deal gone through?
Dybala has reportedly been unhappy at how he been overshadowed by Ronaldo at Juventus. The Argentine has played 24 of the 26 league games Juventus have played thus far, starting just 17 of them. In those 17 appearances, Dybala has 7 goals and 4 assists as well as 3 goals and 2 assists in 7 Champions League matches.
Dybala can play both in behind a striker as well as the striker itself and as a left-winger. The Argentinian's contract runs out in 2022 by which time he will be 28 and in his prime years. If he is still being overshadowed by then he may well run down his contract that's if he doesn't move away even before that but it would likely take a substantial fee to pry him away from the Italian champions.
https://www.whoscored.com/Players/114863/Show/Paulo-Dybala
'In house option'- Troy Parrott
Look, I know Mourinho has said time and time again that he is not ready to be playing games and that he needs to fix up his attitude but currently, Parrott is in a limbo between under 23 football and first-team action. A place where other players have ended up staying and stagnated such as Cameron Carter-Vickers and Kaziah Sterling.
We cannot afford to let such a talent stagnate the same way by leaving them in a purgatory. Parrott nearly went on loan to Charlton in January but it is understood Mourinho believed it would be better to keep him at the club for his development. Either way, Parrott needs to sort out his attitude (if we are to believe he has one) and be given minutes.
Obviously there are other players that can fit In these brackets for the positions, and knowing Levy, we may not end up with all of these positions being filled. Especially in a post-COVID-19 world.
Which players out of this list would you most like to see us chase and sign?
If you had to have 2 'cheaper, 1 'middle', 1 'more expensive' and 1 'in house' option who would you pick?
Knock yourselves out.