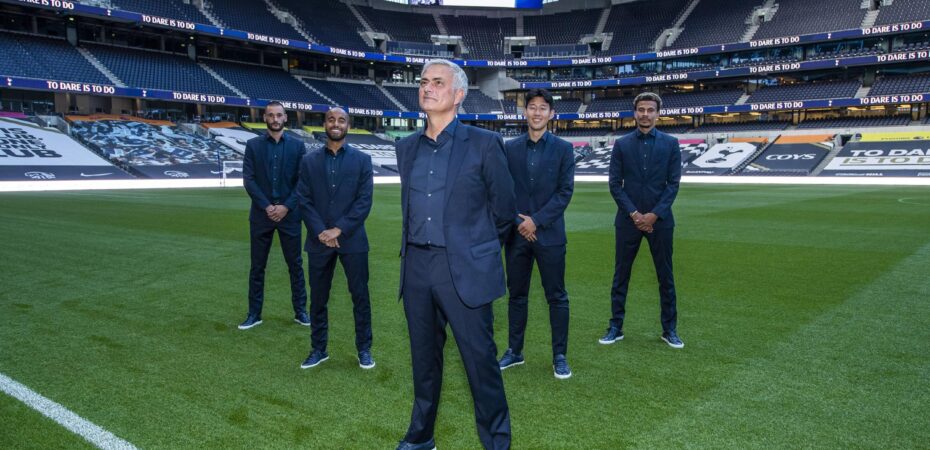 Sensible signings, All or Nothing, Europa and the season ahead.
Pierre-Emile Højbjerg and Matt Doherty
Well hello there sensible signings. There's nothing that screams marquee about the two boys joining The Jose Show. Which I'm thankful for because marquee players are mostly a fallacy built around a momentary high. The snort, the injection of hype straight into the veins to make football supporters feel excited and ultimately pleasured. This happened back in the days when we had a squad of mediocrity and signed a couple of big names to mask our inadequacy for sustained longevity.
In modern times, Spurs do splash out. We actually do. The thing is, they are players that should be supplementing the quality we have at the club already. Ndombele (sigh) is an example, one that has backfired thanks to a troubled first season in England (one he might not recover from).
So any player Tottenham signs is actually functional rather than superstarish. Pierre and Matt are most definitely the former. But even when signing the likes of Tanguy or Lo Celso, because of that obvious risk in the unfulfilled potential of their purchase, they are not OMG LOOK AT WHAT WE GOT OURSELVES acquisitions.
If you look at the business Chelsea have amassed this summer, that's more inline with marquee – if those very same players were signing for us. The players signing for a club like Chelsea, is pretty much their version of our functional. They can always dip into the transfer market (ban permitting) and sign players of a certain upper tier quality thanks to their financial clout wage wise. It's the same thing at Man City.
The players United are signing are, arguably, get-able by Daniel Levy (Fernandes a prime example). Dybala is obviously the one that got away. Both of these players would be fitting of marquee and at the same time raise the level of in-game stature. A kinda sexy functional that leaves you chasing the dragon.
But Spurs do need sensible. And we have gone about our business efficiently. Problem areas? Cool, let's patch 'em up. So I'm happy, more than happy with the business so far achieved. Two players with hit the ground running experience that can play from the get-go. But what next? A back up striker with Prem know-how? Yes please. Let's try our best not to burn out Kane and instead protect him so that we can use a full pelt 40 goals + season from Harry as our fuel, our momentum to do something half decent.
I'm not sure about a Dybala type of signing. Perhaps if Juventus signed Messi, there's chance (I might need to get drunk to truly consider this a possibility). But otherwise, there isn't anyone that stands out. Please don't mention the semi-retired golf exile in Madrid.
So far, so good, more required to get us through a congested start to the season. And when you do compare us to City or Chelsea, the reality is – as good as we might play – they have a huge advantage. Unless of course, Pep goes stale and Lampard struggles with egos over youth.
As for Joe Hart. Third choice keeper. Bit of experience with the old winning of silverware. Doesn't strengthen the squad outside of that third choice position and because of that, I have no issue with the outlay. He's been very vocal during the pre-season friendly fluff, so I'm sure that will resonate on the training field.

All or Nothing Amazon Prime
I'm going to avoid spoilers for now. I will wait for the next three episodes to drop and then do a Spoiler Special (which you can choose to read or ignore). Based on the first three eps that are now available on Amazon Prime, here's my take on it:
I love it.
Ooh, edgy take.
Okay, so first things first; do not expect The Glory Game levels of insight into how a football clubs inner workings tick. But for what it is, it's a good solid watch that Spurs fans will find essential viewing. So what is it? A Levy propaganda series? A showcase for the rebranded Mourinho? An advertising campaign to promote the THFC brand worldwide?
I guess it's a bit of all of that.
You could get carried away with the conspiracy theories, including the one where Poch was sacked to make way for the more charismatic Jose to lead centre-stage. Regardless of the fact that this past season has been a mixture of the shambolic on field performances and pandemic hit dramas, it's good content for us to enjoy. It's in no way a humiliation or meme generating television misstep, that I'm sure our rival fans will attempt to salvage slices of it to prove it's exactly that.
Again, I don't want to give much away, but there's some great scenes and discussions in there that might make you love certain players even more (especially Jan and even Serge – yes, Serge). It's a bit safe and neat in presentation but it's also equally slick in production. Spurs would not purposely allow themselves to look bad or sign off the producers to mug us off. Although I did cringe a touch when Levy spoke about the THFC workforce and the importance of community only to remember his furlough PR disaster.
Talking of Levy, his casual drop-ins to Jose's office and the canteen are Brando levels of method acting. I'm jesting, it's great to hear him talk. Actually talk. Not sure I've seen so much fronting from him on camera ever. The haters will no doubt hate, but I enjoy seeing him swagger and pretend to know how to run a billion pound enterprise more so than the fans that publicise how they would run it via Twitter.
I'm also fully in for Dele Alli and his irreverent thoughts.
As for Jose, well, there's no getting away from him. I need to see more eps before I decide whether I like him, love him or hate him. The amount of c-words, f-bombs and the occasional 'bastards' he drops – I keep thinking I'm watching peak British porn where the starlets are encouraging their male co-star to go a bit deeper. Hoping Jose doesn't cover himself in baked beans.
First three ep highlights: Jose and Dele meeting, Jose and Dier meeting, the pre-game tactics meetings and the half time dressing room talks.
As for Poch. He looked broken and mostly disinterested. I think Amazon not filming over the international break where we sacked him was a good thing. There are some things that are best not shared. What we did see was relatively kind and respectful.
Lokomotiv Plodiv
We're away to a side with a capacity of just over 13k. Tottenham, ranked 14th by UEFA against Plodiv, ranked 561th. I might wait for the club shop to release this on DVD.
It's the single tie. One game, knock out. It perfectly illustrates how vital it is to qualify for the Champions League – yes, it's more important than a League Cup and probably even the FA Cup. Although had we won that, we'd not be playing farmers in the Europa. Oh the bitter irony of football logistics.
The season ahead
I'll keep the proper season preview until next week, but my initial thoughts are in the 'might finish 5th' camp. It's always a mistake to judge your predictions based on what's on paper. But that's what we do and currently, we don't stack up well to the other clubs that finished above us based on recent form and the necessity to rebuild and reclaim identity.
However, this is a new season and one that Jose will have to relish as he's got us from the start and not inheriting a mess several weeks in. So all eyes on Jose, the onus is on his knowledge and experience to muster up a surprise. Attractive and effective football would be lovely.
Squad management is going to be vital if we don't add more players but keep Son and Kane fit and have Dele playing with spite and invading space and we might find a more fluid outlet to punish teams when going forward. That's our strength, the players in the final third. Our main weakness remains in how we craft those opportunities. The Walker/Rose dynamic was electrifying. Eriksen inventing in the middle, a vibrant resource. But we've muddled through for a while now, trying to work out the nucleus and avoiding radioactive leaks. You know, possession and defensive mishaps.
Højbjerg gives us mettle and stability in the middle, so the key is reigniting Dele and cementing Lo Celso and the influence both can bring when transitioning to attack. If we can somehow fix the body and soul of Ndombele, we might have the means to unlock doors we've failed to kick down.
I'm looking forward to the season ahead. But then I've always enjoyed being tied up and having my bits slapped around.
Signing off, SpookyCOYS, that's COYS for Come on you Sadomasochists